Lillian Allen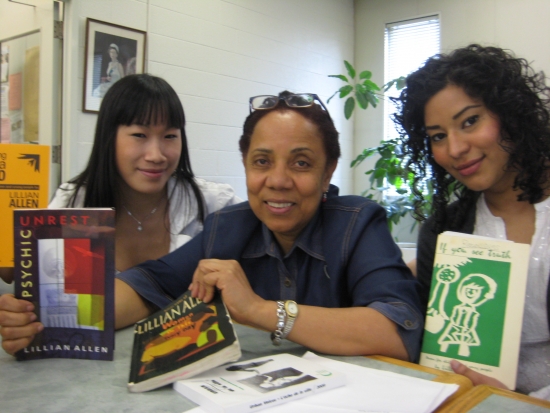 Lillian Allen is a dub poet based in Toronto, with deep roots in the Jamaican culture of her birth. Although she's also published her poetry in book form, her breakthrough on the Canadian cultural scene was with two Juno award-winning LPs of dub poetry, Revolutionary Tea Party (1986), and Conditions Critical (1988). As in her artistry, Allen demonstrated her impressive organizational skills with these recordings – pulling together all the talented musicians from the Toronto roots and indie music community, and financing the recording, pressing and distribution of the records without the benefit of government grants or corporate support.
"At the time there were some good musicians around," Allen said. "Looking back, I'm thinking its the first kind of real collective working with musicians – it might have been one of the first projects like that. They were sensitive to the music, understood the impulse of the music. Mostly because they heard the words before and the poetry before, they were very careful that the poetry was the main thing, and that they supported the poet."
Allen was inspired to begin working in dub poetry after meeting Oku Onuora in Cuba in 1978. "Dub poetry – there's a lot going on," Allen explains. "Poetry has been associated with the book, and as a product. I think that for the people that take spoken word and dub, and other forms of poetry that they feel need to be communicated, it's more of a community ritual, community building. A human process of creating yourself, getting out of your corner, getting a voice. I think it's particularly amazing in the context of the rise of technology. In some ways people are hungry for that human connection, that heart perspective. I love to do a reading where I am connected to the audience and where they can ask me questions, give me feedback. A dialogue, I love that. I love working with people."
As well as performing at international festivals and touring, she has continued to champion the dub poetry form through workshops, by co-producing a 1994 documentary about Jamaican dub poet Mutabaruka, and with her third recording, (We Shall Take Our) Freedom & Dance, released in 1999. She also conceived, co-produced and hosted the CBC program Wordbeat, a thirteen-part radio show featuring poetry, dub poetry and spoken word, in 2004. Her status was recognized by the League of Canadian Poets with the Foremother of Canadian Poetry award in 1992, and in 2006 she was the subject of an episode of the television series Heart of a Poet.
"Writing is a process for me. I'm a constant writer, I don't write just to publish or for the public, I write for my own process. I write like somebody tends a garden, that's my process of writing. It is so much a part of what I do, how I meditate, mediate my own existence. If I don't do it for a while I start to feel it. It's like a jealous lover." Allen's latest writing project is to gather together the striking stories told to her by friends, students and family over the years. "These are stories that they tell because they're telling stories, they're not writers," Allen said. "There's also a number of things I've gone through, experienced over the years in my travels, and I want to catch those little nuggets too, special ones that have changed my life. I want to create vignettes, poetry, lyric or narrative poetry around some of them. It's definitely intended to be communicated to an audience."
Allen's work as an educator has always followed a parallel course with her path as an artist. Currently, she works as an instructor in Creative Writing at the Ontario College of Art and Design (OCAD). "I'm working here with art and design students. They bring a visual capacity to the table, and I think they're more interesting as writers, with that visual eye and that evocative feel that they bring. Plus the creativity – with my students, you never know what they'll come up with." Her method of teaching is something she's developed over decades. "I've developed a whole comprehensive approach to it, not just empowering the writing but empowering the writer. We look at a context where they can identify themselves as writers and authors and creators. They can look at what's important for them to say in the world, and realize that their expression in the world is very important."
Like many good teachers, Allen knows the process feeds her as much as it does her students. "You know what it does more than anything else? It keeps me young. It keeps me fresh and young. Every year you get a different kind of concern with different groups. There are things that I would never dream of, never think of. It's so right for someone like me to be doing this."
More Profiles from Issue #1