Catherine Kidd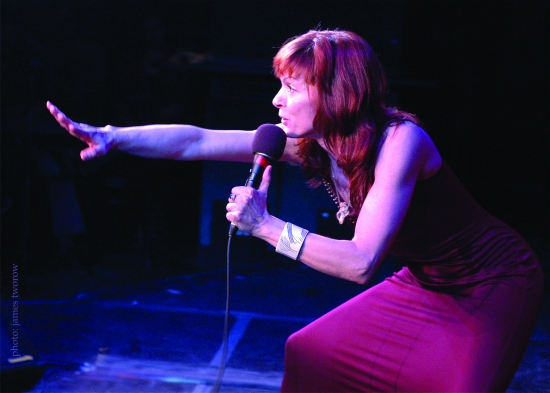 Fresh from Concordia University's Creative Writing program, Catherine Kidd quickly became one of the central talents to emerge from Montreal's spoken word scene of the mid-nineties. She brought a theatrical flare to the performance of poetry, bringing costumes, props and a cabaret sensibility into the bistros, lofts and grungy bars of the era. Her first full-length performance, Sea Peach, from its humble beginnings in a self-produced show at Montreal's Bain St-Michel, toured internationally for six years, including runs at Toronto's Harbourfront Theatre and the Edinburgh Fringe Festival. It was documented in a book / CD, featuring the audio soundscapes of long-time collaborator Jack Beets.
After the publication of her first novel, Missing The Ark, Kidd took a hiatus from performance and moved to rural Nova Scotia for two years in order to focus on her writing process. "There's part of me that's always wanting to get back to the land, even though I've mostly lived in cities. As soon as you're in the city there are messages, voice and texts, telling you you should be more like this, have you thought of this, have you considered taking courses in this. How could you help but have anxiety about all these directives? In the country you don't feel such a clear outline between yourself and everything else. You kind of blur more, and that's fine."
The result of this artistic retreat was her second full-length performance work, Hyena Subpoena. "It seemed like some of my older work was dwelling on forces that brought people together, like love, or some mystical sense of connection to everyone, cosmic oneness. Whereas this new project is much more about forces that alienate an individual from the collective, like poverty, mental illness, homelessness, addiction. The fictional character, Mona Morse, basically she has a hard time fitting in anywhere. So here I am trying to identify with this character who feels completely cut off from everybody, while I'm living in a forest, completely cut off from everybody."
Kidd's writing process for Hyena Subpoena started with videos shot by herself and Geoff Agombar. "We had all this footage that we'd shot in South Africa, and I definitely hadn't used that to its full advantage. So I started writing about those animals. I could start the video on my screen, because we had filmed this bull elephant or this group of wild dogs, and see what came from that. It's during the process of writing about the animal that what they're mirroring about the human condition becomes obvious. Once I started writing about the specific lionness, I became aware of the more general themes of grace under pressure, disease in Africa and all these other themes."
Her texts begin as prose pieces, and go through a long period of transformation to become a performance. "It might start out as a short story, and then get more and more transformed into rhyming verse as I edit it, as I memorize it, because then I'm listening to the sounds. It starts to feel finished once I've memorized it. The first time I do a piece is incredibly nerve-wracking, but once the performing of it starts to feel smooth, like I'm singing a song ... that is fun."
Hyena Subpoena will appear this year under the direction of Alison Darcy of Scapegoat Carnivale Theatre, with lighting design by Jody Burkholder.

More Profiles from Issue #1