Joe Blades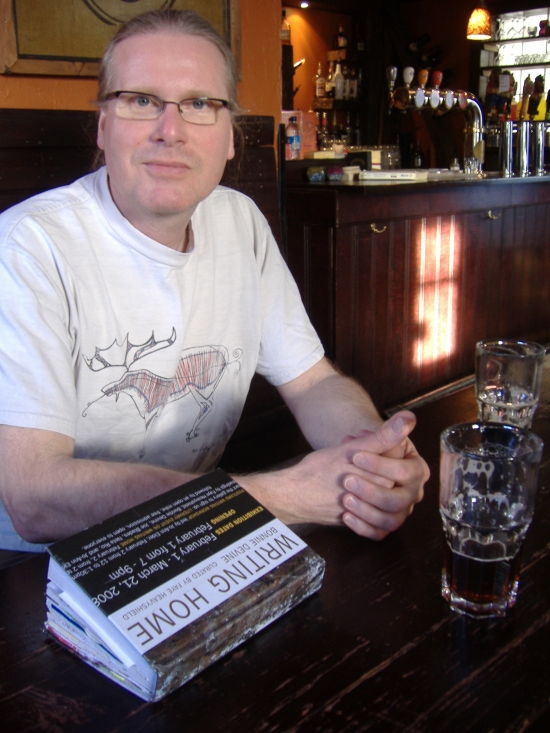 Joe Blades had already been writing, performing and publishing poetry for six years when I first encountered him in Halifax, Nova Scotia in 1986. He was studying at the Nova Scotia College of Art and Design (NSCAD) at the time, and on the side, he was publishing a monthly poetry zine, Poetry Halifax-Dartmouth, conducting workshops, and organizing and hosting readings. He was also involved in more performative events, like poetry sweatshops. These literary contests took place in a bar and required the poet to write a poem in twenty minutes, based on a page ripped out of a dictionary, and then perform said poem for the gathered masses.
Blades moved to Fredericton, New Brunswick in 1990, where he's been based ever since. There, he has continued to publish poets from across Canada with his small press imprint Broken Jaw Press (which he'd founded in 1984 during a stint of working at the Banff Springs Hotel). He's woven himself into the cultural fabric of the province as an active member of the League of Canadian Poets, the producer of Ashes, Paper & Beans, a long-running poetry show on CHSR FM, past President of the Atlantic Publishers Marketing Association and the Canadian Poetry Association, and current editorial board member of revue ellipse.
He's got four full-length poetry books under his belt, about 50 chapbooks, edited ten anthologies, and he's also lately produced a videopoem. He's exhibited bookworks, photographs, and objet d'art primarily in Canada and Europe, and was curator of 'Videopoems: a screening' for the 2003 Tidal Wave Film Festival. He took part in the 2007 edition of the Spoken Word Artist Network's summit in Banff, where he produced UGLY: an instant spoken word chapbook anthology.
"Performance poetry and performance art in general are very good things to have," Blades allows. Joe Blades' brand of performance poetry traces its lineage from Canadian sound poets like bp nichol and bill bissett, as well as from a generation of performance artists from the same era. "In 1979-80 I was living in Toronto and I encountered the Four Horsemen. I also met the people in Owen Sound and some of the other performance poets who had been operating through the seventies. That was really astounding, and I thought it was really dynamic work that they were doing."
Blade's own approach to performance poetry is kind of humourous and folksy without lacking sophistication. He accumulated the texts for one of his forthcoming poetry collections, Casemate Poems (Collected), from a residency at the Fredericton Arts Alliance. "I had my manual typewriter on a table," Blades explained. "Every time, there was another artist there, sometimes a potter, sometimes someone working in stained glass, or weaving. We were in a small space about the size of a bedroom, and people just wandered in and out, talked to us about what we were doing, and I'd be writing poems on the manual typewriter and then pinning them to the walls as they came out of the typewriter, so people could read them right on the spot. I was also putting them up on my blog so people in other parts of New Brunswick could see them."
He completed a second manuscript of poetry, Prison Songs & Storefront Poetry (published in December 2010 by Ekstasis Editions), in the same Fredericton art space and in a residency at a bookstore in Grand Prairie, Alberta. Blades also regularly performs guerilla readings of his poetry with the Black Top Motorcycle Gang. "We're primarily a reading gang. What we decide amongst ourselves is when and where we're going to do a reading, and then we just show up and do it. It could be a farmer's market, it could be city hall, or a gallery opening or in the park ... you name it. We just pick a spot and make it happen."
In October 2009, Joe Blades brought Random Acts of Poetry to Fredericton for his fourth year in that annual Canada-wide activity, and participated in another type of literary performance activity for Side by Side Festival Côte à Côte—the Translation Live! workshop, akin to poetry sweatshops or theatresports, where each participant had twenty minutes to translate a poem on the spot and then read it. "There is a lot more to performative poetry than most people assume – it's a far cry from the lonely writer in the garret going mad. You can go mad in public too! And someone might buy you a coffee."

More Profiles from Issue #1