Sheri-D Wilson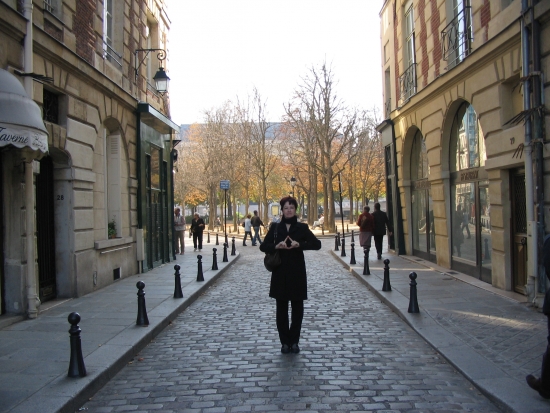 Sheri-D Wilson is busy. With a career spanning three decades, she's done it all. She's written seven poetry collections, most recently 2008's Autopsy of a Turvy World. She's mounted five plays since 1991, including jazz plays, plays involving the B.C. Ballet troupe, and Adventures of the Trick-Riders: During the Apocalypse while Thinking of Jesus, which premiered at the 2006 High Performance Rodeo in Calgary. She founded the Calgary International Spoken Word Festival in 2003, and has built it into an powerhouse of creative energy. At the same time, she has maintained a tireless spoken word performance career, with frequent appearances at Seattle's Bumbershoot festival and the Vancouver International Writers Festival, as well as Montreal's Festival Voix d'Amériques, The World Poetry Bout in Taos, New Mexico, Poetry Africa (in South Africa), and Toronto's Harbourfront Reading Series.
She's currently engaged in compiling not one, but two new collections of her work. "I got out of control this summer and I wrote a lot," Wilson explained. "You know how you ebb and flow. I've been in a flow for about a year, so I have a lot of material. I've been turned on for about a year." She'll also be launching a bilingual collection of her poetry this year, with translations from English to French by Élizabeth Robert. "So I'm pretty busy with my own work these days, and then I'm also working on the Calgary Spoken Word Festival."
Wilson's drive to connect people, voices, and ideas led to her current relationship with the Banff Centre, as director of the Spoken Word Program. "My life is accidental – things arise, and I see them and follow them. In 2005 I had the inspiration to arrange a forum to which I would invite fifteen or twenty spoken word artists from North America to just get together and chat." It turned out to be a life-changing event for Wilson. "It was very moving, in fact, and I felt that for once I had a family in the sense of my art, in the sense of spoken word."
Those initial meetings became the Spoken Word Action Network, which in turn has led to the Spoken Word Program, an annual workshop and brainstorming session for Canadian spoken word practitioners. "I don't want to call it a school because it's round, it's not square. The form of it is round, and it creates itself and what is required of it. I'm not sure what everyone will teach ... I just gather people together and then the people guide me, and then I create it out of what is given." For this year's session, Wilson has gathered together poet, novelist and arts journalist Brian Brett, performance poet and nascent sound poetry whiz Kaie Kellough, American slam star Regie Cabico, and Anne Waldman, co-founder (with Allen Ginsberg) of the Jack Kerouac School of Disembodied Poetics at the Naropa Institute.
Wilson traces her own poetic lineage to the Beats. She studied at Naropa under Waldman and various others in 1989. "I like to maintain and continue my relationship with my teachers," said Wilson. "Over the years it has developed into quite a wonderful thing for me, because I learn so much from them about writing, and about teaching others to write." She's a strong proponent of Waldman's 2006 book on radical poetics, Outrider. "I was reading with her in Brussels in May, and I said, 'Your Outrider book, I think that every young poet should read that book.' She said it's out of print already. I said, 'Well, you'd better put it back in print!' Because it's really an important book."
Wilson is currently deep in the editing process on her own poetics project, The Spoken Word Workbook: inspiration from poets who teach, which will be co-published by the Calgary Spoken Word Society and the Banff Centre Press. With inspiration flowing directly from the Banff Spoken Word Program workshops, it draws on the experience of seventeen top spoken word artists, each of whom will submit three interactive exercises intended to explore specific facets of the craft of spoken word performance. The book will be linked to an interactive website featuring video and audio segments, and pop-up interviews with spoken word artists. "It's about inspiring people to tell their own stories," explained Wilson. "It's basically setting up the possibility for somebody to write their own, perform their own, video their own, think their own poem."

More Profiles from Issue #1