The Queer Element, The Poison Cookie: Literature in Performance on the Cabaret Stage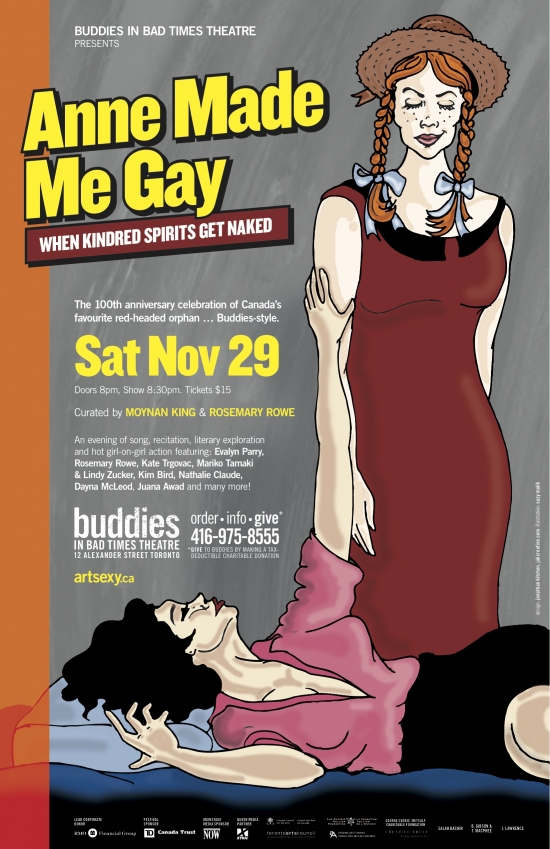 You are at a Cabaret ...

If you bought a ticket in advance or at the door and paid what you could. If you are seeing and being seen. If you are drinking liquor. If you know someone who is performing. If you are performing. If you are pleased that you left the house. If you wish you'd never left the house. If you are glad you changed your outfit at the last minute, since there she is, that hot butch you've had your eye on. If you are in a community hall, an attic gallery with black mold, the back of a coffee shop, a strip club, a church basement, some woman's living room, some guy's studio, or a gay bar. If you are wearing lipstick, or intend to get lipstick on your collar. If there's a good cause. If there's been dancing, film, storytelling, rant, drag, burlesque, comedy and a girl with a guitar singing about her ex, her cat or her ex-cat. If you are thinking about how you can get back on stage, or backstage. If you got a reminder email from the organizer. If you are surrounded by the same people that you saw at the last show, at every march and rally, in the coffee shop in the neighbourhood, in your pottery or Pilates class. If there are information tables. If you signed a petition. If there is nudity. If someone started their set with "I'm really nervous." If someone started their set with "You are all so beautiful, and you listen to poetry!" If you are sitting there energized, irritated, turned-on, embarrassed, confused, thoughtful, emboldened, self-righteous, inspired and charmed. If you are thinking, "These are my people" and, "These are my people?"
The cabaret—since the early twentieth century infamous for bending or breaking social, political and aesthetic taboos—has long been home to what I like to think of as "the queer element." By "the queer element" I don't just mean those of us who prefer non-heterosexual modes of living and being, although being a gay, and, in particular, being a feminist gay, exponentially increases your chances of regularly attending cabaret in the late 20th and early 21st Century. Rather, by "the queer element" I refer to that expansive demographic that includes artists and audiences who, for whatever reason, seek out and thrive in Do It Yourself (DIY) cultural spaces, and for whom artistic expression is also, often and necessarily, political expression. The cabaret—generally a variety show that features short performances by many local artists—is not just the ideal format for the ways in which this DIY "queer element" functions culturally and politically; cabaret is also a central feminist and queer activist release valve—a place to blow off steam—a cruising ground, a community-building and scene-sustaining set of activities and, overall, a manifestation of all the complicated ways that these communities and scenes emerge, flourish, transform, are subdued and re-emerge. It is where we reflect on our pasts, articulate our presents and imagine our futures. It is where we teach each other, where we articulate our demands for sex-workers' rights, Indigenous autonomy and security, and perform our frustrations and anger about racism, nationalism, global economic and environmental injustice, misogyny, homophobia, bi-phobia, transphobia, fat phobia, classism and ablism in our communities and beyond; it is where we impress each other, where we flirt through politics, comedy and poetry, where we raise money for each other, where we come up with solutions and are reminded of old problems. Mostly, it is where we share our stories and how we make our worlds.
"Literature in performance" has, since its earliest days, been central to cabaret, and it is perhaps for this reason that so many contemporary spoken word artists, poets, storytellers, comedians, text-based performance artists and ranters have built their careers within cabaret culture. In her history of European cabaret, Lisa Appignanesi traces this form to the weekly meeting of the Hydropathes literary society, in 1881. In these meetings, she explains, "writers and poets could perform their work for one another—whether poetry, sung lyric, monologue or short sketch" [11]. Appignanesi argues that cabaret has consistently been produced through the convergence of two complementary forces: first, that artists wanted a forum in which they could share their work and with each other; second, the concomitant sustained popularity of the chanson, early cabaret's most popular genre, "a love lyric or mood piece which entertained" but which "could spoof or ridicule authority and act as a rallying call" [9]. As Freidrich Hollaender, owner of the famous Tingletangle Cabaret (which was the model for Marlene Deitrich's cabaret in the 1930 film Blue Angel) notes, it is at the moment that the cabaret delivers what he calls the "poison cookie," that the productive tensions of cabaret are revealed. This "poison cookie," administered as a "socially minded chanson, fired off between two amusing parodies," is reminiscent of the role of political performance—often packaged as spoken word—in contemporary cabaret [566-67].1 Appignanesi observes that late 19th- and early 20th-Century European cabaret "emerged either as a laboratory, a testing ground for young artists, who often deliberately advertised themselves as an avant-garde, or as the satirical stage of contemporaneity, a critically reflexive mirror of topical events, morals, politics and culture. In the best instances, it was both" [12].
While art and politics may not be a welcome combination in many other entertainment genres, it is a necessary blend in cabaret, which is why, I think, so many feminist and queer spoken word artists and other text-based performers thrive under the cabaret lights. Furthermore, "by making artists their own performers, by introducing an improvisational commentary on action and events, and by creating an intimacy between 'stage' and spectator" [72] cabaret challenges the traditional division between performance and audience, and as Appignanesi describes in terms of the Futurist projects and, slightly later, the test tube of Dada known as Cabaret Voltaire, challenged "Art with a capital A" [72]. By embracing the noise and smoke, fashion, gossip and heckling of the "audience" at their tables and chairs, by directly addressing the audience either through the performances or through the routine of le conférencier (the emcee), cabaret has long been a site within which the scene of the show is far more than what is happening on stage, and for which audiences anticipate and relish their role as players. This is not to say that cabaret has always been a radically progressive or even counter-hegemonic event. As Peter Jelavich has argued, cabaret culture in Weimar-era Berlin, for example, was not, as a rule, explicitly or coherently political, but rather "tended to make fun of all parties" [3]. However, it is precisely in its flexibility as a cultural practice that cabaret has become the preferred mode of staging the often-times incoherent politics and uneven performances of contemporary feminist and queer scenes and for that weird amalgam of cultural practices that we here call "literature in performance." Arguably, it is the critical incoherence and strategic unevenness of these scenes is that keeps us drawn to and compelled by cabaret aesthetics, and these cabaret aesthetics, in turn, allow us to maintain our commitment to variety, to transformation, ideological flexibility and community engagement.
"Literature in performance" finds itself at home in cabaret – both because of its genealogical trajectory that connects it with the chanson and other forms of social commentary, poetry, and storytelling, and because it is within the context of the variety show that spoken word artists and other text-based performers tend to develop unique spins, personae and poetics or storytelling styles. As performance maverick Alexis O'Hara noted in her 2009 talk at the Alberta Media Arts Alliance Society gathering, the short-format of the cabaret makes it the ideal place for new artists to cultivate an audience and develop their on-stage chops; it enables artists to create experimental work and genre-swinging collaborations without the risk and expense of a huge solo show.2 The variety format that accommodates and cultivates the plasticity of "literature in performance," challenges artists to develop new work that resists formulaic repetitions, or that re-works pre-existing cabaret formulae in innovative ways. In fact, one might argue that "literature in performance" is, at its best, an inherently cabaret genre—one that, by its very definition, is always multiple.
Perhaps one of the most important features of contemporary feminist and queer cabaret is that it is not isolated to only one city or one scene; it is, in Canada anyway, ubiquitous. Moreover, the shows that happen at local levels are connected by aesthetics, politics, economies of public intimacy; they share commitments to feminist and queer politics and social life and to the ongoing sustaining of, and critical engagement with, our communities. It is important to be wary of the ways that "community" can be mobilized, as Miranda Joseph has argued, "as an unequivocal good," a nostalgia for a form of "human understanding" that, in pursuit of "cherished ideals of cooperation, equality and communion," detaches "'community' from the social, economic, political, and historical conditions that enabled the particular forms of sociality that would seem so appealing" [18]; however, while cabaret certainly has celebratory and even nostalgic tendencies, it is, at the end of the day, all about context. Feminist and queer cabaret and the various forms of artistry that produce it draw attention to the ways that particular communities are diverse and tokenistic, progressive and regressive, welcoming and alienating, inclusive and exclusive. It is precisely through the variety format that cabaret enables—or even forces—us to engage in what we might productively call onanistic self-critique, or put another way, masturbatory self-flagellation. Cabaret brings us all the pleasure and pain of being inside and outside of community.
Fredric Jameson claims that genres are "social contracts between a writer and a specific public, whose function it is to specify the proper use of a particular cultural artifact" [106]. While Jameson's formulation of genre is useful when dealing with "cultural artifacts" that conform, without too much resistance, to a single generic formula, it becomes more complicated when dealing with cultural practices, like cabaret and like "literature in performance," that blend generic practices. This "social contract" becomes ambiguous, and certainly less contractual, when dealing with these blended forms, as we experience here. However, "social contract" is a useful way to think about cabaret, for cabaret is, if nothing else, the social life of the "queer element" I discussed at the beginning of this piece. If we look to the ways that, for example, FemCab and Cheap Queers in Toronto, Le Boudoir and Meow Mix in Montreal, or Loud & Queer in Edmonton have, over the course of their long histories, established annual rituals within which their respective communities have arrived, gathered, and collectively re-imagined themselves, we can see that cabaret is a culmination of expectation and surprise, comfort and provocation.3
We have all been to a cabaret. Most of us reading this first issue of the Canadian Review of Literature in Performance have performed in a cabaret. Those of us who are feminist and queer will have spent the majority of our adult lives crafting five-to-ten minute performances for the cabaret stage and have the costumes to prove it. The contemporary history of cabaret in Canada is, I want to suggest, also the contemporary history of "literature in performance," and the history of "the queer element." As Becki L. Ross and Viviane Namaste have shown, post-World War II cabaret in Canada was the place for diverse sexualities and genders in the nude dance cabaret scenes, especially in Vancouver and Montreal.4 Over the course of the past three decades, as cabaret has come to include a variety of nude and not-nude performances, we can see that it is still a place for a wide range of expressive cultures. I want to conclude by proposing that it is that the meaningful tension which emerges through the juxtaposition of seemingly incongruous and often contradictory genres, aesthetics and politics at play that gives us the most powerful aspect of cabaret. Cabaret is, after all, not simply the form within which we share our stories; it is, at once, the form and the story itself.
Works Cited
Appignanesi, Lisa. The Cabaret. New York: Universe Books, 1976.
Hollaender, Friedrich. "Cabaret." Trans. Don Reneau. The Weimar Republich
Sourcebook. Eds. Anton Kaes, Martin Jay, and Edward Dimendberg. Berkeley: U
of California P, 1994. 566-67.
Jameson, Fredric. The Political Unconscious: Narrative as a Socially Symbolic Act. Ithaca NY: Cornell UP, 1981
Jelavich, Peter. Berlin Cabaret. Cambridge, Mass: Harvard University Press, 1993.
Joseph, Miranda. Against the Romance of Community. Minneapolis and London: U of
Minnesota P, 2002.
Notes
1. Shane Vogel makes this point in his article, "Where Are We Now? Queer World-Making and Cabaret Performance" (GLQ 6.1, 2000: 29-60).
2. O'Hara's talk focused primarily on the long collaborative and experimental careers of Montreal-based cabaret stars Dayna McLeod and 2boys.tv (Aaron Pollard and Stephen Lawson), but these claims can be made, I think, for many long-time cabaret artists (June 27, 2009, The Artery, Edmonton).
3. FemCab is now in its 29th year, courtesy of Nightwood Theatre; Cheap Queers ran for 12 years, tended by Moynan King and the Hardworking Homosexuals; Le Boudoir ran for 11 years and Meow Mix is still going strong in its 15th year, both produced and curated by Miriam Ginestier; and Loud & Queer, the brainchild of Darrin Hagen and Guys in Disguise, had its 20th anniversary in 2010.
4. See Becki L. Ross, Burlesque West: Showgirls, Sex and Sin in Postwar Vancouver (Toronto: University of Toronto Press, 2009) and Viviene Namaste, C'etait du spectacle! L'histoire des artistes transexuelles en Montréal 1955-1985 (Montreal: McGill-Queens University Press, 2005).