Alberta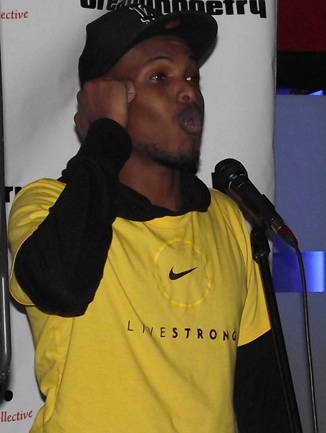 Spoken word poetry in Alberta is burgeoning.
Both Calgary and Edmonton are offering audiences the chance to experience spoken word, in all its facets, through new and existing programs. There is an energy, and a strong poetic performance tradition in the province that promises to maintain spoken word for many years to come.
CALGARY
Calgary has long been the epicenter for spoken word in Alberta. Hosting a long-time recurring, monthly slam, as well as a spoken word festival, Calgary is an anchor for spoken word not only provincially, but also nationally and internationally.
The Calgary Spoken Word Festival, under the leadership of Artistic Director Sheri-D Wilson, brings together a vibrant mix of internationally and nationally renowned spoken word artists with local talent. The festival is an exciting showcase of veteran and new talent appealing to a diverse audience. Things are well under way for the 2011 festival which will run from March 29 – April 3, 2011.
Wilson runs the Spoken Word program at the Banff Centre in conjunction with the Calgary Spoken Word Festival. A truly unique learning experience for emerging and experienced spoken word artists from across the world, this program focuses on the study of spoken word and the development of spoken word artists. This year students will study under the direction of faculty: Brian Brett, Regie Cabico, and Sheri-D Wilson, and with workshop leaders: Kaie Kellough, Steven Ross Smith, Anne Waldman. The Spoken Word program will run in Banff from April 4 – 17, 2011 and will host three Calgary Spoken Word Festival events, including a special reading on April 9 with Brian Brett and Anne Waldman.
In tandem with both the festival and the Banff program, a new initiative has emerged. The Calgary Spoken Word Festival will be launching the Spoken Word Workbook: inspiration from poets who teach. The book contains interactive exercises from top spoken word artists that are intended to explore specific facets of spoken word: history, writing, and performance. The Spoken Word Workbook features contributions from: José Acquelin (Montréal), bill bissett (Toronto), Regie Cabico (Washington DC), George Elliott Clarke (Toronto), Paul Dutton (Toronto), Ian Ferrier (Montréal), John Giorno (New York City), Louise Bernice Halfe – Sky Dancer (Saskatoon), Bob Holman (New York City), Kaie Kellough (Montréal), Shane Koyczan (Penticton), Cheryl L'Hirondelle (Vancouver), Billeh Nickerson (Toronto), Hilary Peach (Gabriola Island), Robert Priest (Toronto), Stephen Ross Smith (Banff), Quincy Troupe (New York City), Anne Waldman (New York City), Sheri-D Wilson (Calgary), and d'bi young (Toronto).
The Calgary Spoken Word Festival presents a monthly poetry slam which continues to draw new audiences and participants. Calgary continues to send a slam team to the Canadian Festival of Spoken Word. Furthermore, building on the success of last year, the Calgary Spoken Word Festival has now expanded their slam program to include a monthly youth slam.
Other readings in Calgary include: Passion Pitch series organized by Kirk Ramdath featuring writing, art and music; and The Single Onion Reading Series.
EDMONTON
Over the past year, spoken word, in particular slam, has found a constant home with the Rouge Poetry series.
Run by the Breath in Poetry Collective, Rouge Poetry hosts a weekly night of spoken word and performance poetry, which includes a musical guest at the end of the evening. In addition to this, the collective works with various groups to host featured nights, including Palestinian Solidarity night, Indigenious Sovereignty night, and a Fred Compton Memorial night. Through these readings, the Collective continues to expose new and diverse audiences to spoken word.
Last year, the Breath in Poetry Collective began Edmonton's first slam competition and sent an inaugural Edmonton team to the Canadian Festival of Spoken Word. Beginning in the new year, Rouge Poetry Slam will continue to grow and solidify itself as a new round of competitions will begin to chose a 2011 team.
Plans are underway for the annual Edmonton Poetry Festival. The festival features both local and international authors in a series of readings that include everything from: slam competitions, to café open mic style readings, to visual poetry exhibits, and more. This year's festival will run from April 25 – May 1, 2011.
A special Remembrance Day event, InArms, was held As part of the Edmonton Poetry Festival. InArms is a project that endeavors, though poetry, to tell the stories of Canadians in the military. It includes poetry published online at InArms.ca and culminated in a performance held at the Provincial Museum featuring a staged reading of poetry written by and about the Canadian Military.
Other readings in Edmonton include: the monthly Olive Reading Series, which brings local poets and featured guests together in an exploration of the many facets of poetry; the diverse and thematically-based, monthly Herman reading (information on Facebook under the HERMAN group); and the Edmonton Stroll of Poets.

More Scene Reports from Issue #1