New Brunswick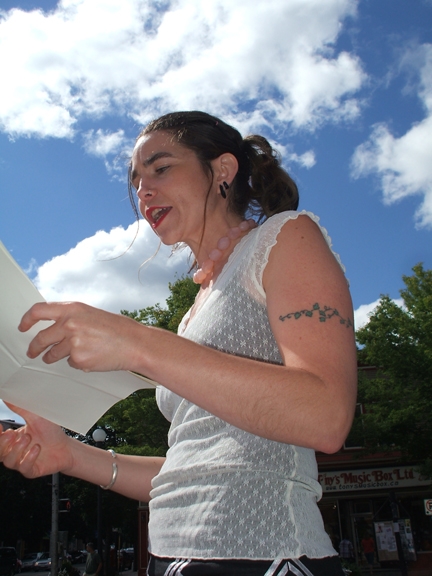 Introducing the BlackTop MotorCycle Gang
"BlackTop MotorCycle Gang: By far the hipp(i)est gang in town, BlackTop consists of more than 30 local writers who stage random, often unannounced, poetry and prose readings throughout Freddy. Admission to the clan is highly exclusive and granted only upon being dubbed weird enough by two current members." —Here NB
BlackTop MotorCycle Gang was created after a 12-hour Read-a-thon at various locations in Fredericton, New Brunswick. Andrew Titus named the group. Titus and Biff Mitchell are two of the liveliest literary performers in the Fredericton area. In 2009, Titus started a weekly Stand & Deliver Poetry Workshop focused on performance. Biff Mitchell leads the ongoing Writing Hurts Like Hell writing courses that have done writing exercises and performed live on my show on CHSR FM.
"Reading raids" usually occur without notice, host scheduling, or venue permission. BlackTop MotorCycle Gang members know of a raid idea beforehand but who shows up to perform is a mystery until it happens. Unsuspecting peeps can get caught by raids.
One time, a guard at Fredericton City Hall came out to challenge 'biffmitchell.com', not knowing that we had deliberately set up the reading raid to be performed on steps of City Hall and the rim of the Freddy the nude dude statue–water fountain because it would be observed by Big Brother and recorded from a hidden security camera/WebCam across the street. I was capturing stills from the WebCam video feed with my laptop and Fred-eZone free WiFi service while we performed.
BlackTop MotorCycle Gang "reading raids" have also happened in night-dark alleyways with flashlights, writings and whisky, at bandstands in public parks, at galleries, studios, workshops, and community fairs. BTMG has swarmed the local Robbie Burns statue with poetry and whisky after the haggis took hold (until the city took Robbie awa' for cleaning and repairs, and ha'en't returned him to The Green) but a gang member was unexpectedly given a bust o' the bard so the tradition continues. I've heard that there's an idea to raid the Farmers' Market some Saturday morning ...
"Reading raids" have also been spontaneous happenings when two of more members found themselves in the same place ... cafés, art openings, and bars are common meeting places. Members pull out a journal or book and start reading ... or undo some advertising, health warnings, or receipts ... or talk/rap/scat/whatever off the top of their head ... there's always something that can be performed.
BlackTop increasing gets invites to perform; BTMG had a featured issue of Nonymous magazine in 2009, and currently has a travelling conflation with the Emerge Artist Collective. That saw a joint art exhibition, re:myth, at Gallery ConneXion in Fredericton in September 2010; it heads out on the highway next to open on 28 January 2011 in the City of Saint John Gallery. re:myth: Stories and Poems by the BlackTop MotorCycle Gang (Broken Jaw Press), edited by Joe Blades and Biff Mitchell, an instant anthology of the new writings that inspired Emerge's art, has also appeared.
"Oh, no! What's that rumblin' sound?"

More Scene Reports from Issue #1