d'bi young - wombanifesto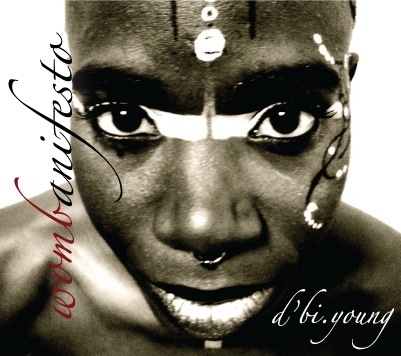 d'bi young is a phenomenon, one of those human dynamos that leave the rest of us with jaw hanging in rapt amazement. A veritable volcano of artistic activity, all the heat and splash of her molten creation drives her forays into theatre ('monodrama'), dub poetry and dancehall performance, acting turns on television, multiple recordings, three published books, motherhood, and a whole new school of theatrical skills.
Wombanifesto has been seven years in the making – although we've had a few tastes from it on a couple of EPs that slipped out over that time. It's a fine illustration of the fully-integrated package that is d'bi young – a solar consciousness blitzing the whole world for nuggets of knowledge. Eyes wide open, she starts at a point many take forever even to reach – the realization of the utterly untenable nature of our current zeitgeist – and forges on from there, blazing a trail for those who dare.
The intensity of her mission is balanced by the love it generates – a veritable army of musicians and vocalists are gathered on the tracks of Wombanifesto, supporting and transporting her voice and vision to the listener. The result is a feast for the ears – rhythms from Mexico, Cuba, Jamaica and Africa segue into North American traditions of folk, blues, jazz, funk, punk and beyond. Every song is an education in a world that is still being born – a world as inevitable as sunrise, and beautiful as any baby. It's a world we're all going to see, and soon.
(To hear tracks from wombanifesto, visit d'bi young's website.)

More Reviews from Issue #1