Ottawa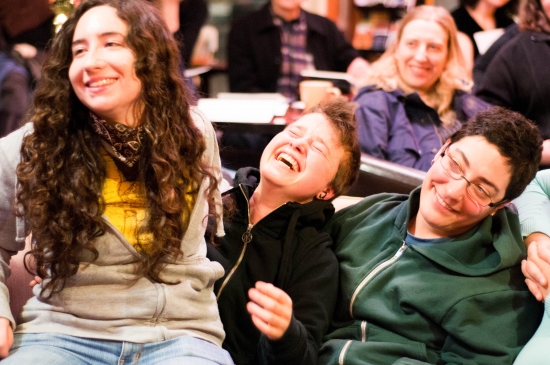 Ottawa is a hip-hoppin' place for slam, spoken word and storytelling these days. It seems a new performance series is cropping up about every six months, and a few poets from other areas have recently come to live in the nation's capital to soak up the creative juices and be a part of the Ottawa spoken word scene (Guelph's Beth Anne Fischer and Burlington's Truth Is come to mind) . It's easy to see why—this city is incredibly active.
Capital Slam—the second-longest running poetry slam in the country and the home of the reigning Canadian Festival of Spoken Word national slam champions—takes place on the first and third Saturday of each month at The Mercury Lounge and includes twelve slots for the slam competition as well as feature sets by stellar performers from all over Canada. Some big names show up on the Capital Slam stage, making these shows a spoken word hub for Ottawa. Upcoming features include Halifax performer Shauntay Grant on February 19 and RC Weslowski on April 2. Capital Slam shows often sell out, so it's best to get there early—especially if you want to be able to actually see the action.
The Urban Legends Slam, hosted by Prufrock the ShadowRunner and now being run by Sergio Guerra (aka Hyfidelik) and Sean O'Gorman, is halfway into its second season. The shows take place at Carleton U's Roosters Café the second Friday of every month and feature a very different setup than Capital Slam. Each show has three open mic slots for those who want to share work outside of a competitive framework, as well as 14 slots for slammers. The audience forms a circle around the performers and, until recently, the poets performed entirely without mics. The poetry at Urban Legends tends to be edgier than other spoken word events around town, and the audience more intimate and engaged. This series is definitely an up-and-comer. Entrance is free for performing artists, so bring a gutsy poem to share. Look up Urban Legends Slam on Facebook to find out more.
Voices of Venus is a series that showcases the work of women writers—focusing on words in performance. Given how male-dominated the spoken word scene is in Ottawa, it's been a blessing for the community to have such an incredible breeding ground for new female voices. Going strong since March 2009, Voices of Venus takes place the second Tuesday of the month at Umi Café. Big props to local poets Faye Estrella and Allison Armstrong for stepping up to present this monthly series, which has some knockout acts coming up: Truth Is on Feb 15, Beth Anne Fischer on March 15 and DJ Morales on April 12. Each monthly show features an open mic segment, so bring your poems, songs and stories and raise your voice! Everyone is welcome to attend but only women-identified folks take to the stage. Look up Voices of Venus on Facebook for event details.
The Kymeras performance troupe is a unique presence in the Ottawa scene. Made up of the fierce foursome of Kate Hunt, Sean Zio, Marie Bilodeau and Ruthanne Edward, the group puts on an event around the change of each season, weaving together poetry and storytelling that's thematically-based on one of the classical elements: earth, water, air, fire. For example, a winter show might be entitled "Iceborn" and a summer show "Fireborn". In the coming months, expect an appearance or two from these performers—who are skilled, crafty and just so damn charming.
The A B Series, taking place at The Mercury Lounge, is Ottawa's home for experimental, sound & performance poetry. Bringing these awe-inducing art practices to the fore since November 2007, A B is about halfway through its fourth season and always has something remarkable to offer—the wiles of veteran sound poet bill bissett, the linguistic panache of writer-performer Penn Kemp or the gymnastic vocal scores of Nobuo Kubota. A B is a real treasure in the Ottawa scene, drawing together an audience of wordsters who work on the page and the stage to enjoy poetry that doesn't often find space in Ottawa's spoken word arena. Upcoming A B shows include Angela Carr and Jonathan Ball on February 20, Sandra Ridley and Steven Ross Smith on March 5, gustave morin on April 2 and Jen Currin and Jonathan Ball on April 16.
Once Upon A Slam is a brand-new storytelling series in Ottawa that takes place the last Friday of each month at Bar 56—and the enthusiasm for it has been high. With only a few shows under its belt so far, it's hard to say what direction this event will take as it finds its groove. But, to-date, local spoken word artists, zinesters, fiction writers and storytellers have flocked to the Once Upon A Slam stage for a little friendly story-slinging action. The show takes a slam approach but gives storytellers up to five minutes to tell their story, rather than the usual three-minutes-per-poem rule that's typical of poetry slams. All slam participants get in free. The ten available storytelling slots consistently fill up, indicating that this is something that the community has been hungry for. Here's hoping this dynamic, "quick and dirty" format for storytelling takes off more broadly in the Canadian storytelling scene!
A couple further things to keep your eye on in the coming months…
The Poetry Show, a new project hosted and organized by local poet Jessica Ruano, welcomes all kinds of poetry: spoken word, page poetry, word-based performance art and, apparently, even poetically-inspired interpretive dance! *grin* The series is just getting started, having put on only two events in town so far. That said, it's a promising presence in Ottawa's poetry community—hooray for uniting poetic practices! Can't wait to see what you have up your sleeve for the coming season, Jessica.
Greg Frankson also has a new project on the go: the Ottawa Poetry Slam Champions' Cup. This is a brand-new format for Ottawa—similar to a slam series, but contracted into a two-month season that will feature 32 poets who sign up in advance for the chance at a huge money pot if they win the final slam. As of now, slams are planned for Sunday evenings, with preliminary rounds on Jan 23, Feb 13, Feb 27 and March 13. Finals are scheduled for March 27. Because it's a head-to-head tournament, only two of eight poets in each preliminary round will advance to the finals. The finals on March 27 will decide the winner of the Cup (and the pot). Registration for the event is open only to poets who reside in the region: Ottawa, Gatineau and Lanark County. Email Greg Frankson at cytoinfo[at]cytopoetics[dot]ca to confirm your space. Registration is only confirmed upon payment of the fee.
Last but not least, the beginning of this year sees the birth of a new local youth poetry slam series that aims to form Ottawa's first youth-only slam team. The first show, featuring Montreal poet Caytee Lush and hosted by world slam champion Ian Keteku, took place on January 17 at East African Restaurant. Keep your eye out for more Ottawa Youth Slam events in the coming months!
Check out this site's event calendar to find out the specifics of upcoming events in the Ottawa area.

More Scene Reports from Issue #1