Poetry Gabriola Festival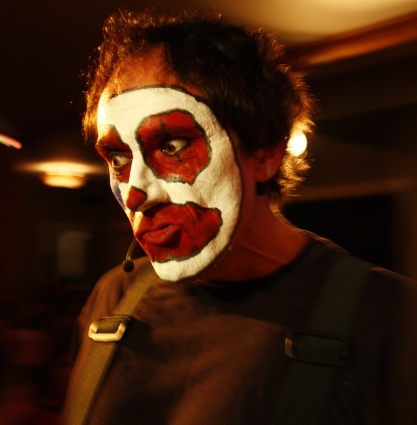 I'd been looking forward to the Poetry Gabriola Festival ever since my first visit to the island, when festival organizer Hilary Peach had indicated to me after my reading there that she intended to have me back. I've heard nothing but good things about the festival, and happily it lives up to its reputation. There was a change of venue this year to the Dragon's Lodge, a venerable structure positioned on a small peninsula so that it is surrounded on three sides by the ocean. Here the poets and singers were housed together in the second floor suites with the first floor reserved for the kitchen, a large performance area, and a second large space used either as a common room or for the various spoken word-themed panels. The kitchen, where volunteers served up many fine diet-customized meals for the participants, served also as a kind of common area for poet talk.
Perhaps it was the amenable surroundings but all the interactions amongst the poets and other artists as far as I saw were friendly, supportive and kind of egalitarian in nature. Hilary Peach told me that she had picked the participants as much for this factor as for the quality of the poetry. She's into creating community, not only amongst poets but throughout the island where her efforts and connectivity seemed vastly appreciated.
Most of the poets who performed in the main venue – including myself – had been commissioned through the Canada Council's Word-of-Mouth program to write new pieces especially for presentation at the festival. This once again was the result of an application by Hilary Peach. So, over the three nights of the festival nine poets, either in person or via video in two cases, performed their new works to packed houses.
As one of the participants I'm not going to critique the presentations of my fellow artists here. There was definitely a great deal of variety in the works presented and every poet was enthusiastically received by the always supportive crowd. I've heard or worked with most of these poets and story tellers before but the big discovery for me was Kaie Kellough from the Montréal area, who unleashed one of the finest performances of sound poetry I've ever seen. He is a terrific vocalist and managed to relax the audience with his admission that there is actually something just a little bit "silly" about sound poetry. Whether or not this is true, his set was virtuoso and enthralling. I had also never encountered the storytelling skills of Richard Van Camp before, but I am immediately a fan. He has a greathearted human quality that emanates not only through his stories but through his casual conversation as well.
Aside from the main stage there were also two days of events in the tiny cabins which surround the lodge. Here, some of the main stagers and various other artists/singers/poets from the community hosted whoever showed up, regaling them with sometimes interactive entertainments. This was a fine way to experience works close up and intimate. I enjoyed this as much as anything at the festival.
Aside from the Canada Speaks portion of the program, there was also Canada Sings. I arrived just in time on Thursday night to catch Mae Moore's last three songs. I liked what I heard so much I actually sprang for a CD.
My general observation at least based on the sample group at the festival is that spoken word is ever-changing. It quite comfortably contains and embraces all modes of poetry. There's nothing for instance about a good "literary poem" that disqualifies it from functioning fully as a good spoken word poem. It's all about the mutual agreement between crowd and poet that some aspect of the room as theater is being acknowledged in the presentation of the poem. Connectivity is key. It was clearly important to all the poets who presented at the Festival to establish a clear connection with the audience and to run their poetry as a kind of current through it. There was in other words no distancing of the poet or of the work. This was poetry freshly made. A little nervous at times but not too afraid of making mistakes. Risks were taken. Some poems leaned more on their performative aspects some more on the sonic. The overall result was one of richness, variety and immediacy.
The sense of the word/music as community builder was strong but there was very little overt didactic poetry presented. Yes there were themes of gender and race and class, but these were all broached with miraculous rantlessness. I'm always up for a good well-made rant, believe me, but it's good to see the approaches widening and that the spoken word imagination is finding more modes and tropes to unleash its piece.
This is as good a festival as any I've attended or performed at.