Rafeef Ziadah – Hadeel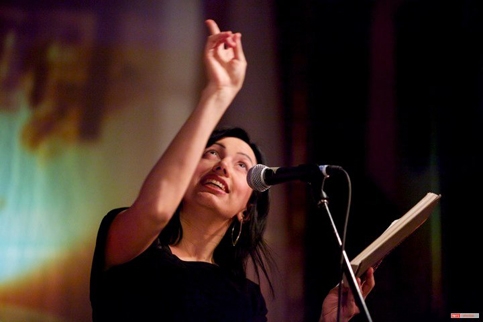 The heartrending message of Rafeef Ziadah's poetry is the reality of the lives of Palestinians today – whether living as second-class citizens in Israel, under occupation in the West Bank and the Gaza Strip, surviving in refugee camps in Lebanon, or trying to make a life as immigrants in a country like Canada. It is the great good fortune of Canadians today that one "walking, talking, breathing Palestine" has chosen to write down and perform and record this message in words we can understand.
There are poems about Palestinian identity. There are poems about the Middle East. There are poems about individual loss and poems about the shattering of a whole people. There are poems about the bland innate racism of Canadian culture, and the obvious parallels between the Palestinian situation, and that of the Natives of North America.
Ziadah's poetry is the poetry of a people – it acts as a channel for all the grief and anger and pride of a people oppressed. As a performer, she enacts the reality of the catch phrases 'speaking truth to power' and 'giving voice to the voiceless.' Her words alone have the power to galvanize a room full of Palestinian expatriots.
The poems on Hadeel capture the intensity of Ziadah's live performance. They are delivered with precise emotional control, and exquisite musical accompaniment that never overshadows the text.

More Reviews from Issue #1