Christine Germain – Soirs menteurs and Journal Territoire. Bestiaire à têtes de femme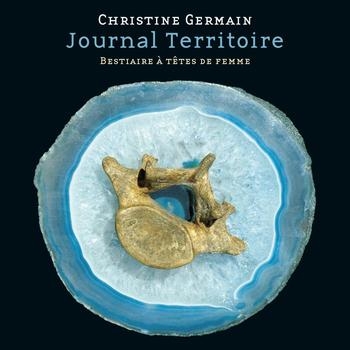 Christine Germain worked for many years along side Quebec poet, essayist and Radio Canada radio host, Michel Garneau. Together they hosted one of Radio-Canada's most memorable programs, Les Décrocheurs… d'étoiles, which brought an eclectic cornucopia of poetry, literature and politics to its francophone listeners. Now, the show years gone, our national radio is much diminished and we are impoverished without them.
Listening to Germain's two releases, both in French, on the Planete Rebelle label, Soirs menteurs and Journal Territoire, Bestiaire à têtes de femme, it's as though she has once again taken up the mike to broadcast late night FM radio. Her sultry voice flows directly from the interior of one bruised psyche down into our own. The effect is powerful and disarming.
In both sets of poems, Germain takes us out into wild streets, into a world rife with drugs, alcohol and violence. It's a place where the sex is raw and obscene, where death stands ready to steal the breath from any unfortunate who has miscalculated her hit or the rage of the neighborhood psychopath.

Throughout the recitals, Germain's voice remains warm, almost lush, her diction perfect. Even as she describes the most secret, most intimate and most disturbing visions, her tone remains controlled and subdued. This understated and nuanced delivery focuses and heightens the drama of the pieces. The listener slides comfortably down into her spider hole, lulled by her dulcet tones.
At times, Germain takes on the persona of the girl next door, struggling against the fell indifference of a world prepared to watch the collapse of another fragile personality into misery and destruction. In other pieces, she is a cold pathologist of human freakishness, describing the wanton pleasures of female flesh-eaters, noting the musk, secretions and sensations that surge as blood flows and muscles are torn apart under polished bone teeth.
In her prose poem "Feu-Poème aux yeux noirs", ('Fire-Poem to black eyes') found on Journal Territoire, Germain rails against the flesh. She rages against the human form. She calls for her transformation into a powerful female beast, one which can defend itself in the blood sport of human encounter. In her hidden lair, she holds her prey in bloody hands. It is a mortal combat against the dominant sex; her only weapons, her cunning, her blood and her vulva.
She continues with a droll, dark poem, "Homme cherche femme" ('Man Seeking Woman'). built up using the conceit of the Personal Classifieds. But these are classifieds that reveal the hidden desire to possess and dominate, to control and consume the object of desire. These are ads from men who want women who are all at once hot and submissive, cold and insecure, illiterate and inert. As Germain's persona read the ads, I knew that she had answered each of the ads and had met all these men.
Veteran Montreal turntableist Martin Tetreault provides the accompaniment to both recordings. Tetreault builds the soundtracks with found sounds, sound-effects and snippets and loops taken from his vast collection of vinyl recordings. The scratches, the static and the nostalgic orchestral strains create a powerful evocative soundscape to accompany Germain's reading.
This is spokenword at its strongest. Check it out via the PR website.
'Coda' from Soirs Menteurs.
More Reviews from Issue #1