Ivan Coyote – You're a Nation and You Are Here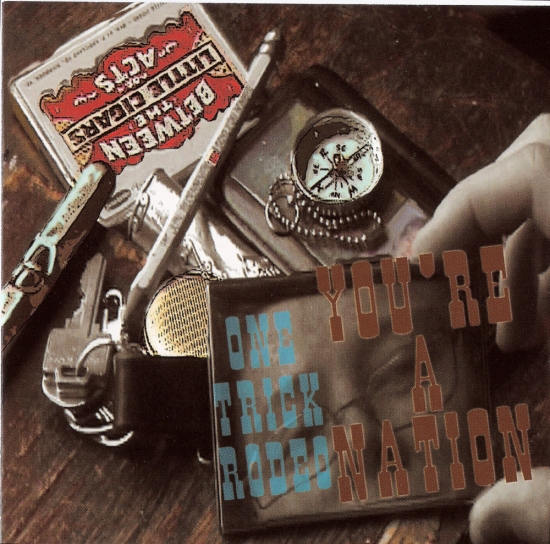 In two of her recent recordings, You're a Nation and You Are Here, storyteller Ivan Coyote surveys the terrain of the Canadian family. It's not a family that Stephen Harper and the Reformists of Calgary would likely approve. It's filled with Coyote's people; inveterate drunks, eternal ne'er-do-wells, and powerful-willed women living in shacks and trailer parks on the edge of Canada's northern frontier.
Coyote champions the history of her people's lives in these two sets of stories that speak of their foibles, their flaws and their victories as they struggled to make a life for themselves and their children on a cold inhospitable bump on the Alaska Highway – that bump would be Whitehorse, in the Yukon.

In both CDs, Ivan plays to appreciative hometown crowds, who warmly greet her stories of the folks who built Whitehorse up from a desolate outpost on the edge of the Canadian arctic. In the two generations since her people arrived, Whitehorse has changed into a city like so many others, with its conglomeration of big-box stores, malls and fast-food franchises, but Coyote is determined, as one of the keepers of its memory, for us to carry away a piece of its history.
You're a Nation was recorded live in 2003, and You Are Here four years later. Coyote delivers both hour-long shows to hometown crowds who like what she has to say. Coyote loves Whitehorse. She love its people, its winters, its history and its geography, and that love shines through these recordings as she performs with assurance, cracking jokes and touching buttons incomprehensible to those of us from the outside.
You Are Here is the result of collaboration between Coyote and singer/guitarist Rae Spoon. Spoon opens the CD with a couple of his original folk-country tunes accompanied to acoustic guitar. Spoon has an extraordinary clear warm voice. His songs and deft accompaniment provide fine soothing segues and counterpoint to Ivan's stories. Coyote uses a similar strategy on You're a Nation, where she collaborates with a band, One Trick Rodeo, who provide two songs and accompaniment to Coyote's six monologues.
In You Are Here Coyote only makes passing reference to her homosexuality. She jokingly informs the audience several times that they're listening to someone with strong homosexual tendencies. In You're A Nation however, she focuses on sexual politics. She's up front in describing the cares and loves of a self-described "faggot cross-dresser". It's funny, self-effacing and without guile. In this show, Coyote is speaking to friends and loved ones about matters of great concern. It's in this role that I was most touched by Coyote's work.

In particular, a piece called "I Like to Wear Dresses" tells the story of a young boy, a child of seven years, discovering his homosexuality. Coyote approaches this topic with care, using a delicate exposition of the boy's history and family life to describe an almost unbearable tension between his desire to live his feminine traits and the psychic violence that will rain down upon him if he does.
Coyote always situates her politics within her love of life, her hometown, her friends and her family. In doing so she presents us a set of radically transformed and rejuvenated family values. She makes care, love, tolerance, and acceptance of human frailty the foundation for the new nation, one that tosses off the violent, monstrous hypocrisy that passes for sexual morality in our times.
Go give Coyote a listen for a vision of something better, something optimistic, built on a radical re-evaluation of a past we've all fled from, but which, in Coyote's view, holds the broken pieces with which we can build a future.

More Reviews from Issue #1