Vancouver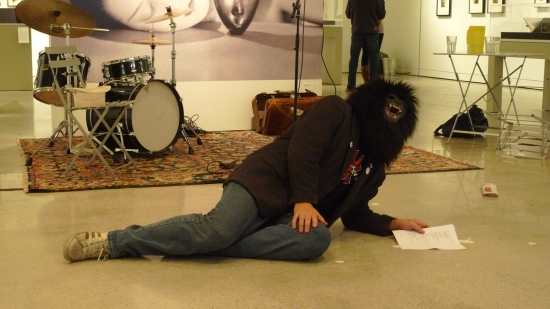 "i havint lost my sens uv humours," bill bissett deadpanned in a poem about the debilitating medical treatments that had temporarily destroyed his immune system.
He went on to prove his point with a barrage of wit, wordplay, chanting and sound poetry during the launch of his newest book, time, on November 24th at the ANZA club. He presented mostly comic poems, including one about being mistaken for Michael Caine on the Bloor line ("why dew yu have a canadian/ accent she askd me"), and another about his visit to the imagined town of dementia ("it was great in dimensha from/ what i remembr"). Due to a freakishly rare Vancouver blizzard, the audience was sparse, a bad stroke of luck for poetry fans who stayed home, as bissett showed that he still possesses the ability to delight and surprise.
bissett's longtime poetic accomplice, Adeena Karasick, read before him. The work she presented was more conceptual and brazenly ironic, such as her satire of Beyoncé's "All the Single Ladies", entitled "All the Lingual Ladies." While bissett's poems displayed dry wit, Karasick's humour is saturated with sexuality and emotion. If anyone can be said to have a wet wit, it's her.
While the bissett / Karasick combo was wonderfully strange, it was not the weirdest spoken word show I saw this fall. That distinction goes to the Surrealist Cabaret, which occurred on November 9th as part of the Museum of Anthropology's exhibition, Man Ray, African Art and the Modernist Lens.
In front of a blow-up of Man Ray's famous "Noire et Blanche", the museum put a Persian carpet and a microphone. Gleaming metal chairs and small café-style round tables were scattered around the gallery space. The exhibit itself was arranged in a Tiffany's presentation-style, lots of blank space surrounding the objects of interest (small African statuettes and Man Ray photographs), all very white and bright. Into this pristine and distinguished atmosphere entered a man wearing a suit jacket, sneakers, and the head of a gorilla suit. He began to yip, yelp and hop around the gallery space, spurning the makeshift stage completely, leaving museum-goers shocked and bewildered. Strangely, no one called security.
This was RC Weslowski at his best, reincarnating surrealism. Soon the yips and yelps became words. He introduced The Minimalist Jug Band, which consisted of Al Mader, his washtub bass, and a foot-activated trash can he used for percussion. Mader performed many of his standards, such as "Dead Man's Pants"; he also did "Reykjavik", a poem broken up by Mader holding a piece of driftwood shaped like a saxophone to his mouth and doing a verbal impression of the instrument.
Weslowski took the clowning element even further. His surreal poems were punctuated with sound poetry and theatrical interludes. One such interlude occurred when Weslowski reached into his jacket pocket, pulled out a toy eyeball with tiny legs, and wound it up. We watched as it click-clicked across the gallery floor. When it stopped, there was a long silence before Weslowski moaned "I seeeeeee you" and launched into another poem. He finished with "Stephen Harper Hates Funding for the (f)Arts, aka Flatulence", which ended with Weslowski whipping off his gorilla mask and proclaiming "I received a grant for this!"
"Surrealism is still dangerous when it's alive," Weslowski said after the performance, and after watching several baffled patrons scatter and flee, I had to agree with him.
This fall also saw the 8th installment of ANU, a large-scale interdisciplinary series founded by Jabbar Al Janabi. ANU is an orchestrated jam session where each artist has a light trained on them. When this light is on, they enter the jam. When it turns off, they stop.
This year, spoken word artist Tanya Evanson directed the show around the theme of hunger. On October 8th at the Roundhouse Community Centre, she gathered and conducted nine musicians, two spoken word artists (Sheri-D Wilson and Kevan "Scuffmouth" Cameron), two dancers, and two visual artists. The collision of such wild and divergent styles created many memorable moments, such as a Taiko drummer pounding out a jazz beat or Chelsea Johnson's momentous voice amplifying each one of Sheri-D Wilson's lines in a soaring bluesy moan. At ninety minutes in length, the barrage of disjointed improvisation exhausted the audience. ANU's lack of structure handicaps it as a piece of theatre. While the formal setting makes the show more ritualistic – and helps greatly with its complicated technical requirements – I would like to see ANU in a space where the audience could be freed up to engage and disengage with the spectacle.
Evanson also performed her own work as part of the Seeing the Voice: the 10th annual Visible Verse festival.
As for the Vancouver Poetry Slam, it had a noticeable drop-off in attendance this fall, but still drew eighty to one hundred and twenty people every Monday. With over 4500 paid audience members in each of the last two years, does this make it the most well-attended poetry show in Canada? I can't think of a more popular series. Perhaps the weekly Tonight It's Poetry in Saskatoon could rival it soon.
Also of note, Van Slam alum Magpie Ulysses launched her second chapbook, Strangler Fig, at The Toast Collective on October 2nd. She exclaimed in one poem: "My heart is butane-fueled potato cannon!" and her visceral performance made me believe it.

More Scene Reports from Issue #1