See the Voice: Visible Verse 2010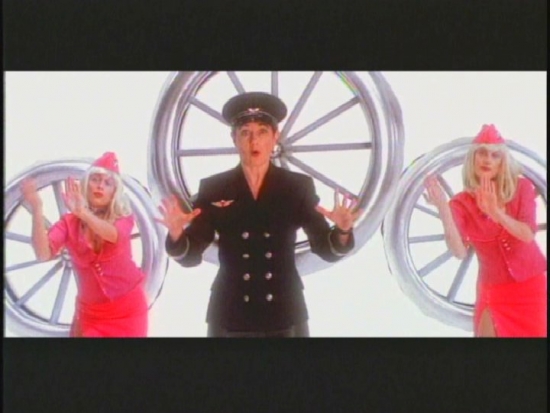 When a new poet's name catches my attention, I search for them on YouTube. I'd rather click a few links and see them perform than spend an afternoon searching out their book at the library. Call it laziness or call it progress, either way the convenience of the information superhighway is changing the way we encounter poetry. Of course there's text online as well, but video is more immediate and much easier on the eyes. Many of my friends operate the same way, and the youth I teach in schools use YouTube as their go-to source for poetry.
But are poets using video to make this trend their friend? To find out, I went to Visible Verse, North America's premiere videopoem festival (according to MovingPoems.com, which Tom Konyves noted as the best site on the web to find quality videopoems and discussions about videopoetry).
Heather Haley, the founder and artistic director of Visible Verse, kicked off her festival by announcing to the audience "ten motherfucking years!" 2010 marks the tenth anniversary of the festival, and when you're fostering a marginal art form like the videopoem, survival is an accomplishment worth celebrating.
To mark the occasion, Visible Verse was expanded from one night to two, and before each showing of current works, a retrospective was screened. On Friday, the first night, the retrospective covered 1999-2002. It's clear that during this period the videopoem's main influence was the MTV-style music video. Spoken word dominates, and the directors concentrate on capturing the poet's performance. It's a simple approach with some great results, such as Patricia Smith's "Chinese Cucumbers", Bud Osborn's "100 Block Rock", and Sheri-D Wilson's "Airplane Paula".
The current works that followed were uneven. Juxtaposition of image and word was used to synthesize meaning in a more conceptual approach. The prevalent use of still images and black and white video lent a dry, intellectual feel to the current works. One notable exception was "Deersigns" by Taien Ng-Chan, an animation that takes a comic look at the strange way deer icons on warning signs are different from province to province. Before the current works on Friday, Ellyn Maybe gave a reading from a lectern placed in front of the movie screen, not an ideal setting for live performance, but she disarmed and amused the audience with her flustered excitement.
The next day in the afternoon a panel discussion was held called "Seeing the Voice: the Evolution of Videopoetry from Cocteau to YouTube", but instead of living up to its title, the debate was dominated by the question "What is a videopoem?" The panel consisted of Warren Dean Fulton, Kurt Heintz, Taien Ng-Chan, Katrin Bown, and, most notably, Tom Konyves of the Vehicule Poets who coined the termed "videopoetry" in 1978, and who pushed the other panelists to "take a stand" on what would distinguish a videopoem from a poetic passage in a video or film. Otherwise, wouldn't Koyaanisqatsi and Baraka be lengthy, exquisite videopoems?
Konyves put forward the most articulate distinction, saying that a videopoem must include three elements: text, sound and image. Heintz quibbled with this slightly, saying that "text" should be amended to "language". Fulton acted as the contrarian, raising examples that didn't quite fit the proposed definition, and even going so far as to propose that the Lascaux cave paintings, illuminated by the flickering firelight, should be considered precursors to videopoetry.
In the second retrospective covering videopoems from 2003-2009, cinematography, animation and special FX were integrated in a more sophisticated way. The crowd favourite of this section was Taylor Mali's comic poem "The the Impotence of Proofreading" directed by Joanna Priestly, which uses animation to illustrate the hilarious malapropisms that can occur if students fail to proofread their essays.
That night Tanya Evanson spurned the lectern, stalking up and down the aisles – and even the rows – of the cinema, inviting audience to clap, snap, and respond with her performance. Unfortunately, the audience was small, 30 people at the most (the night before had maybe 50) in a cinema that seats over 200.
Warren Dean Fulton remarked the 2002 Visible Verse that he curated was sold out, and that the height of the videopoem's popularity was from 2002 to 2005. It's unclear why Visible Verse's audience has diminished. The convenience of YouTube could be a factor, but other film festivals still draw big crowds, even in Vancouver.
Saturday's slate of current works find the poet as narrator, much more than as actor or performer. Like Friday's works, this creates a more cerebral videopoem, which Heather Haley clearly prefers. On her website, Haley states that "[u]nlike a music video—the inevitable and ubiquitous comparison—a videopoem stars the poem rather than the poet, the voice seen as well as heard", which explains why this year's Visible Verse has been tagged "Seeing the Voice".
It also explains some notable exculsions from the festival, such as Tanya Davis' massively popular videopoem "How To Be Alone", which racked up over two million hits within its first two months on YouTube. "How To Be Alone" is more illustrative than conceptual, more about poet as actor than poet as narrator. I'd like to see more videos in this vein at Visible Verse, as a balance to the conceptual works, which tend to be emotionally opaque. I will certainly go back to Visible Verse next year, but I would be more confident in inviting a friend to come along with me if I knew the intellectual component of the festival was interspersed with more videopoems that were just plain fun.