Scat: Bootleg Recordings of Jack Kerouac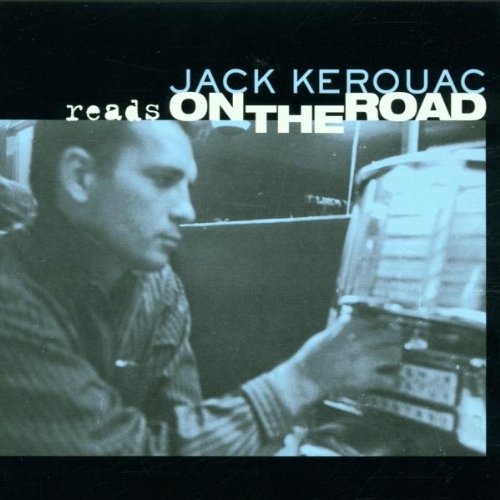 A friend of mine lent me his collection of literary bootleg cassettes – I kid you not, he has an extensive collection of cassettes of recordings by people like Charles Bukowski, Gregory Corso and especially Jack Kerouac, cassettes which were sold to him by a 'connection' in Greenwich Village, NYC back in the late 80s. This is only one tiny aspect of a Pop Cultural Collector par excellence ... yes, one tiny meeting place between two obsessives who spend far too much time lingering lovingly over their latest 'acquisition' in their 'private collections' ...
I've been into literary bootlegs for ages. I have what is probably the only extant recording of the otherwise unsung Montreal welfare poet Peter Copping, who heavily romanticized the blear bleakness of marginal 80s streetlife. Many of my bootlegs are copies of long-out-of-print recordings. I have dubbed copies of old Underwhich cassettes featuring rare bpnichol and bill bissett recordings from the sixties (now available from ubuweb). My first introduction to the sound poetry of the Vehicule Poets came courtesy of a mix tape someone sent me in the mid-eighties – sans explanation ... it was years before I was able to solve the mystery of those poems / songs / chants (the reedy plaintive voice of Ken Norris singing 'don't you freeze over now / keep on tumbling down / into cool cool pools where all good waters flow' struck me at the time as absolute dynamite) ...
Then there was that great series of cassettes put together by Pat Andrade in the late eighties, Poetry Is Not A Luxury, Your Silence Will Not Protect You, and the later CD 'Til The Bars Break, which introduced me to a whole world of poetry by indigenous and Black writers like Jeannette Armstrong, Lee Maracle, Kateri Damm, Pineshi Gustin, Lenore Keeshig-Tobias, Afua Cooper and Ahdri Zhini Mandiela.
Not to mention many cassettes laden with dubs of butchered radio station copies of the famed Giorno Poetry System albums. John Giorno himself, Frank Zappa reading William S. Burroughs, William S. Burroughs reading William S. Burroughs, Patti Smith being her insouciant self, Michael Gira scaring the living shit outta me, the lyric poetry of the Butthole Surfers, Tom Waits telling stories ...
But the Kerouac bootlegs I've been borrowing lately take the cake. These recordings are largely bootlegs in the classic sense – recordings which have made the rounds among afficionados for years, decades, without ever reaching the wider public. My first inkling that such recordings existed came via readings of Kerouac biographies, which would mention in passing tapes of conversations, radio interviews, readings and ephemera. Everybody was doing it, back in the day ... I imagine any writer, poet or musician who had access to a tape recorder in the forties or fifties would've wanted to try it out. But not everyone was Kerouac – not everyone later went on to become world famous. Because of this fame, recordings that might otherwise be dismissed as juvenile, meaningless, embarassing or just plain bad are enshrined in The Myth.
The most amazing recordings I've heard so far from this hodge-podge cassette compendium is the 1949 acetates cut by John Clellon Holmes of himself, Kerouac and Allen Ginsberg. I knew such acetates existed – I'd read references to them in some biography or other – and in fact, Ginsberg released a recording of himself reading 'A Mad Gleam' from one of those acetates on his box set Holy Soul Jelly Roll. But the fact that these recordings, in their entirety, haven't been released to the public amounts to a Crime Against Literature.
First and foremost, there's Kerouac's first recorded reading, a scene depicting a football game from the then-unpublished The Town and The City. There's an exchange of nonsense between Kerouac and Ginsberg which would be essential for any actors daring to portray them in the forthcoming film version of On The Road – for what is the story of the Beat Generation, if it isn't the story of the ongoing verbal and textual exchange amongst its principle members? And here is the very sound of that dialogue, on a scratchy recording now nearly 60 years old. This part ends with the first recording of Kerouac's favourite recording pastime (even more than readings of his own work) – scat singing ... put a mic near Kerouac and he starts to scat. In this case, accompanied by a vocal bass line provided by either Ginsberg or Holmes.
The sound quality of the bootleg is so bad that I can't quite tell – on the second part of the acetate recording – if the person reading 'Pull My Daisy' and other of Ginsberg's early rhyming poetry is Ginsberg himself, or Kerouac! But never mind that ... those who have the opportunity and the resources to do it, should clean up this recording and quickly release it. It's great stuff, and deserves an airing.
Of similar historic importance are some random 1954 home tape recordings made in San José, California, of Jack Kerouac, Neal Cassady and Carolyn Cassady. Here we have a later version of the sort of recording soirées immortalized in Kerouac's obsessive transcriptions in Vision of Cody. Neal reads from Proust. Jack reads from Doctor Sax, with Neal's vocal reactions egging him on. There's also random blather between the three, and of course, a great big long session of Jack scat-singing to himself. While the actual 'performances' (Jack and Neal reading and conversing) aren't that great, the sheer historical value of the recording demands its release to the general public.
Kerouac's poetry and prose were extensively documented in the post-On The Road beatnik craze, in the recording sessions (for Dot, Hanover and Verve Records) between February 1958 and May 1959 that resulted in three albums: Poetry For The Beat Generation (with Steve Allen), Blues and Haikus (with Al Cohn and Zoot Sims), and Readings By Jack Kerouac On The Beat Generation. Then, as quickly as the craze started, it died. The Fall of Jack Kerouac was so abrupt and total that it wasn't until 1999 that producers Lee Ranaldo and John Sampas were finally able to release the first-ever commercial CD featuring a 28 minute reading from On The Road – a lost recording originally made for Verve. (Previous to that, the only recording made from On The Road was of a brief live performance Kerouac did with Steve Allen on the Steve Allen show in late 1959.)
1999's Jack Kerouac Reads On The Road featured a number of other bootleg favourites, including the extraordinary 'Orizaba Blues' and 'Washington D.C. Blues'; originally recorded accompanied by Frank Sinatra records playing in the background, the producers invited David Amram to write a posthumous accompaniment, which beautifully compliments Kerouac's reading. (I generally consider such posthumous collaborations ghoulish – see, for instance, all kinds of monstrous perversions of Bob Marley's work in posthumous remixes and re-recordings – but in this case, I think Amram has touched on the heart and soul of the readings.) Amram, of course, wrote the score for the Robert Frank film Pull My Daisy; the audio track of that film, featuring Kerouac's loose, humourous reading of the narrative, ranks as one of the outstanding bootlegs from this cassette collection. (The film is currently available on DVD.) One of the bootleg cassettes also features a long, leisurely reading of 'San Francisco Blues' from the same private sessions as 'Orizaba Blues' and 'Washington D.C. Blues' – it'd be great to hear that one cleaned up some time – with or without Amram accompanying it.
The CD also includes several drunken takes of jazz standards like 'Ain't We Got Fun', with complete musical backing provided by Jerry Newman and his Esoteric studio. This is Scat Kerouac at his full-blown height. The bootleg version of this recording includes between-take blather, but with or without the chatter, while they're kind of cute,these recordings are of interest only to Kerouac fiends and fanatics.
Another great unreleased classic is Kerouac's 1961 recording of Doctor Sax and Old Angel Midnight for Lois Sorrells. Other than the audio track from Pull My Daisy, this is the only really extensive reading by Kerouac (that I've heard), running continuously just over 50 minutes. As he reads, Kerouac makes editorial comments, asides, pauses, and at one point switches to the almost pure sound poetry of Old Angel Midnight. Delightful. Almost inevitably, the recording ends with Jack crooning drunkenly along with a recording of Frank Sinatra.
One of the grand frustrations of the Kerouac Mythos is the near-total lack of serious interviews with him. Kerouac was shy by nature, but most of the fault must lie with the procession of so-called journalists – ie. shitheads and imbeciles – who insisted on asking stupid questions and making inane assumptions. I have to say that not one of the recorded interviews I have heard with Kerouac amounts to anything but an embarassment for the fools who conducted them. Let's start with the interview with Kerouac from The Ben Hecht Show, broadcast on WABC TV on October 17, 1958. The audio from this gem was re-issued on The Beat Generation box set, released by Word Beat in 1992, and it certainly fits in with the wrongheaded tenor of that whole collection, which seemed to lavish enormous amounts of time on the 'beatnik phenomenon'and the media hoo-ha surrounding it, while scrupulously avoiding including actual Beat poets like Gregory Corso, Diane DiPrima, Lawrence Ferlinghetti, Michael McClure, or Gary Snyder! (They did see fit to include some previously-released works by Kerouac and Ginsberg.) So, for 17 painful minutes we have Ben Hecht (not the actor) asking idiotic questions about beatniks and juvenile delinquents and the like, which a clearly uncomfortable and subdued Kerouac manfully attempts to respond to in a sensible and polite manner.
That's the best of a really bad lot, in terms of audio interviews. The bootlegs feature the ultra-painful 1962 'Dialogues In Great Books', in which a duo of halfwits who have a show on the local Lowell, Massachusetts station WCAP pepper a clearly hung-over Kerouac with a grab-bag of questions that – even when they manage to make sense or be relevant – the poor man is never given a chance to properly respond to before the next question is lobbed. This certainly highlights the vast divide between Kerouac's idealism – his belief in the possibility of an ecumenical, Buddhist-fatalist, compassionate and thoughtful America – and the combative, sound-byte generating, quick rice and instant pudding, oblivious gimcrack gibberish-spew of modern American mass media, which has only metastasized in the ensuing decades and now threatens to torpedo American democracy itself, in exchange for a fascistoid corporate oligarchy. This interview, painful as it is to hear, neatly encapsulates the process of ongoing public degradation which could only serve to accelerate Kerouac's suicide-by-alcoholism.
There are extensive bootlegs of recordings made by Miklos Zsedely in Northport, between 1962 and 1963 ... for the most part, they're just annoying, noisy exchanges between boozers, but there's at least one nice bit when Kerouac talks about his 1957 trip to North Africa and Europe (which he wrote about in Lonesome Traveler). At least Jack gets an occasional opportunity to hold forth, however drunkenly. Similarly marginal is 'The Recording of Couch pt. i & ii', on Gerard Malanga's Up From The Archives (Brussels: Sub Rosa Records, 1999), wherein random conversation is made between Jack Kerouac, Allen Ginsberg, Gregory Corso, Peter Orlovsky, Taylor Mead, Gerard Malanga and Andy Warhol, at The Factory during the filming of Couch in the summer 1964. Again, only of any interest at all because it's Kerouac, Ginsberg, Warhol, etcetera ...
The nadir of Kerouac's public immolation must surely be the 1968 Firing Line TV programme hosted by William F. Buckley, featuring Kerouac on a panel concerning 'hippies', along with Fugs member and Fuck You editor Ed Sanders, and sociologist Lewis Yablansky. Various documentaries have featured snippets of Kerouac on this show, bloated and drunk, throwing out a series of non-sequitors at an icy and supercilious Buckley, but the bootleg audio helps put these outbursts into context. As a panel, it's a complete failure, with Yablansky's quasi-liberal / quasi-reactionary formulations about youth delinquency and dope addiction, Sanders' semi-coherent expostulations against The Man, and Kerouac as Eminence Gris of the Counterculture, definitely fallen on hard times ... tossing off casual anti-semetic remarks, asserting that his family had always voted Republican, mocking Allen Ginsberg (who is in the television audience) ... of course nothing concerning the topic at hand is allowed to gel ... it's as if Kerouac senses this, and turns every opportunity to speak into a means of making the audience laugh at the absurdity of the pseudo-division between hippie and straight, young and old, liberal and conservative.
What has to be remembered in the midst of this wreckage is Kerouac's long-standing desire for unity, not division, in human relations. It might make sense to quote a bit from Some of the Dharma here; this is from a segment entitled 'Preaching To A Southerner', written in 1954:
Let's have no more screeching in tents about sinners who drink moonshine.
Let's have some silence in tents.
Let's have no more healing of the physically sick.
Let's heal the vicious of their viciousness.
There aint no peace like the unceasing peace of good men who would do this, preach silence and tranquillity and poverty and patience and religious joy and confidence in the essential kindness at the heart of the universe and the essential goodness, men who would teach this out of the kindness of their hearts.
Who would want to attack a country where people had no wealth and werent afraid of nothing because they'd seen through the fever of anger, greed and folly, which is just a dream in the mind?...
- from Some of the Dharma, p. 212
It's a long way to fall, from such high idealism to the bitter drunk randomly lashing out at his tormentors and his friends ... perhaps if Kerouac had been able to get a fair hearing in Amerika, a friendly ear, such as he had on the 1967 Quebec television program Sel de semaine, perhaps he'd have been better off. Or maybe it was all Karma. Who knows?
The last bootlegs ... there's a 1968 reading from Vanity of Duluoz by a diminished, but at least still coherent Kerouac. It has none of the brio and musicality of the Dr. Sax readings of 1961, just as the text of Duluoz seems muted and flat compared to his earlier works. And then from a 1969 Florida tape, the haunting sounds of a lonely Kerouac searching the radio dial for familiar jazz standards, to accompany his last, drunken croonings into that good night ... still scat singing, right to the end.

More Reviews from Issue #1