Rob Epstien & Jeremy Friedman (directors) – Howl!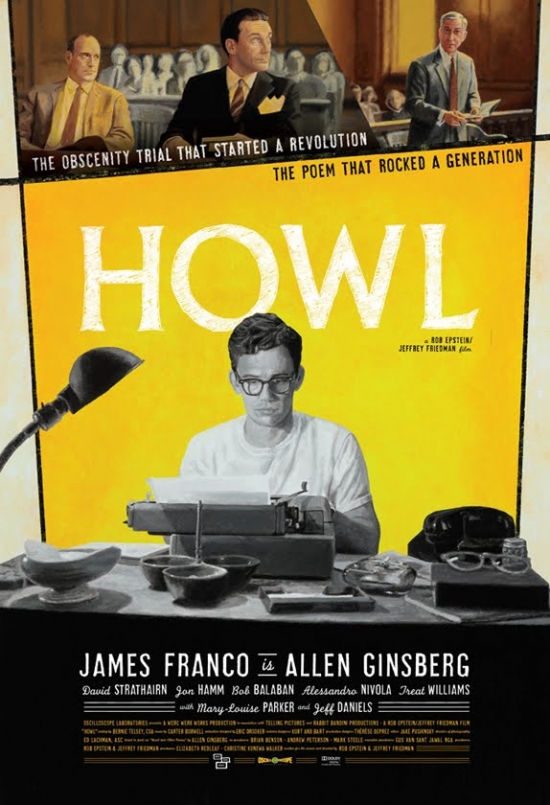 If you are looking for the balding, bearded, bespectacled Ginsberg of the 1960s, you won't find him in HOWL. Also, if you're seeking a biographical overview of Ginsberg's life, you are better off reading Bill Morgan's I Celelbrate Myself. HOWL, the film, is more a biography of a poem than of a poet. It centers on the composition of HOWL and its publication by City Lights books, San Francisco, 1956. The City Lights publisher, poet Lawrence Ferlinghetti, was accused of distributing obscenity.
The movie is divided into four alternating segments. Each segment references a particular genre: Courtroom drama, documentary interview, performance re-enactment, and animated narrative. These different approaches are used to provide perspective on the poem, its composition, and the unique circumstances that met its publication.
One segment is an interview conducted with Allen in his New York apartment. This sees the actor James Franco playing a fresh-faced and engaging Ginsberg lolling on his couch and pontificating, preparing tea, smoking cigarettes, all while talking about himself, his poetics, his friends, and his family.
There is a re-enactment of the first reading of HOWL, at The Six Gallery in San Francisco. This part is filmed in black and white. The reading itself is engaging, but it is overly stylized, fraught with the difficulty of having an actor reproduce a poet's performance.
An animated sequence (created by Eric Drooker) is cued to the reading of parts of HOWL. Drooker and Ginsberg in fact collaborated on a graphic novel called Illuminated Poems (Four Walls Eight Windows, 1996). Further, Harper Perennial has released HOWL as a graphic novel, with the text of the poem accompanied by images from the movie's animated sequence.
Finally, the most compelling segment re-enacts Ferlinghetti's 1957 obscenity trial. The dialogue is constructed from trial transcripts, and the trial does not feature Ginsberg. Ginsberg was in Paris at the time, though he sent his best wishes to Ferlinghetti, who risked a prison term. This segment features something the others do not – tension, built up through discussion. Disagreement, debate, multiple perspectives on what makes great literature, on what belongs and doesn't belong in literature, and on how literature and public sensibilities ought to interact, only appear in the trial. The courtroom debate centers on what we consider obscene and why we consider it so, and references the prevailing opinions of the 1950s. The trial segment downplays the popular romanticism and stylization of the beat moment. It places the activity of the beat movement into broader social relief, removing it from smoky cafés and cold-water flats, and showing how its artistic standards clashed with the standards of the larger American population.
Though the trial section is brief, it gives a good idea of the shock that HOWL produced upon publication, and the difficulty that various professors and critics had in forming a coherent and just opinion of the work. This section helps us understand how HOWL polarized opinion, both within and beyond the academy. It helps us appreciate why HOWL is one the most widely read American poems, and why it can still move us today.

More Reviews from Issue #1