Various Artists – Going Down Swinging no. 30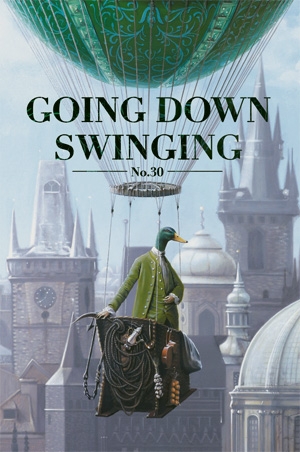 Reading the thirtieth anniversary edition of Going Down Swinging felt sort of like taking a sabbatical from a receptionist position at the zoo: totally absurd and unconventionally refreshing. Delivering between its pages a clever mix of poetry, short-fiction, haiku, comic art and a graphic novella, it's a world-class small press pick-up line. Not only is the content intelligent, the entire package is sharp, book-ended by two spoken word CDs and a cover that's handsomely clad with an oil-painting of explorer ducks ballooning above majestic cities. It's all so bizarre and oddly re-humanizing to think that there are people across the world that see enough magic in the mundane and unimaginable, to translate experience into wit-driven expression. What's more, this special edition offered the opportunity for editors across continents to contribute their excellence.
Going Down Swinging No.30 brings us a slew of ferociously sophisticated literature and wit-soaked orality. As we witness tales of teenagers turned canines who parade the streets in gangs, lifting their legs to mark their unbridled adolescence, and we quest for the missing piece in our key to human nature, we, the reader, embrace the mundane and rejoice in the under-dog workings of the psyche. Far from falling between the lines, the unwritten irrevocably snakes up to bite us in the heart and we fall deeply in love with the multitude of personas presented, in life-like trances that so fluidly pull us in and out like the tide. Short and clean haikus leave space for our breath to catch up while the sardonically crafted graphic novella that marks the central axis of the book is one step short of stopping it again. All this, masterfully pieced together with poetry and prose to illustrate our constant search for relativity against all odds.
Before, after or during the reading, you can take a break with a listen to one of the two spoken word CDs that encapsulate an instinctive layering of how poetry can be translated through voice and sound. With four different editors from Canada (Ian Ferrier), USA (Cristin O'Keefe Aptowicz), UK (Ian Daley) and Europe (David Prater), the twists and turns of these CDs take us to the edges of Buddha-hood, boyhood dub and vegetarian zombie pursuits, among others. It's a quintessential mix of off the cuff and on-the-beat International spoken word talent. The only thing missing is a step beyond the English language in the search for International representation.
Going Down Swinging began as a small press pilot project at the turn of the 80's between two men with a mission to bring innovative and peculiar publications to the people of Australia. Now, with thirty years under their belt they have presented work from artists the world over, with more than sixteen contributing editors and an emancipated list of submissions that never even made the bill. This double CD book is a hallmark edition of what is possible through contemporary transmission and global yet intimate artistic partnerships. If you've never had the opportunity to dive in the radical realms of Going Down Swinging, I'd suggest taking a trip to their site and picking one up. It's a journey you're not soon to forget.

More Reviews from Issue #1