Pharmakon MTL Launch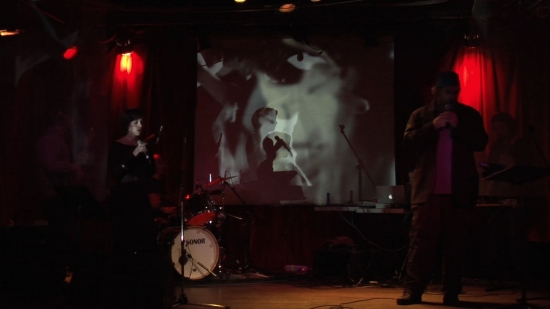 Launch of Pharmakon MTL's CD To Call Out In The Night at Sala Rossa, November 25, 2010
Pharmakon MTL recently had their album launch in Montreal at La Sala Rossa, where they managed to warm up a cold winter's night with performances from their CD To Call Out In the Night. For those who are curious, the album was five years in the making and judging from the performance their patience certainly paid off.
Pharmakon is an ancient Greek word meaning both remedy and poison. I can see how this paradoxical ambiguity would interest them as a summarizing word – Pharmakon MTL is a group that will try it's best to push you to the boundaries of consciousness. They are composed of the hypnotic arpeggios of the electric guitarist Kris Mah; the percussion and the tension-building tempos of drummer Doug Stein; the poetic tongue of poet Ian Ferrier; the mesmerizing voice by Metis poet and singer Moe Clark, the rhythmic entrancement of bassist Jon Stein and last but certainly not least, Jonathan Stein acts as the glue of the ensemble with his laptop wizardry solidifying the landscape.
The show started off with 'Atacama', a beautiful beckoning and shimmering sound reminiscent of Godspeed you Black Emperor or Explosions in the Sky building up ever so slowly and incrementally to a euphoric crescendo. Moe Clark could not be at the show, but her beautiful vocals were present through the magic of technology, adding an eerie feel to the evening's sounds. Her voice haunted the Sala Rossa with her soothing and soulful melodies. Then Ian Ferrier began to whisper "On an endless train rolling through, names tripping off your tongue, Colorado, Utah, New Mexico, Nevada, Arizona…" and you can't help but follow the group along on their journey.
Singer Valerie Khayat performed on a few of the songs, including 'Disappear', a poignant vocal performance amidst Ferrier's modern shaman-like words preparing you to disappear deeper into the world of Pharmakon MTL. Other highlights from the night included 'Mountain', which possessed a frantic and mad energy, and the moving closer 'Gift of Music'. (Neither piece is on To Call Out in the Night but should be on their next album, which will hopefully be out sooner than in five years time!).
One of the most memorable moments came when dancers Zoe Dominiac and Isabel Mohn performed with the band and the projections during the piece 'Spruce Mountain Pass'. They acted as the whirling dervishes of ecstatic meditation, contorting and spinning into human sculptures of poetry and music. Along with the dancers there was video artist Jérome Delapierre, who added projections on the back wall and through hanging silk screens. I'd be very interested in seeing more multi-disciplinary performances, not just for a segment of the show but as a fully fleshed out idea, especially if all the performers involved are improvising. The call-and-response between all would be a sight to behold.
What is most exciting about Pharmakon MTL is the improvisational nature of their performances. Nothing is premeditated, everything is based upon stream-of-conscious experimentation. There is something about this group that is intensely cinematic and captivating. Once they have your attention it's hard to pull away. It's really remarkable what this group has been able to create, and it is a testament to their talent and skill as performers that they are able to pull it off. Any artist that gives you an urge to go on a transcendental journey must be a good thing!
More Reviews from Issue #1