The Breakfast Club: Team Montreal at the Canadian Festival of Spoken Word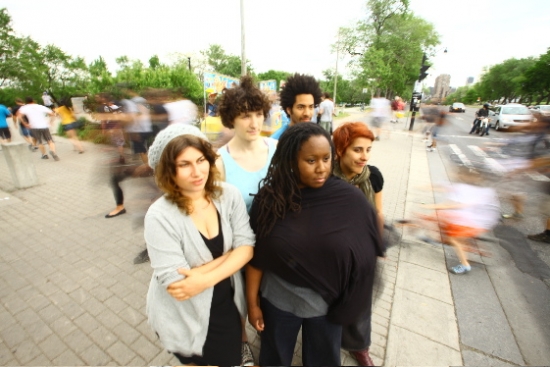 For five days in October, spoken word artists from Victoria to Halifax gathered in Ottawa for the Canadian Festival of Spoken Word. Bringing together over one hundred poets from across the country to compete in national slam championships, the 2010 edition was the largest festival to date and featured poets of honour Shauntay Grant and Anthony Bansfeild.
During these five days in October, the poets sent by Throw Poetry Collective to represent Montreal found themselves in close quarters. Resulting from booking the hotel on poet's time (three weeks late), poet's salary (non-existent), and familiarity with poet's lodgings (The Couch), Team Montreal set out with six members and accomodations designed for two to four persons.
One of two things can happen in a situation such as this: good old cabin fever or The Breakfast Club Phenomenon. Diagnosed by team member Caytee Lush, the Phenomenon involves a group of radically different people moving past adversity to develop strong bonds of friendship. It happens through mutually experienced challenges and small enclosed spaces, like high school detention rooms or a too-small hotel suites. For Team Montreal (now known as Club Dejuener), the Canadian Festival of Spoken Word was just such a turning point..
The team consisted of myself, Kalmunity Vibe Collective member Deanna Smith, freshman songstress and poet Caytee Lush, Francophone slam veteran Queen Ka, bilingual poet and beat-boxer Xavier (team alternate), as well as coaches Moe Clark and Regie Cabico (Washington/Def Poetry Jam). While Cabico could not make it to the festival, guiding us as a disembodied Skype face in rehearsals, Coach Clark took up residence with the team. What ensued can only be described as an organized chaos of personalities, poetry and dinner. After long inspired mornings, emotional rehearsals and home-made pasta with cheap red wine, we spent our nights in sudden-death slam competitions.
From the guerilla poetry on the steps of Parliament to workshops on self-promotion through social media, the day programming of CFSW allows poets to perform in new frameworks, facilitating skill-sharing and networking. The Annual General Meeting for Spoken Word Canada (SpoCan) also takes place, allowing community organizers and artists to make strategic national plans for the coming year. With two members of Team Montreal on the executive of SpoCan (Deanna Smith as Poet-At-Large and myself as Vice-Chair Member Relations), we found ourselves in the depths of organizing, rehearsing, and performing.
Shortly after day programming ended, the shift du nuit began. The main events, drawing teams from across Canada, are the national slam championships. A much smaller network than our American neighbours but growing rapidly, eighteen teams of poets took part in the competition this year. In the preliminary rounds, four slams took place daily. From there, the top eight teams moved onto semi-finals, and four to the final competition. For the second year in a row, Team Montreal made it all the way through, taking third place nationally. We were joined by Ottawa's two slam teams, Capitol Slam and Urban Legends, who took first and second place respectively and the Burlington Slam Project who placed forth. As it did in 2009, our progress through the competition felt awe-inspiring, chaotic, and humbling.
Despite months of writing, strategizing and rehearsing, there is no way to fully prepare for national slams. Much like the island of Montreal, slam is a place where people come and go quickly. There are more visitors than inhabitants. New artists frequently come out of the woodwork and knock audiences flat. The feeling of breathlessness in a crowd of two hundred people is incredible. In a crowd of one thousand, it is indescribable. But it requires the right poem at the right moment – a message shared that an audience is ready to hear. When everything lines up and the moment falls into place, it is like an injection of poetic steroids. The audience shifts their expectations, and the poets who follow may have to shift too. It is a beautiful, delicate, challenging task to perform like this night after night. I imagine we could end up like football teams who egg each other's cars. But instead, there is something akin to a nation-wide Breakfast Club Phenomenon.
Attending CFSW for the first time in 2009, I saw the national community compete fiercely and respect deeply. I think this humility is our backbone, what binds us together once we get off the stage. When an artist comes out of nowhere and brings an audience to their feet, our community of poets responds with deference and love – even the teams who have just been beaten. This year, Saskatoon showed up like a wild card in the first preliminary slam, almost beat the festival's defending champions on home turf and slid us into third place. Our respect for each other's work simply grew. Edmonton joined the festival for the first time this year, and moved onto semi-finals in first place. From the truth on Somalian pirates to the history of humanity told through a single set of fossils, their content and performance made me request a Team Edmonton jersey. They unfortunately did not have one, and though I considered crafting my own, this seemed a bit overboard. Especially since we were still up against each other.
On finals night, our team huddled in the church's hallway to burn sage and thank our ancestors before performing. We had experienced our turning point the night before. Akin to the moment The Breakfast Club writes a defiant letter to their principal, we had decided to stop strategizing, stop recording points, and simply say what we needed to say. To speak our truth. Sitting in the pews amongst the growing crowd, my stomach a knot of nerves, my team mates reminded me – speak your truth. In this case, my truth was a comedic manifesto on promiscuity and sexual self-determination, which seemed out of line with the religious setting. But there was a turning point that night as well. As the team before us switched gears from political to whimsical, you could feel the release of one thousand people finally laughing. And remembering quiet discussions I had shared with female poets about the misrepresentation of women's sexuality on stage that week, I was struck by the profound privilege of my situation: to compete on an all-female team of distinct, powerful individuals; to have the space to respond where generations of women have not; to resist and rebel through language and laughter.
The festival ended as it had began, with too many poet squished into a small hotel suite. On the last night of the festival, however, this involved upwards of forty-five poets in one little room, tagging each other to hear more poems before everyone returned to their coast, city and shore.

More Live Performance Reports from Issue #1