Montreal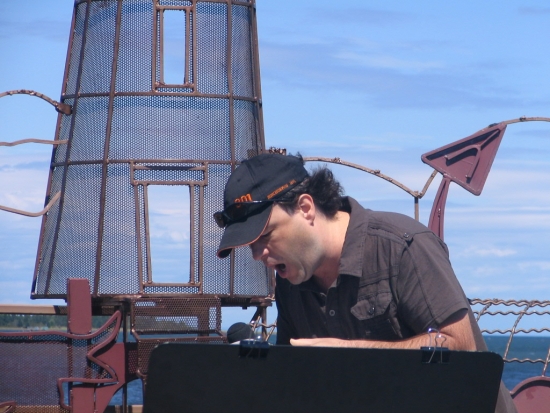 This late winter is promising for spoken word lovers, whether they seek poetic performances, storytelling, vibrant rap or dub poetry – not to mention open-mikes. Intrigued? Here's just a few of the eclectic ways you can get onto the poetry road in Montreal …
On February 23, Ilona Martonfi invites you to catch up with the The Visual Arts Centre Reading Series, where she's been the host since 2004. Gillian Sze, co-editor of Branch Magazine and author of Fish Bones will start off the night. She'll hand the microphone to Brian Campbell, winner of a CBC Literary Award in 2006, Carolina Echeverria, artist and sculptor, and Hugh Hazelton, whose third book of poems, Antimatter has been republished in a second edition. Poet Blossom Thom, novelist John Kerkhoven and classical singer Tom Fox will complete the evening. "I ask for the best text and performance," says Ilona Martonfi, with passion in her voice.
On every last Wednesday of the month, author performer and host Éric Roger takes over L'Escalier with Solovox (552 St-Catherine e.) On February 23, the audience will encounter Montreal-based artists Pascal Bonneau, Pascale Saint-Onge, Céline Desbiens and Claudius Leblanc, Gabriel Cyr and François Pierrôt Black from the Madeleine Islands. According to Éric Roger, the open mike is always a hit and so is the musical section of the evening. Most of the guests are French-speaking but the audience is bilingual and often people go for the open mike in English, notices Eric Roger. "There's a strong connection between spoken word and folk music or roots, and it inspires people". Not to forget: L'Escalier also offers a bilingual open mike every Thursday night, starting at 8:30 pm.
The third edition of the Montreal Zen Poetry Festival occurs from March 10 to 13, with the evocative title 'Silence always speaks'. This one-of-a-kind festival comes around every two years and is not to be missed! Award winning poet and Zen teacher Jane Hirshfield (After; Given Sugar, Given Salt) will lead a one-day poetry workshop and will headline Saturday night's event along with Griffin Poetry Prize-winning poet Robert Bringhurst. The poet Christopher Patton (Ox) from British Colombia will join them. Kazuaki Tanahashi will present a calligraphy workshop on the play of words and images both in Japan and China cultures. Famous translator Steven Heine will discuss the true nature of poetic language, as well as speaking about Bob Dylan's lyrics and their connection to Zen understanding.
From March 11 to18, the major event of the local spoken word' scene, the Festival Voix d'Amériques, will take over Montreal. The festival goes beyond traditional poetry recitals or literary evenings to offer truly multidisciplinary cabaret shows. Audacious artistic director D. Kimm has created a sassy Tenth Anniversary edition of the Festival Voix d'Amériques that should seduce even the hardest to get audience member. Special guests Melissa Auf der Maur and Michel Faubert have tailored exclusive shows for the festival. "They are two incorruptible and indomitable artists," comments D.Kimm. Fresh from her six-month stay in New York, she's brought back a line-up of provocative and avant-garde NYC performers: Penny Arcade, Bob Holman and Anne Waldman. To celebrate its Tenth Anniversary,Voix d'Amériques offers all main stage shows for the very democratic price of $10 ... and the Shift Nuit open mic series is free!
March 14 ... Why not consider the Studio Littéraire evenings? The concept doesn't quite fit spoken word criteria – actors are reading texts – but literature lovers will adore actor James Hyndman reading Hemingway's early work. On April 11 Benoît McGinnis will read unpublished texts of talented Serge Boucher, and Karine Vanasse will give voice to extracts of the acclaimed Ru, Kim Thúy's and acclaimed debut novel.
Over the years, the Yellow Door coffee house has hosted the likes of Margaret Atwood, Leonard Cohen and Rufus Wainwright. "The Yellow Door always delivers the poetry," says founder, producer and host of The Yellow Door Poetry and Prose Reading Series, Ilona Martonfi. On March 17 The evening's line-up includes Rana Bose – poet, novelist and co-editor of the arts and politics e-zine Montreal Serai. It also features Lebanese poet and translator Nadine Ltaif, poet and radio personality Jeffrey Mackie, author Steven Manners (Valley of Fire), and famous Beat poet Ralph Alfonso.
From February 22 to Saturday March 19,Théâtre PàP presents the intriguing play The Dragonfly of Chicoutimi, written by Larry Tremblay – a play about a "purebred" francophone man, Gaston Talbot, from Chicoutimi, Quebec, who experiences a trauma that leaves him speaking only English. Of particular interest to those who enjoy the intersection of English and French through bilingual soirées.
----------------------
More Scene Reports from Issue #1