Alberta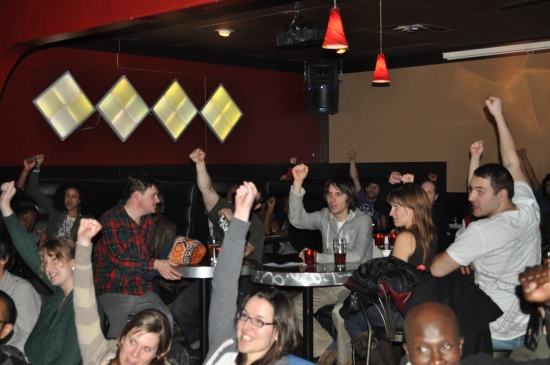 EDMONTON
Edmonton is a dynamic mix of both old and new poetry communities. Regular monthly readings like the Olive and Herman series bring together a mix of new and old poets, with veteran Canadian poets as features. These strong and extremely important communities are joined by the burgeoning slam / spoken word scene of Rouge Poetry, run by the Breath in Poetry Collective.
When the Rouge Poetry Slam audience welcomes each poet to the microphone with a "3-2-1 Breathe", they are calling out the energy that has come to embrace the emerging poetry slam scene in Edmonton. Entering into its second year, Rouge Poetry Slam has grown and diversified. Edmonton made its mark at the Canadian Festival of Spoken Word (CFSW) in Ottawa this place with its inaugural team placing fifth overall in the National Slam, and drawing the attention of poets from across the country as a potential touring stop. As a result, Edmonton audiences have been treated to features from across Canada, exposing them to the wider, vibrant Canadian spoken word community – a valuable necessity for the Edmonton slam scene, which is just beginning to solidify its roots.
Edmonton was first treated to a feature from touring Vancouver Slam Champion Johnny MacRae. With his animated style, MacRae took the audience on a journey through poems that touched on themes of nature and the effects of technological change on the environment. Following MacRae, Montreal's Alessandra Naccarato brought her sensual poetry to Edmonton, for a cold prairie winter night that was fuelled by the Rouge Lounge candles and the heat of Naccarato's words. Finally, Edmonton was treated to Ottawa poet Brad Morden. Morden graced our stage with love poems and inspiration. His tales of finishing university, taking up the ukulele, and starting to write poetry inspired many of the new poets in the audience.
This desire to bring spoken word to new audiences has also extended itself to Edmonton's youth. Edmonton has begun running a series of spoken word workshops in conjunction with the Edmonton Public Library. The first set of four workshops, leading into the Edmonton Poetry Festival, brought out a small group of young people who were able to experience writing and performing for their peers. This is an area that we hope to continue to grow into the future.
The combination of these features, as well as the success of the Edmonton Slam team at CFSW, has encouraged growth and diversification of the Rouge audience, something that is crucial to the sustainability of slam and spoken word in Edmonton. All this activity encourages new poets that there is place for their voice in the Edmonton scene.
CALGARY
Spoken word in Calgary is alive and on fire.
Calgary is now running one adult and one youth slam per month, bringing the spoken word and the slam experience to an increasingly large audience. This was something that reflected by the packed houses at this year's Calgary Spoken Word Festival. Spoken word in Calgary has become a mainstay for the Canadian poetry community and the wider community of performing artists.
Spoken word's reach has also expanded with the publication of the Calgary Spoken Word Workbook. Edited by Calgary's Sheri-D Wilson, the workbook features articles and lessons by internationally renowned spoken word artists, and works to further build the Canadian spoken word community.
More Scene Reports from Issue #2