The Calgary International Spoken Word Festival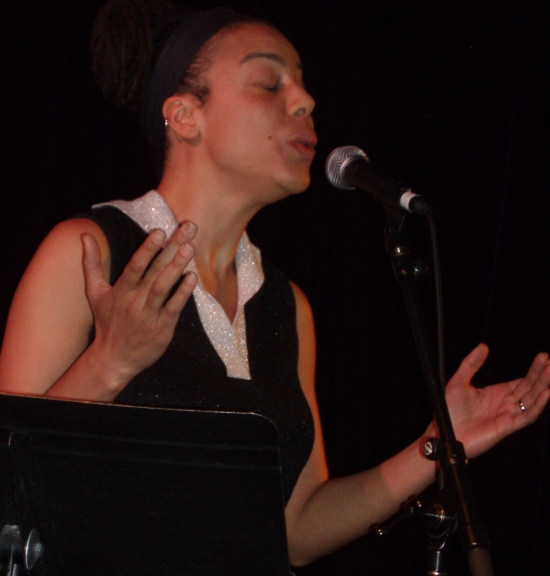 Spoken Word Speaks Volumes
The Calgary International Spoken Word Festival has once again made the exposition of the many and varied forms of aural performance its business. 2011's festival was a balance of roots, radical and reckless, with a performance bill that included veterans and legends next to established and emerging artists; page poetics lifted into orality next to soundscape constructions crafted for the stage; and poets breathing life into their works while remaining strangely inanimate themselves, next to performers whose text-based poetics merged with theatrical feats.
As in previous years, the 2011 festival divided its time between venues in Calgary and Banff, and coincided in timing with both the Spoken Word Program at The Banff Centre for the Arts, and National Poetry Month. The Calgary events were streamed live to the CSWF website, making the cast of performers and their performances widely available outside of the festival's venue and creating a web archive of the live performance.
This year's program offered a somewhat more distilled festival than in previous years, opting to focus on the highly-attended evening cabaret-style events and the Sunday morning women's circle. In keeping with this theme, six of the seven Calgary events were held at the Auburn Saloon, in the base of the Calgary Tower, locating the poetics-based festival in the very heart of the city. Each event offered up a cast of lyrical players who engaged with a title theme, thereby drawing audience into the collage of discourse and dramatic presentation that comprises the genre of spoken word performance.
Extra-Sensory In-vox-ication: Wednesday, March 30th. Louise B. Halfe—Sky Dancer, Tyler Perry, Tanya Davis, Ian Ferrier and Robert Priest. MC: Danielle French.
Each artist that took the stage on Wednesday night brought to the mic their own sense of a greater story line; pieces of a lyrical landscape that spanned the diverse regions of not only the Canadian geography, but also of the topography of humanity.
Sky Dancer's reading from The Crooked Good reached back into the realm of legend to pull pieces of the pre-colonial history into the sphere of the contemporary. Her poetic voice, itself a story, rooted in the process of defining identity, opened the cabaret series by giving the audience cause to reflect on the implications of socially imposed personality. With a practiced presence that spoke of comfort in front of the most critical of audiences, teacher Tyler Perry gave some of his junior high student-inspired Lessons in Falling, a lecture that gave voice to the anguish of watching another's angst. Tanya Davis, of viral video poem renown, brought her own brand of soft spoken word to the spotlight. Based in her assertions that there can be alone without lonely and that over-sharing doesn't have to be estranging, Davis' words worked to isolate instants of vulnerability. Filling the Auburn with guitar chords that sang of a desirable melancholy and a voice to sooth it, Ian Ferrier spun stories filled with characters and imagery strong enough to hypnotise his audience into believing that his stories were their own memories. Robert Priest's journalistic voice brought the evening to a close with a sense of observation, a reminder that artistry is a way of seeing, a politic based in perceiving.
Smart Men Hot Words: Thursday, March 31st. Steve Miller, Eugene Stickland, Christian Bök, José Acquelin (with translations by Éliz Robert), Paul Dutton, George Elliott Clarke. MC: Russell Bowers.
Billed as the "Chippendales of poetry", the Smart Men's event is has been previously, and was again this year a festival staple. Sexy, engaging and sometimes scandalous, each poet heated up the stage in his own way. SLAM veteran Steve Miller's apostrophe lines and strip-tease theatrics, combined with his direct addresses to individual audience members brought color to more than one face. The conversational monologue-like story-telling of award winning playwright Eugene Stickland elicited the bursts of nervous laughter that are normally reserved to show empathy for a friend's recounting of events gone horribly wrong. The resounding feats of Paul Dutton's sound poems were interrupted only by his more lyrical poetry and a sample of his image-rich fictional prose. Christian Bök's characteristically delivered praises of "The Extremaphile" gave the audience members cause to consider the "Bad-assness" of a poem inscribed on the genetic coding of a micro-organism that has rejected evolution. The flowing French language lyrics of José Acquelin combined with his unassuming presence and presentation kept a primarily English-speaking audience rapt, hanging on every mot dits. George Elliott Clarke's playfully thoughtful narrative stanzas finished the evening, dramatically reminding every aspiring poet in the room how much they still had to learn.
Feast O' Fools: Friday, April 1st. The Spoken Word Youth Choir, André Prefontaine, Magpie Ulysses, Sarah Murphy, Billeh Nickerson, Sheri-D Wilson, Quincy Troupe. MC: Brian Brett
Popularly understood as the jester in a royal court, the fool is often perceived as a solely comedic entertainer. However, the Spoken Word Youth Choir opened the evening with a performance that included some of Feste's lines from Twelfth Night, reminding the audience that, especially in literature, beneath the jest of a fool is a gesturing towards insight. As such, the fast-rant delivery of SLAMer André Prefontaine contained the biting jabs that are at once funny and thought provoking. Magpie Ulysses' verses were filled with the visceral imagery and ironies that issue a call for self-reflection as social action. Sarah Murphy's crowd pleasing, surprise ending "Mother-f@#*er," supplemented by her amusing narrative digressions, took its usual seat inside the gut of the jaw-dropped audience. Returning festival favorite Billeh Nickerson's stranger-than-fiction real-life observations framed the flawed nature of the human animal in the perfect narrative distance to make both it familiar and foreign in the same breath. Sheri-D's sound effect-supported remix of the haunting "Sexy Madonna from Florence" added a sense of spontaneity and play to the stage, while showcasing what can be accomplished through collaboration. The bluesy, politically conscious words of Quincy Troupe against Kelvyn Bell's beautifully chorded accompaniment flavoured the evening with sounds of the New York scene. A standing-room-only-event, the Feast O' Fools Cabaret provided an insight that can only be gained and shared by observing, interpreting and impersonating.
As if these events weren't enough, the Saturday night Cabaret, Bright Catz with that Zamizdat Scat featured performances by Kaie Kellough, Tanya Evanson, bill bissett, Brian Brett, and John Giorno; the Sunday morning Wild Women Morning Magic brought the Calgary festival events to a close with the stunning sonics of Anushka In-Repair, Heather Haley, Jen Kunlire, Mary Pinkoski, Mónica Caldeiro, Éliz Robert, and Deanna Smith. There were also events held in Banff showcasing the students and faculty of the Spoken Word program at the Banff Centre, a speak-to-the-streets event in downtown Calgary titled Insta-Translation Innovation, a festival sponsored blog run by emerging theatre artist/tech geek Wil Knoll, the Calgary Launch of a quartet of new books as well as the launch of The Spoken Word Workbook: inspiration from poets who teach.
If you were unable to take in this year's showcasing of poetics in performance, never fear! Thanks to digital archiving, you still can. The Calgary Cabarets are available for viewing on line at the Calgary Spoken Word Festival's website.
More Live Performance Reports from Issue #2