Zorras – We Apologize For Any Inconvenience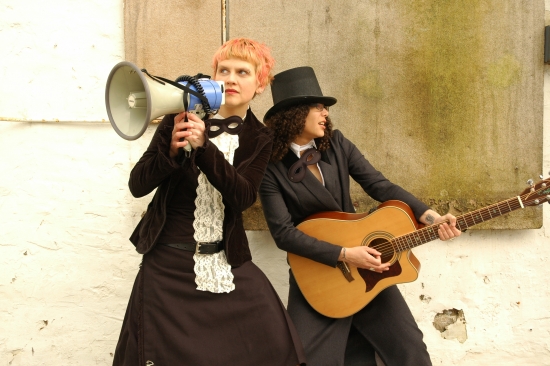 Canadian connoisseurs of performance poetry may be familiar with Sandra Alland from her presence on stages ranging from Harbourfront to the Canadian Festival of Spoken Word. The author of two books of poetry moved to Scotland a few years ago, and has recently formed Zorras with Venezuelan-Belgian musician Y. Josephine. After cutting a swathe across the UK performance scene, the duo went into the studio in 2009 to produce We Apologize For Any Inconvenience, a sweet mix of song, poetry, storytelling and audio art.
While not shy about broaching heavy topics (ie. Palestine, CCTV, racism, police brutality, homophobia, suicide), Zorras prefer a breezy approach – mock-dramatic deconstructions of relationships gone awry break into awesome stretches of scat singing, acoustic beat-boxing accompanies a rap woven from a melange of languages and images, sung choruses punctuating the words.
The carnivalesque costuming on the CD cover telegraphs the duo's live performative roots, and indeed, listening to the infectious hooks on this CD can't help but make the listener want to see Zorras live. Highlights include 'Here's To Wang', a nightmarish journey into the dark heart of a dysfunctional family's wedding weekend, and 'After Going Out', wherein the narrator's political opinions on Iraq Iran Afghanistan Ireland become a chant / rant that ruin yet another party.
The overall effect is one of constant dislocation – the protagonists of Zorra's songs and stories are always struggling, whether with personal relationships or with fraught sociopolitical topics. There's a subtle sense of inner conviction and calm underneath the absurdity and bathos – it expresses itself in moments of quiet lyricism that seem to say the struggle is ultimately worth the price.

'After Going Out' by Zorras.
More Reviews from Issue #2