Edmonton Poetry Festival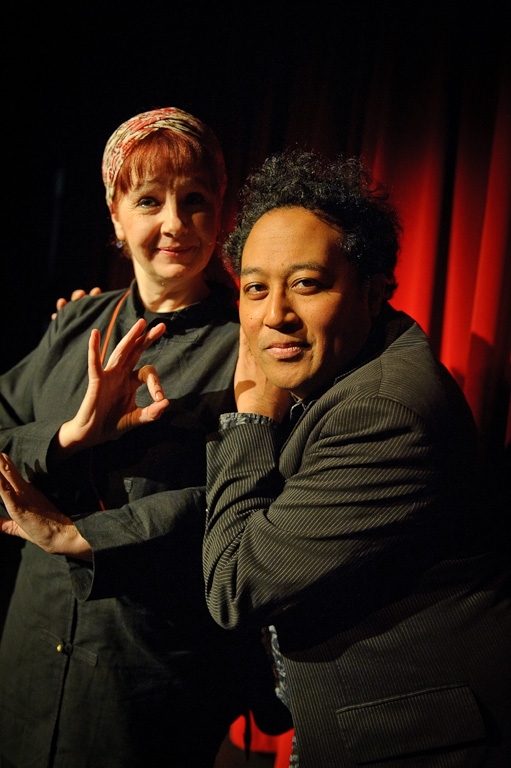 The theme of this year's Edmonton Poetry Festival was "Get Caught Up", which brought with it a call to find our place in the diversity that is huddled under the umbrella of poetry.
Featuring local, national and international artists and showcasing everything from slam to sound poetry, performance to page poets, and multisensory to multimedia shows, the Edmonton Poetry Festival draws some of its allure in attempting to be many things for many different audiences. Simultaneous events allow these audiences to hop from one venue to another and word on festival "greats" gets passed around quickly.
Definite festival favourites this year were: Halifax's Tanya Davis, whose lilting poem songs swayed our hearts; World Slam Champion Ian Keteku's rapid lyrical capturing of the crowd at "African Poetry Night"; the dynamism of Paul Dutton's work in the multisensory synesthesia event; and Tanya Evanson's Sufi-inspired mystical poetry and workshops.
This diversity, while it runs the risk of leaving a festival disconnected, found a way to be celebrated at the "Get Caught Up: the Poetry Party". Of all the festival events, this one brought together all the different disciplines highlighted at the festival into one finale. It was a celebration of the voice and its potential and a celebration of poetry and its possibilities, showcasing a. rawlings, Al Moritz, Tanya Evanson, and Tim Bowling.
Sound poet a. rawlings kicked off the night with her ode to environmentalism, repeating the mantra "I will not ruin the environment" and then branching out into a cross-Canada journey that had listeners moving though terrain with phrases like "only good can come of fish" and "wolves will not love."
Perhaps because the night itself was a journey through genres, the theme of travelling readily made itself known. After rawlings took everyone across an auditory landscape. Tim Bowling brought the audience a journey in his found poems that twisted our geography of the expected.
When Tanya Evanson took to the stage she pushed the audience to move through an exploration of love and mysticism, noting that sometimes we "travel within ourselves" even when we are not going anywhere. Evanson's set was exactly that: a voyage through ourselves, our mythologies and our collective histories. Al Moritz brought this out even further when reading from his book The Sentinel, saying, "remember you had a story even if you never knew."
One common thread that ran throughout the festival was a calling on the history and wisdom of a collective literary past and then the merging of that ancestry with a push to explore and expand the boundaries of poetry.
The "Launch Me to the Moon" event, featuring Canadian spoken word fixture Sheri-D Wilson and American slam poet Regie Cabico, launched the Spoken Word Workbook. The workbook, which brings together the poetry but also the lessons of spoken word elders, is a one of a kind book that not only talks about writing but places the tools to write in the hands of its readers through workshop exercises. This will soon be further encouraged by an interactive website to accompany the workbook, where writers in the book will present their exercises to readers. Through this multimedia and collaborative effort, students of spoken word are steeped in the work of their mentors and then urged to create their own work.
When Sheri-D Wilson took to the stage at the "Launch Me to the Moon" event, she read from her section of the Spoken Word Workbook, saying, "I am part of a lineage: a collective voice."
We are indeed all part of a collective voice that was brought together at 2011 Edmonton Poetry Festival: "Get Caught Up", a lineage that was honoured and then explored throughout the week. And perhaps, the festival was most successful in its urging of audiences to leave with a desire to journey through themselves, find their memories and stories, and then share them with this collective voice until it gets louder and louder and we all get caught up in the lineage.

More Live Performance Reports from Issue #2