Festival Voix d'Amériques: a memorable 10th edition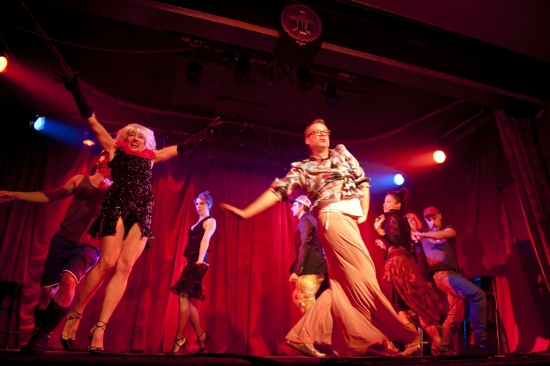 The 10th anniversary edition of Festival Voix d'Amériques, the only true bilingual festival in the province, is to be called a success. For eight days, artistic director D.Kimm offered fans an eclectic line up of shows of daring creativity – all specially designed for the occasion. Privileged to witness, excited to share: venues were packed by audiences ready to be impressed.
"The festival is positively deviant," D. Kimm says. Though still faithful to the concept of texts performed by authors, Voix d'Amériques has, over the years, widened its interest to interdisciplinary performances – both Canadian rock icon Melissa Auf der Maur and Quebec roots singer and story teller Michel Faubert were guest artists for this anniversary edition. Metal Spoken, with guest artist Michel Faubert, Voivod (the entire heavy metal band!) and Ramachandra Borcar (DJRam) sold out. Same scenario applied to popular Cabaret Dada and to the seventh round of Combat contre la langue de bois (the Fight against jargon or politically correct language) – which took place at la Tulipe in front of something like 550 enthusiastic people.
Transgressing, crossing barriers is a dominant character in Voix d'Amériques'DNA. Some artists just fit in, and Montreal born Melissa Auf der Maur (MADM) led an attentive audience from an initially acoustic universe into a conceptual rock performance. OOOM is short for Out Of Our Minds, themulti-platform project Auf der Maur has been promoting for the past year; it includes a comic, an album and a film. The flamboyant musician unfolded some of these intricate stories while projections and visuals designed by OOOM movie director Tony Stone and Foumalade were shown. The flamboyant bass player evoked colorful father Nick Auf der Maur in a sonic experimentation delivered with visible emotion.
MADM also paid tribute to some of her musical influences: The Smiths ('Stop Me if you Think You've Heard This One Before') Danzig ('Devil's Plaything') Wolf Moon ('Type O Negative') Killing Joke ('Love Like Blood') and The Doors ('When the Music's Over'). For a few songs, Norwegian guest Jorgen Munkeby joined musicians Will Tendy, Alex Crow and George Onoso on stage, surprising the crowd with the ripping accents of his saxophone. Strikingly beautiful, moving at times, Melissa Auf der Maur composed atmospheres that visibly seduced the audience.
A little jewel of a band, the power duo AroarA, opened for Auf der Maur. Guitarist Andrew Whiteman, who fronts Canadian indie rock group Apostle of Hustle and plays with Broken Social Scene, recently formed the duo with singer and wife Ariel Engle (Land of Kush). Their performance, In the Pines, is a very promising folk project that evolved around the work of contemporary American poet Alice Notley. A great discovery!
The New York Temptation evening brought a well deserved spotlight on three of New York's big spoken-word artists. Professor and cultural activist Anne Waldman, who ruled American experimental poetry scenes for over 40 years, paid her second visit to Voix d'Amériques. Standing like a priestess, proud and tall, she gave a vivid and inspiring performance. Controversial spoken word figure Bob Holman, artistic director of New York's Bowery Poetry Club as well as author of 10 books of poetry, turned out to be a clever and cynical reader. Member of Feminists for Free Expression, Penny Arcade was once a teen superstar at Andy Warhol Factory. This hyperactive social commentator took La Sala Rossa by storm, dancing her way in on a Caribbean beat that a Montreal cab driver had just dedicated to her. Penny Arcade gave an energetic and genuinely spontaneous performance.
Among the small shows, Algonquin rapper Samian did very well at the 'Cinq à sept' Band + poetry, held for the first time at Divan Orange. Pas de casque, Benoît Paradis Trio, Keith Kouna, Lake of Stew and Navet Confit played as Queen Ka, J.F. Nadeau, Maxime Catellier and Paula Belina slammed. Pascal Angelo Fioaramore hosted the Night Shift and every evening's open mike attracted its own crowd. "It's like having an off-Voix d'Amériques," laughed D.Kimm.
Her endless enthusiasm is magic. During the DADA Cabaret – this year's theme was The Freak Show – she let circus veteran Laszlo Kolozsy install her on an electrical chair, and she still lined up for an open mike at the end of the night; she lined up again for a very special dance in the festival's very own red light district: Maison Close, Salle de montre 2 – a delirious show directed by Catherine Tardif and Michel F.Côté.
D. Kimm lives on the edge and likes to keep the festival right there too. Risking and trusting are ingredients she uses in each production. For the third edition of Dans la Forêt, she gathered Marc Séguin, Maxime Catellier, Robin Aubert and Loui-Karl Picard-Sioui in a mysterious forest evoked by poetic light show and projections. No one knew what the others were up to; they had to trust directions D.Kimm gave them and go from there. The result was unexpected, intimate and powerful.
I heard D.Kimm say a few times "I want to surprise and yet be surprised." This affirmation is the best insurance we have against boredom. Long live Voix d'amériques!
More Live Performance Reports from Issue #2