Victoria's Spoken Word Festival, February 24-26, 2011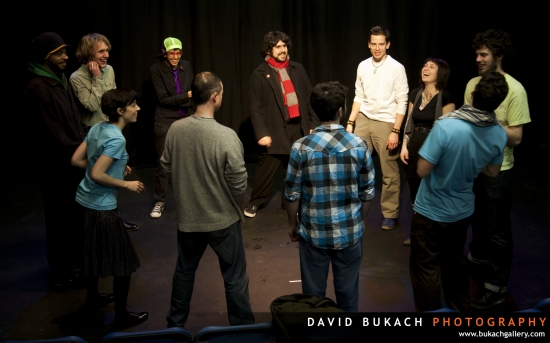 Local patrons and poets banter with each other in between appreciative snaps and raucous cheers for each poem during Victoria's Spoken Word Festival. Going beyond the confines of a spoken word reading series, the festival provided a unique venue for the poets to write and perform in an experimental, collaborative environment. The spectrum of poems was colourful and diverse; childhood imagination was cherished, Justin Bieber was verbally lashed and all manners of relationships were lamented and commemorated.
Ten poets came from across Canada to take part in three days of workshops and evening performances. The ensemble consisted of Jeremy Loveday, PrufRock Shadowrunner, Megan Ann Ward, JAIA'quarian, Shannon Rayne, Nat Spadez, Johnny McRae, André Prefontaine, Ryefield Ford and Scott Thompson. The poets were highly individualized, but blended into a tight knit group by the end of the festival. Individual and ensemble work was showcased, as well as feature Vancouver poets RC Weslowski and Chris Gilpin. The daytime workshops stretched outside of poetry to include improvisation, dance, standup comedy and beat boxing.
"The idea was to do workshops as far away from spoken word, but that has an intersection with it in order to spark creativity and innovation within the artist," festival director Missie Peters says, slender hands illustrating her enthusiasm. A spoken word poet and improvisational performer herself, Peters organizes unconventional events based around artistic expansion through her company Not Your Grandma's Poetry.
Peters designed the festival for younger poets in order to provide them with a non-competitive stepping stone between local slams and those at the national, professional level. Peters estimated that the poets each had around three to five years of experience, though she noted that several poets were still in their first year of performing spoken word.
All poets both proved Peters' theory that innovation does not require experience. There was a solid foundation of fervor and originality underlying each poem. Voices played with rhythm and evenly balanced the personal with the absurd.
Each night of the festival saw poetry patrons crowding themselves into the theater, spilling over rows of chairs into the aisles. Excitement flowed from the lobby into the theater, following the jovial chatter of friends, family and festival-goers. From under a bounty of curls, Dave Morris, the festival host, warmed up the audience, making clear the strong ties and welcoming nature of the poetry community.
Opening night was held at the Solstice Café in conjunction with the bi-monthly Tongues of Fire poetry readings. People crowded in from the cold to watch the festival poets introduce their work, alongside local poets and Chris Gilpin, the featured poet. To the amicable audience, Gilpin performed poems that he described as finding their inspiration in an entire year of grumpiness.
The following two nights saw the festival at the Intrepid Theatre, a fitting venue advertized for fresh work looking for a place to happen. We were further familiarized with the festival poets' work during Friday's "Awesome Shit Showcase," while Saturday provided an opportunity for the ensemble of ten featured poets to come together.
"All of us were passionate about spoken word and we understood that; there was never any questioning about why we do what we do. We did it because we did it, and that was good enough," says Nat Spadez.
"All of us were passionate about spoken word and we understood that; there was never any questioning about why we do what we do. We did it because we did it, and that was good enough," says Nat Spadez.
The trademark piece of the festival was Saturday's show. While there was an excited buzz surrounding RC Weslowski's performance, chosen by Peters for his consistent innovations, ensemble work was the highlight of the evening. The show was comprised entirely of poems written earlier that same day with collective input from each of the participants.
The ensemble performed experimental poems which made use of song rhythm, movement and lighting. The fact that the poems were written in such a short time span did not diminish the pervasiveness of clever and original work.
Nat Spadez and Scott Thompson played off each others' quirky honesty in a joint piece. Shannon Rayne's flowing romanticisms contrasted with Ryefield Ford's compelling use of silence. PrufRock's rhythmic wit joined JAIA'quarian's melodic insights, and Megan Ann Ward lead a collective sound piece. Each piece only added to the success of the Spoken Word Festival.
The festival's inauguration speaks to the growing exposure of spoken word in Victoria and across Canada.
"I think we have something that is unique, here in Victoria, as far as a really nurturing community and a really supportive audience," Peters says. "We've really grown our spoken word audience so that we have a huge opportunity."
Building on this sentiment, Peters mentions that she is interested in organizing another Spoken Word Festival due to positive feedback from festival administrators, participant poets and local patrons. This possibility is something which I, along with many others, hold in high anticipation.
More Live Performance Reports from Issue #2