Ottawa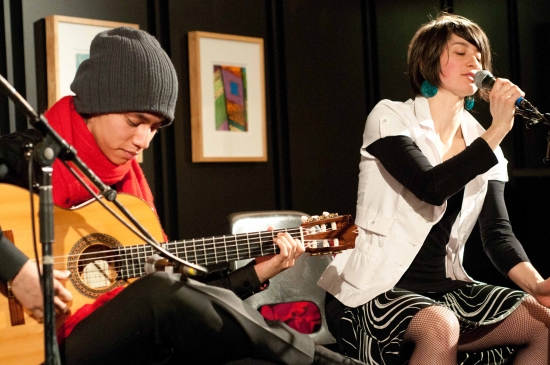 It's been a busy few months in Ottawa, with some new events taking off nicely. For those who haven't heard, there's a miraculous new series happening in town thanks to the vision of Greg "Rittalin" Frankson and Danielle K. L. Gregoire—it's called the Ottawa Youth Poetry Slam. Anyone in need of a heart-lift should write themselves a prescription for youthful wisdom and hilarity and attend this series. It takes place the third Monday of the month at 6:30pm at the Ottawa Public Library's main branch, featuring poets aged 12-19. The event is hosted by the current World Slam Champion, Ian Keteku.
This project hasn't been going for long—Gregoire and Frankson got funding for the project in August, then started connecting with youth in local schools with the support of MASC Ottawa (Multicultural Arts for Schools and Communities). They've been holding monthly slams since February.
The youth slam had been on my list of things to check out, and I got the chance to go in March. As soon as I arrived, the warmth and beauty of the event just enveloped me. My favourite part? When each poet gets up onstage, the whole audience traces a heart in the air and says "Looooove!" at the poet. Can you imagine what that would be like for a teen who's just starting out as a performer? Not that they needed much encouragement to get onstage—they were raring to go. And not only do these kids totally know what's up, but, given a chance to express themselves, their grace and power and humour and courage completely transformed them in our eyes. Too often, youth aren't seen as having intelligence and agency. Events like this have the potential to transform our ideas about them—and theirs. That night, you could feel the respect and delight rippling through the audience with every new piece. And I don't say that to "cheer on the youth." The work was really tight and engaging.
I'm thinking of one kid who sat on the edge of the stage and quietly delivered a poem about being suicidal. I'm thinking of the thick air in the room, the mixture of discomfort and appreciation that people were feeling as he told the truth about his struggles with mental illness. He was maybe 14? I'm thinking of a girl—the winner of the slam that night—who got up there and talked about having the space to be real, to be queer and to live outside the mainstream without having to educate everyone about it. I'm thinking of another girl who opened up her soul and just belted out the most gorgeous song-poems about love and trust and beauty. They were all in their full power up there. Sources of power are few and far between when you're winding up to be an adult. For Ottawa youth, this stage is an important one.
The Ottawa Youth Slam Project is not just about holding slams, though. It's also about mentoring. They run how-to workshops by professional spoken word poets in local schools as well as monthly master classes by visiting feature poets, which take place just before each slam. Out of all this, Gregoire and Frankson hope to form the first-ever youth slam team to compete in the 2011 Canadian Festival of Spoken Word.
Another incredible new Ottawa event—this one annual—is an international poetry festival called VERSeFest, organized by a group of local cultural producers and poetry curators. The amazing thing about this festival is that there aren't any of those obnoxious delineations of page or stage. No excluding of genres, either. This is poetry in the broadest definition. It's innovative not just in its open-minded, inclusive approach, but also in the way that it's organized. Each of the 14 local curators organize and sponsor one event each, with total creative control over the line-up. Curators were welcome to choose programming that was in line with the spirit and content of their own series—whether that be haiku, slam or experimental free verse. This allowed for a broad curatorial vision and encouraged cross-pollination of local poetry audiences. Very community-based, very much a sustainable project because of the shared organizing load—and it's smart in terms of audience, drawing on existing audiences from each series. Nearly every night was sold out, so I think they're on to something here. I look forward to seeing how they expand next year to fulfill their vision as an international festival. To hear more about the festival, see my review of VERSeFest here. But, before I move on, let it be said that these were the spo wo highlights of the festival: Ian Keteku's set with Brad Morden on opening night and the Voices of Venus show featuring Beth-Anne Fischer. Hallelujah for genre inter-play and putting music and movement in the spoken word mix. I would love to see more of this kind of work in the Capital.
A third fabulous thing that's been happening in recent months is that Voices of Venus organizers Allison Armstrong and Faye Estrella have been increasingly branching out into special presentations—partnering with female artists coming through town and connecting with universities and festivals to do shows outside of their usual monthly showcase format. Two good examples of this were the VERSeFest showcase and a University of Ottawa show in early March called 'Don't Feed the Stereotypes', at Café Nostalgica. What a lineup! Christian slam poet Jenna Tenn-Yuk; spoken word poet / songstress / teacher and mom, Danielle K. L. Gregoire; bilingual storyteller and fantasy writer Marie Bilodeau (who did her second-ever all-French set that night, to rave reviews); sex workers' rights advocate and poetry curator Allison Armstrong; queer slam poet, zinester and journalist Faye Estrella and yours truly (I did some stuff on femme identity, and tried out a new story about an unexpected experience with a trucker who befriends wiccan lesbian strippers – true story). The show was a romp through all things female and feminist, from religion to motherhood to stereotypes about sex workers. Great audience, great turn-out, great response to the show. It's wonderful to see an ever-increasing feminist presence in the scene here!
More Scene Reports from Issue #2