VERSeFest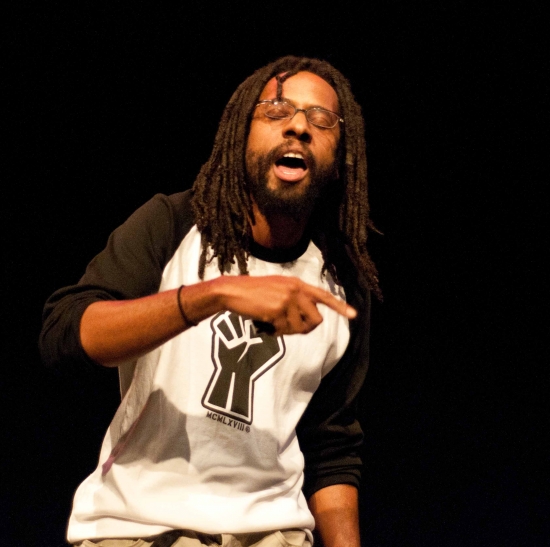 VERSeFest is the best thing to happen to Ottawa's divisive poetry scene in a long time. An apt tagline for this festival might be: 'Poetry without limits'. This new annual festival, which took place March 8-13, 2011, is innovative not just in its open-minded, inclusive approach, but also in the way that it's organized. The concept for the festival was simple: pull together the curators of fourteen different local poetry series — with programming that ranges from slam to the long poem — and get each curator to put on a reading or performance that would offer up a diverse sampling of the kind of poetic work that's being written and presented in English language poetry today. Organizers hoped to cross-pollinate audiences, expose page poets to stage poets and vice versa, and get a mega poetry mix-tape happening in the Capital for one glorious week — while keeping genre snobbery to a minimum. As someone who straddles the worlds of page and stage writing, this blurring of borders was an especially delightful prospect. I definitely had my fingers crossed for the success of VERSeFest, and I can say without hesitation that the organizers achieved what they set out to do.
Because there's very little overlap between page and performative practices here in Ottawa, our audiences also tend to overlap very little. Knowing this and wanting to break out of the categorizing rut, VERSeFest organizers created a double-header format that featured one spoken word oriented show and one page poetry oriented show per night. They then offered cheaper-than-cheap tickets for both shows, so people would be encouraged to enjoy whole evenings of poetic goodness. The effect? Lots of inter-mingling and conversation between poetry niche crowds. Another fun thing was that, in a single week, people got to sample what's happening at almost every poetry series in town.
It must be said, though, that the combining of various poetry crowds led to some hilarity. There was a palpable question mark in the air most of the time about whether to clap or make noise or be quiet or snap or show appreciation right now or wait 'til the end of the set. Mostly people went their own way. I witnessed one sweet moment where a group of slamsters hooted in appreciation during a page poetry reading, and one of the more conventional members of the crowd looked over with a charmed, slightly embarrassed look on his face. "Should we do that?" it seemed to say.
One of the gifts of VERSeFest so far is the conversation it's encouraging between poetic forms. Organizers didn't do anything as heavy-handed as panel discussions on page versus stage, or other awareness-raising types of events. No. It was the format of combining genres nightly that allowed for an unmediated back-and-forth between forms. It was spectacular how the conceptual experimentation characteristic of page poetry was enriched by the emotive, rhythmic play characteristic of spoken word, and vice versa. From what I heard (and overheard), this festival has inspired local poets of various stripes to appreciate each other more. And if the frenzy of "friending" on Facebook in the week that followed VERSeFest was any indication of the new connections made at the event, it would seem significant.
Despite being a newborn festival, VERSeFest has definitely made its mark on the local scene. Ottawa poet Kate Hunt created a temporary Twitter hashtag (#VERSeFestTaughtMe) to give people the opportunity to talk about what it was like for local writers to be exposed to artists who might be practicing poetry differently from them. That in itself shows what an impact this festival has had already. Out there in the community, the cup runnethed over with praise for VERSeFest's stellar line-up and its goal of breaking down poetic barriers. There were also expressions of genuine surprise at how much people enjoyed forms of poetry that had been unfamiliar to them before this festival. Hoo-yeah.
Now, a few festival highlights! One thing I'm going to squeeze into this review, even though it was technically a "pre-VERSeFest" event, is Steven Ross Smith's reading as part of the A B Series. Ottawa has a quiet and small experimental / sound poetry scene, but one with a lot of heart, so it's a boon for us that the A B Series offers a platform for both local and visiting performers who are pushing the boundaries of poetic practice. For me, the highlight of Smith's (very strong) set was a sneak peek at a video where he interprets 'White Sound' by bpNichol, which was recorded as part of a forthcoming film about Nichol called The Complete Works.
On VERSeFest's opening night, I was blown away by Ian Keteku's set with Brad Morden. Keteku's impeccable timing and strong delivery had the audience eating out of his hand, and his singing and dancing with Morden, who accompanied him on guitar for part of the set, was pretty damn charming. A great counter-point to the sass and sarcasm of David McGimpsey. The only strange thing about opening night was the fact that it was International Women's Day, and the line-up was entirely male. The next night, which featured an all-female erotic showcase by Voices of Venus and a gorgeous reading by Christine McNair and Sandra Ridley, certainly made up for it, but I heard some muttering amongst audience members about the faux pas.
The Voices of Venus feature poet was Beth-Anne Fischer, who is moving in a new direction with her work and was the one to suggest the all-erotica format for this show. She handed out chocolates to the audience, did a sizzling opening poem to flamenco guitar, told amusing sex stories and performed a burlesque number to Michael Bublé's cover of 'Fever'. Hallelujah for genre inter-play and putting music and movement into the spoken word mix. I would love to see more of this kind of work in the Capital. On Friday, the more-than-sold-out Urban Legends slam filled every seat and then some—there were actually people sitting on the stage because the organizers didn't want to turn people away, which very much characterizes the spirit of Urban Legends.
VERSeFest's approach allowed for a broad curatorial vision and encouraged cross-pollination of local poetry audiences. Nearly every night was sold out, so I think they're onto something here. I look forward to seeing how they expand next year to fulfill their vision as an international festival.

More Live Performance Reports from Issue #2