Winnipeg Word Sound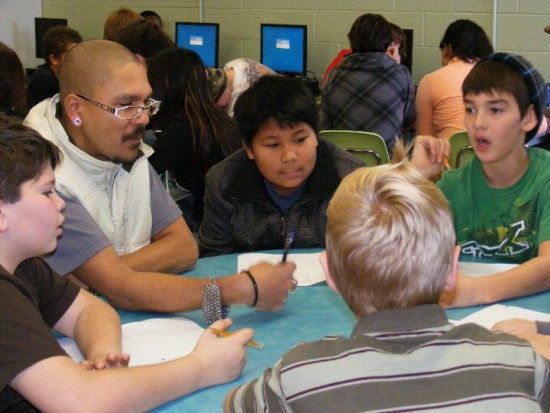 Wadup from Dub City!?
Y'all may have been wondering ... what is the word on word in Winnipeg ... how are they keeping it on the scary prairie?
Well ... it is interesting out here.
The perspective I provide is this:
I am a performance poet percussionist children's edutainer.
As PuconA, I bring poetry to kidz as a storyteller, poetry to D.J.'s as an M.C., poetry to drums as chant, poetry to dance as song, poetry to bands as funk and poetry to events as host.
My specialty is improvisation 4 celebration of the congregation.
From literary events with the CBC to Spring Break Programming with the Libraries there is alot of respect for word-sound-power out here. From festivals to community celebration ... "Word" is once again being invited to participate.
My most immediate connect to the literary community is through Slam ... competitive performance poetry, and from this world, invitations into other realms have come.
Winnipeg is renowned for it's ecclectic artistic nature and it's Slam Teams have embodied that. From cerebral slammers, funky poetz to griots there is a legacy of depth and breadth in the styles that come out of Winnipeg.
I have found that this is currently embodied best in our youth. The established scene is in a state of renewal and redefinition and thus, as a scene, is not as potent as the power being exhibited by the youth.
I have a huge respect for the folk I've met through the word-shops I've facilitated in schools and community centres out here. The capacity for courage and clarity ... the honesty, humility annnd hubris can be overwhelming and inspiring. Their willingness to experiment with style and to experiment with self expression is encouraging in an environment that, as of late, is more abusive than enlightening ... more about being poetic than being a poet ... more about imitating a voice than finding your voice.
Big Upz n Mad Respek to de youth that continue to spark sparks!
Giv Danx for the reminder that it is more powerful to "Do You" than it is to manage masks!
We, as people, are all magnificent and necessary ...
the question is ... "How do I shine if i ain't helpin' you to shine?"
the youth seem to know ... we can't shine apart ... so we must find ways to shine together.
From the kids in Nancy Janelle's class at the Seven Oaks School Division Met School .... (thanks to MET School 4 takin' the time 2 contribute) ...

Self-expression, including through poetry/spoken word (basically your workshops), of yourself and for others, is important because:
Anna: it keeps you grounded. It's like putting a piece of you and your feelings into a poem, song, or short story. It's important to share that because it helps everyone connect.
Chet: it puts your opinion out there and can really help you grow personally.
Savannah: it lets you grow. If you don't feel like you have to hide who you are, you can keep growing.
Jenetta: it is a way to express individuality. Without individuality, life would be boring.
Madison: it is a good way to release your feelings.
Parker: if you are mad you can express yourself through poem or song.
Amber J: It's important because it might be the only way you can express yourself. you get to express yourself in a new way. You get to be yourself. It is important to be you and not someone else. Have fun with what you do. If it is art, poetry, or anything else, just be YOU!
Tia: It is a way to get out what you think. Everyone should express themselves because getting your words out can help you and others.
Charlotte: sometimes people can only express themselves through poetry and art.
Candace: it is a good way to express what you are feeling and to let out your emotions.
We look forward to hearing more from and sharing more with them.
They are performing what is preached and only partially practised ... the art of meaningful self-expression that leads to greater overstanding and action.
I appreciate all the cats that use word-sound-power at events to mobilize ...
that use word-sound-power in seminars to motivate ...
that use word-sound-power for more than the sound of words.
In the future, I will include the perspectives of various folk from our various Dub City scenes.
Our ecclectic is hectic and it's gonna' take a bit to guide ya' through it.
Much love from Manitoba
BleZz.. PuConA
More Scene Reports from Issue #2