Geode Music & Poetry – Until The Light Bends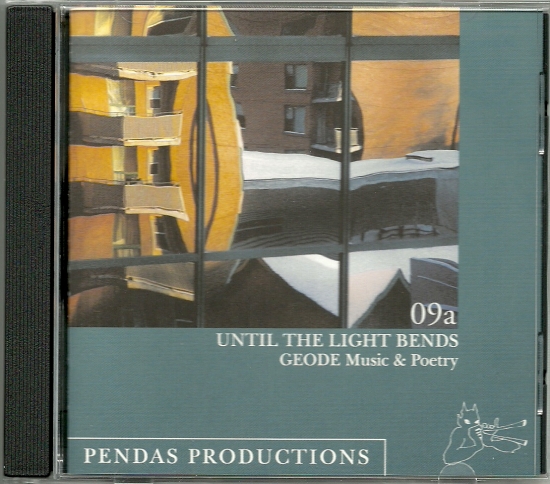 This recording comes from Susan McMaster, an Ontario-based poet who has been working with the live and recorded performance of her poems since at least 1980. It was then that she became involved with the intermedia group First Draft, which worked with composer Andrew McClure on 'wordmusic', "a system of musical notation and performance for multiple spoken voice." Since then, McMaster has recorded and released a number of audio cassettes and CDs, and also published a series of wordmusic scores, sometimes with the editorial overview of bpNichol.
Her most recent recording, Until The Light Bends (2004), is performed with Geode, a group made up of McMaster, and composer / musicians David Broscoe, Jennifer Giles, Jamie Gullikson, John Higney, Africk Huebener and Mark Molnar. The various musicians are each credited with individual compositions on the CD, and on tracks like 'Sonata for Watcher and Shades: A Poem in 5 Movements' the musicians improvise to McMaster's reading of her text.
The poems (the texts of many of which were published in a matching 'Palm Poets' edition by Black Moss Press) concern themselves with the inevitability and comfort of passing seasons, with nature's omnipresence, with the often rocky relationships between men and women, and in the closing track, 'Ordinary: A Poem in 14 Parts', with the passing away of two loved ones in too short a space of time. This piece in particular becomes deeply involving, with echoes of the dying person's voice coming through the lines of the poem, as well as the narrator's at times overwhelming undercurrent of grief, and glimpses of daily life carrying on despite the presence of death.
The style is jazz improvisation and 'new music' – often irregular, fractured, intermittent, as the musicians structure their playing around the poet's cadence and the mood of her pieces. Sonically, it's a long way from the current crop of rhythmic recordings by slam-seasoned performers or hiphop-cultured spoken word artists. There's plenty of crash and spark in tracks like 'Sonata For Watcher and Shadows', but for every jagged edge there's a track more reminiscent of Lawrence Ferlinghetti's quiet observations, or even of John Cage's spoken word recordings. A sort of formal, distanced melancholy, bringing rural winter landscapes to mind.

More Reviews from Issue #2