Ink Slingers & Linguaphiles: Celebrating 15 Years of Van Slam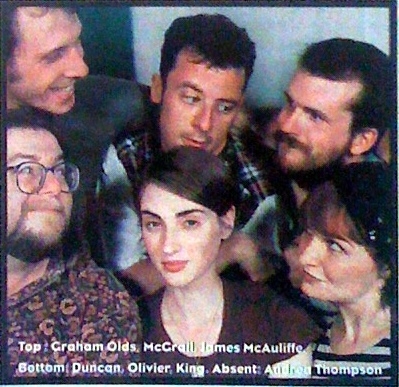 Part One: 1996–2001
"We love our slam, the wacko oddballs that show up. I've seen things on a Vancouver slam stage that I've never seen at a national level. Vancouver has the reputation of consistently sending the oddest team to the National Slam."

– Cass King in The Vancouver Sun, January 16th, 1999
The early and mid-nineties in Vancouver did not suffer from a lack of poetry readings. Pick up an old copy of VERB, an insert of the now-defunct Terminal City weekly paper, and you'd notice that nearly every day of the month had a poetry event. The Malcolm Lowry Room at the North Burnaby Inn was presenting poetry one doorway away from a strip club, Ralph Alfonso was playing his beat-styled grooves at Black Sheep Books, jazz and poetry were jiving together at The Glass Slipper, and so on. The list of open mics was long, and covered every part of the city. Grunge music and the legacy of Vancouver's vibrant '80s punk scene had reinvigorated Vancouver with a DIY attitude, which, in poetry, translated into a surge of open stages, poetry zines, and music-poetry jam sessions. But one thing Vancouver did not have at that time was a poetry slam.
Justin McGrail had already seen the first wave of poetry slams in Canada during his years in Montreal – and had not been impressed. He avoided the Montreal slam scene of the early nineties, working instead in spoken word collaborations such as Fluffy Pagan Echoes. By November 1995, McGrail had moved to Vancouver, and was helping out on VERB. He received a call from his friend who was organizing the next National Poetry Slam in Portland, Oregon, and was invited to bring down a slam team from Vancouver. McGrail had a feeling that – although he wasn't a fan of the Montreal slam – in Vancouver, they could make it different. Here, he hoped, they could make it something fun.
The organizers McGrail brought together were already running poetry shows across the city. Graham Olds organized readings and jams at La Quena Coffeehouse, including Howling Full Moon; James McAuliffe helped organize a number of shows including one called Slaughterhouse at The Ashé Gallery, a former abattoir in the downtown eastside; and Tom Snyders ran the legendary Tongue of the Slip at The Glass Slipper. They all met with McGrail at the Bavarian Café in late '95 to discuss the idea of slam. Snyders wished them the best, but decided he didn't want to be a part of it. McAuliffe offered to take on the role of Slam Master and lead organizer. Olds was wary of slam, and its affiliation at that time with MTV; still, he signed on to create the Vancouver SLAM Poetry Association that gathered together volunteers, and helped create a sense of community.
This core group of organizers – McAuliffe, Olds and McGrail – had to find a format to determine the first-ever Vancouver Poetry Slam team. It had to be open to all, in line with the democratic principles to slam, but it also had to happen quickly, so that the four individuals chosen could have time to gel as a team for the National Poetry Slam (NPS) that summer. They decided to hold four poetry slams, at various venues in early 1996. The winner of each slam would automatically make the team. It was a simple and transparent process that could be easily understood by a community that was unsure about the premise of competitive poetry and unaccustomed to the format and rules of slam.
The first instance of Van Slam – as it quickly came to be known – took place at the Vancouver Press Club on Granville Street and 7th Avenue in early 1996. The Press Club fit about 100 people, if you didn't mind it getting hot and muggy inside. The audience smoked heavily and drank liberally, as bohemians and journalists tend to do, creating a boisterous atmosphere. Alexandra Oliver presented poems that combined caustic wit with formal rhyme and metre, and won. As Oliver puts it, in her poems there "was such anarchic sentiment coupled with such strict form that created a very funny paradigm and people caught onto it." What she remembers most from that night was a sense of relief in the audience. Finally they were involved in the show, and could give feedback through the scores, which however crude and elementary, were immediate and direct. "What does that have to do with the price of eggs?" was a question that Oliver's brother often asked of art, especially poetry, a sentiment that she sympathized with. The format of slam forced poets to consider this question, and imbue their work with a relevance that could connect with an audience of everyday people.
Three more slams followed in early 1996, won by Andrea Thompson, Justin McGrail and Cass King, in that order, with S.R. Duncan becoming the team alternate.
"We didn't know what slam was, at first, which was a good thing and a bad thing," points out S. R. Duncan. Vancouver poets were ignorant about the finer points of slam strategy, but they also were blissfully unaware of the many slam clichés in form and subject matter. Duncan notes two major differences between Van Slam and Vancouver's other poetry series: one, "[i]t brought a lot of people out who had an acting background" and two, that within the poetry itself there was "[l]ess of a questioning and more of taking a stand." He also remembers that some poets felt giving scores to poetry cheapened it and gave in to the superficiality and sensationalism of pop culture. Or they gave the slam a try and were disappointed that they did not receive the validation they expected. Slam came as a shock to the poetry scene, and not surprisingly, some reacted against it. Olds and McAuliffe were not swayed by these critics. They believed that Van Slam could pioneer a new form of populist poetry.
While there were also slams in Toronto and Montreal in the nineties, they struggled and died out. Why then did the slam movement in Vancouver survive and prosper? The answer, at least partly, can be found in the history and cultural milieu of Vancouver itself. Although there have been plenty of great page poets in British Columbia, the noble traditions of literary poetry do not resonate with the same force on the west coast as they do in Canada's elder cities of Toronto and Montreal. In Vancouver, there's more interest in what's next than what came before. At its worst, this can result in trend-jumping and fad-following. At its best, it embraces art that – for whatever reason – doesn't fit the mold of established genres or the dominant sensibility. Isolated by the border on one side, and the mountains on the other, Vancouver has long been an enclave of misfits and misfit art. There's a sense of distance – both geographically and figuratively – from the structures of tradition, and an embrace of the open, beginner's mind that such a distance offers.
∞
Although Van Slam has grown to become the scene most associated with Canada at NPS, it was by no means the first group of Canadians to participate in America's biggest poetry slam tournament (to which a few international entries are always welcomed). It was not even the first team to represent Canada's west coast. Three years before, Kedrick James met up with John Sobol and Alex Ferguson in San Francisco to form AWOL Love Vibe, a collaboration not unlike The Four Horsemen, who combined sound poetry, stream-of-consciousness improvisation and word play to create complex and intricate pieces. They competed with these boundary-pushing poems at NPS in 1993. When they didn't receive the scores they felt they deserved, they reacted by producing a broadsheet called "Like Lambs to the Slammer", a diatribe against the lack of intellectual content and conformity of style they encountered at the festival. Montreal and Victoria also sent teams to NPS before 1996, but neither scene continued their participation for more than one or two years.
Perhaps Portland, a city that prides itself on its weirdness, provided a soft landing for that first Van Slam team, a place where audiences were more inclined to appreciate approaches outside of the well-worn slam paradigms. "We expected it was going to be fists-up competitive poetry, and we walked into a love fest" is how King describes Van Slam's reception.
The 1996 NPS festival kicked off with each team presenting a poem to introduce themselves before the competition began. Other teams selected a poet that they felt best represented their scene. Vancouver took an alternative approach. "We were sitting around the garden at Cass King's house," as Oliver remembers. "And we said 'How can we be different? We should have a choreographed dance routine!' and we had it in English and in French." Van Slam performed this vaudevillian piece for their intro poem leaving the other teams stunned, but amused. Right from the very beginning, it was clear that Van Slam brought a unique sensibility to NPS, one that reveled in its difference, and did so with humour, whimsy, and charm.
The documentary Slam Nation, made about the 1996 NPS, captures some of Van Slam's experience in Portland, including the preliminary bout where they outscored the team from Providence – that year's eventual champion – but came in second due to time penalties. Losing on time penalties would become a recurrent theme for Van Slam at NPS. "We were always over time, all of us," Thompson remembers. Graham Olds recalls that bout similarly:
"We lost by 0.3 and I know that about three of the four poets had gone over time because people were just going crazy and screaming and yelling. The poets could barely hear themselves, and with the adrenaline, they all went over time."
Van Slam did advance to semi-finals, but after many late nights of carousing and Thompson and McGrail smoking too many American cigarettes, the team was drained, and did not perform well in its final bout.
Still, Van Slam had made its mark. "We turned everything on its head in a way, because it was such a weird, eclectic mix of offerings," as Oliver remembers. And Thompson points out it was a positive experience for both the American poets and themselves: "[t]hey thought we were weirdos, but they embraced us."
∞
Strangely, or perhaps not-so-strangely, Allen Ginsberg's death caused an event that galvanized the Van Slam community. Ginsberg, after all, had been accused of a lack of poetic craft and obscenity, criticisms that have also been leveled against the poetry slam. Yet over time, Ginsberg became a figure that both academic and bohemian poets revere. So perhaps it should not come as a surprise that his death led to a confluence of poets from different scenes around Vancouver who had not previously found a reason to connect.
Sho Wiley joined forces with the Van Slam organizers to stage a memorial to Ginsberg on April 12, 1997, one week after his death. Graham Olds strapped pallets taken from a construction site onto the trailer of his bicycle, a bicycle to which he had also mounted a pair of battery-powered speakers connected to a microphone. This improvised P.A. system and stage was set up in the amphitheatre created by the curved steps outside of the central branch of the Vancouver Public Library. Wiley met three boys at Kitsilano High that morning who were smoking pot, playing bongos, and all claiming to be named Mike. They eagerly accepted her invitation to the memorial, and even showed up that afternoon, playing their bongo drums throughout the entire recital of 'Howl'.
It was only with some political cleverness, or social hacking as it now called, that this event was not immediately shut down, but thankfully it was not, because it became something of a legend, not only for its poetic performances and stories, but also for the level of debauchery that was achieved at the follow-up reading that night at the Olde Times Café. There was nakedness, dancing on tables, shots of grappa, and a group of Ginsberg's former students from Naropa's Jack Kerouac School of Disembodied Poetics. It was amidst this bedlam and beauty that both C.R. Avery and The Svelte Ms. Spelt made their entrance into the poetry scene. McAuliffe, having seen Ms. Spelt read that afternoon at the library, invited him to perform onstage that night. When it came time for him to read, Ms. Spelt peeled off his overalls revealing a gold lamé dress, something he had chosen to emphasize the homoeroticism of 'Howl'. Avery brought his harmonica and beat poet sensibility to the stage, wowing the crowd with his trademark combination of music, beat boxing and spoken word. Both of them would become influential players at Van Slam in the years to come.
1997 was the only time in its 15-year history that Van Slam did not send a team to NPS. The 1996 team had done a huge amount of fund raising to cover the trip to Portland, and knew that even more would have to be done to send a team to Middletown, Connecticut where NPS was being held that year. Instead, Andrea Thompson traveled to Connecticut as an individual, and had a terrible experience. "That's when I began to see the dark side of slam," says Thompson. "I got into the two pitfalls: caring about the scores and ego. I thought 'I'm representing Vancouver. I have to do well.'"
Thompson made the 1998 team, but did not travel to NPS, moving on from the slam scene shortly afterward. Since then, she has embarked on a career as a spoken word artist, writer, and editor. She fondly remembers her time in slam, especially the organizers who supported her: "James helped me take myself seriously as an artist, and Graham helped me not take myself too seriously." Thompson and Oliver – who exited the slam scene around the same time – are now both working on MFAs related to poetry. Oliver is compiling an anthology of non-pentametric verse, and has also published two books of poetry, Where the English Housewife Shines and The Hand of Scheveningen. Thompson has co-edited a poetry anthology with Adebe DeRango Adem called Other Tongues: Mixed-Race Women Speak Out, which came out in 2010.
Oliver believes there is much to be gained as a poet practicing your art in a slam setting:
"If slam taught me anything, and it taught me a lot, it taught me that you have this group of words and just one chance to make a very beautiful and a very deep impression. And the other thing it taught me was the importance of community in poetry."
Thompson notes that for her slam acted as a training ground to brave her fear of performing in front of an audience. "There's nothing as terrifying as a slam," Thompson says. "After that, doing a feature at an open mic is a piece of cake... It's hardcore. After doing slam, everything else is easy."
McGrail also moved on to other pursuits becoming a professor of Architectural Theory at Vancouver Island University, and continues to create spoken word pieces that often have multidisciplinary and collaborative aspects not possible within the restrictions of the slam format. He's been especially active in exploring how spoken word can connect with dance, working with Victoria's Suddenly Dance Company and Tripod Dance Collective, as well as collaborating with Lori Hamar on a multidisciplinary piece called Pourtinage in 2007 as part of the Victoria Symphony Orchestra's New Currents Festival.
But, fifteen years later, McGrail has decided to participate in slam once again, finishing a close second at the Victoria Poetry Slam in April 2011, and thus qualifying for their playoffs. He's seriously considering the possibility of competing for a spot on this year's Vic Slam team. If he accomplishes this, he will join RadaR as the only two poets who have been members of both the Van Slam and Vic Slam teams.
∞
Graham Olds coined the phrase "Poetry that doesn't suck, unless you say it does" to describe the Vancouver Poetry Slam experience. The second part of this phrase refers to the scores, which encourage the audience to give direct feedback to the competing poets. "You have editorial comment through the numerical judging system on what you hear," Olds points out. "And that empowers the audience. You're part of the show also."
Olds' background in grassroots activism explains his appreciation for the democratic and communal aspects of slam. Both he and McAuliffe were countercultural mischief-makers, who engaged in culture jamming and other antiestablishment organizing throughout the nineties. Their mindset was to usurp authority with satirical art and collectivist organization, not unlike the approach practiced by Adbusters, a magazine that sought to expose and ridicule corporate advertising and the political structures they supported through the manipulation and recontextualization of their symbols. Think Mickey Mouse holding a Uzi, or the Coca-Cola symbol redrawn to say Enjoy Capitalism.
Olds and McAuliffe were tricksters, and their sense of political mischief gave the early slam a sense of identity and purpose. Olds' phrase "Poetry that doesn't suck, unless you say it does" carries that trickster attitude. It provokes with a bold statement, which immediately sabotages and dismisses itself, leaving the listener wondering how much of it was a declaration and how much of it was a joke. The point is made, and yet the seriousness of the speaker making the point is in question. This is pure Olds. McAuliffe too "was basically a shit disturber," as Randy Jacobs puts it, meaning this as a compliment of the highest order. McAuliffe and Olds knew the poetry scene well, but participation in the slam movement also aligned with their work in culture jamming. Slam messed up the established order of poets requiring a publisher or a Canada Council grant to prove their worth as a professional. It rejected top-down structures with the literati presiding as taste-makers and poets scrambling for their approval, replacing this system with the radical notion that five random members of the public could judge excellence in poetry.
Just as culture jamming sought to destabilize the power of multinational corporations by messing with their logos and brand image, Van Slam in its early years relished its role of subverting literary archetypes and championing the vox populi. It was all done in a style that parodied the over-the-top slogans employed in mass media. Posters began with the heading "Special Edition: The Vancouver Slam Times" and even went so far as to include a version of the iconic American draft image modified with a maple leaf on Uncle Sam's hat and his slogan turned into a pun that read "Uncle SLAM Wants You!"
When McAuliffe stepped down as Slam Master in 1998, Van Slam's organizational structure changed. Instead of simply anointing a new benevolent autocrat to replace McAuliffe, Van Slam became more of a collective, with a core group of volunteers, and regular meetings where major decisions where made as a group. Olds took over the title of Slam Master, but he was by no means the only organizing force; that would have been against his collectivist attitude. A host of other poets volunteered their time, resources and energy to keep the slam going. S.R. Duncan, DJ Dutch Boy and Cass King were especially active in promoting slam events through the creation of posters, chapbooks, zines, broadsheets, and whatever else they could piece together and photocopy cheaply.
Olds had community support, but as the host, he became the public figure most associated with Van Slam and the show acquired much of Olds' natural quirkiness. "Graham as a host was a loony, and encouraged all the looniness" King remembers. Thompson recalls it in much the same way: "They built a playground. Graham is so wacky, goofy, fun. I couldn't take it too seriously. James was the straight man, Graham was the clown." Olds hoped that the slam could have an element of self-aware camp, which simultaneously played up the showmanship and made fun of itself. While his "Poetry that doesn't suck..." slogan is not often mentioned anymore, his other trademark phrase has become a regular part of Van Slam events: "Poetry is the lowest-paid profession in Canada. Even mimes make more – and they have nothing to say!" This phrase has become so well-known that the Van Slam audience regularly chants along, filling the room with communal mock rage.
∞
In 1996 the Van Slam team could drive to Portland in a couple cars, but the 1998 NPS was held in Austin, Texas, which meant the team needed to pay airfare on top of their hotel costs. S.R. Duncan wasn't a team member that year, but still, he slapped down his credit card and insisted that the Van Slam team use it to pay for the flights and hotel. It was an extraordinary act of community support at a moment when Van Slam was unsure of its future. The driving purpose of Van Slam had been to establish a fair system for a team to be chosen that would represent Vancouver at NPS. If Van Slam hadn't sent a team in 1998, the movement would have faltered and could have failed.
The trip turned into a logistical nightmare. After driving to Seattle's airport, it turned out that not all the team members had photo ID, and King had to sweet-talk the officials into letting them onto the flight. It didn't get any better in Austin where they discovered that their accommodations were nowhere near the venues where the events were being staged. They arrived at their first preliminary bout just minutes before it began, and the team, as a whole, did not place well; however, King scored a perfect 30 in the final round. This, combined with a high score on the second night, qualified her to compete in the individual playoff known as Indies Finals, where top-scoring poets in the preliminary team bouts compete to determine the top slammer of the year.
King's work had been criticized for not fitting into the genre of slam poetry. She drew on a background in cabaret and burlesque to develop a strongly theatrical presentation. "She was very Liza Minnelli, Ethel Merman-ish," points out Oliver, her teammate. "People didn't know what to make of her." Even though she'd been the greenhorn on the team in 1996, by 1998 she'd acquired a huge amount of stage time, both in slam and as the emcee of the cabaret at the Blue Cocktail Lounge. She had to decide whether to show off her influences, or conceal them. King chose to let her freak flag fly:
"I knew I could play strategy or I could play joy. I chose joy, and I did stuff that I knew wasn't going to score high. I didn't do angst or Strum und Drang. I wanted to do my cabaret stuff."
King placed fifth on the night, which remains one of the best individual finishes by a Canadian poet at an American Indies Finals stage, topped only by Shane Koyczan. Her success emphasizes that slam poetry as a poetic genre is a myth. As Marc Smith – the founder of the slam movement – has said countless times: "There is no such thing as slam poetry. There is only the poetry slam."
That Indies Finals also demonstrated that Vancouver poets sometimes pushed the boundaries of slam without even trying to. King's natural flamboyance drew fire from American poets who questioned whether her 1960s sequined cocktail dress was a costume, which would be in violation of rules and subject her to at least a two point deduction, and potentially elimination. The Svelte Ms. Spelt, who was on his first team that year, often cross-dressed and drew similar allegations. He defended King, pointing out that this was actually just how they dressed on a regular basis (as Oliver remembers "You could go over to Cass' for a burger and she'd answer the door in an evening gown"). Eventually the protests fell flat, but King and Ms. Spelt's experience caused them to become more involved in the councils where the rules, formats and guiding principles for NPS were decided.
The other two members of the 1998 team were Jenn Griffin and Hugh McMillan. Griffin came to slam in 1996 after five years on the stand-up comedy circuit where she was starting to feel "joke-bound and persona-bound". Stand-up and slam share many similarities. Performers in both situations have only their words and a microphone, so it makes sense that Griffin could transfer her talents to a slam stage. Plus, as she puts it, "[a]t slams the competitive vibe was way less than with stand-up."
After leaving the scene, Griffin used "the juice [she] got from slam" to write and perform Drinking with Persephone, a hit one-woman show that played all over North America, garnering several awards, including a Jessie for Outstanding Performance. She now works as a professional playwright and actor.
In the bios for the 1998 NPS, Hugh McMillan is described as "best known for once taking a hockey puck to the chin and slamming later again that night."
∞
In late 1998, most likely October, Randy Jacobs and Shane Koyczan performed for the first time – at the very same slam. They sat at tables near each other, and after both advancing to the second round, Koyczan asked Jacobs for a pen so that he could write down a second poem that he had half-remembered and half-composed, a poem that he needed to be able to complete the competition. Jacobs obliged, and after furiously scribbling down his piece, Koyczan went on to win.
Koyczan continued on, becoming the most successful poet in Van Slam history, while Jacobs became one of its most influential.
Most poets know Randy Jacobs by his alter ego, R.C. Weslowski, although his alter non-ego might be a more accurate description. As Ms. Spelt points out "Randy kills ego for fun. It's his superpower." One of Jacobs early pieces "I Am So Glarb" even begins with the declaration "Kill your ego!" Sometime in the fall of 1999, Jacobs decided to twist part of his ancestry into a stage persona called R.C. Weslowski because, as he describes it, "I liked the way it sounds, and as a tip of the hat to my maternal grandfather, and to create an alternate personality where I could step outside myself."
Jacobs amplified much of Van Slam's budding tradition of tricksterism into a wildly original style of spoken word that drew heavily from sound poetry and surrealism, as well as his background in clowning. As Ms Spelt remembers, "[Jacobs] was a phenomenal lesson for all of us. He brought all the lessons he'd learned in clowning school." Jacobs refused to watch Slam Nation when the 1999 Van Slam team suggested it, purposely avoiding its influence in order to delve further into the uniqueness of his own approach. Jacobs has gone on to make seven Van Slam teams, more than any other poet.
While it sometimes took a while for people to warm up to Jacobs' unorthodox style, Koyczan's talent was recognized right away. Olds tagged Koyczan as "The Shane", and started introducing him as such, which Koyczan disliked. If he had to have a nickname, Koyczan said he'd prefer to be known as MC Hotribs.
Within poetry slam, there are certain strategies or paradigms that can act as short cuts to high scores. All too often political poems beat love poems, funny poems beat political poems, and melodrama trumps everything. Koyczan managed to win many slams with love poems, something that few others have managed. These poems were streaked with humour and politics, but what made them so stirring was the passion and authenticity with which Koyczan delivered them. "Shane has that everyman quality. He's like Bruce Springsteen," as King describes it. "I believe that the power of love is stronger than the power of hate, pain, or fear, and Shane can articulate that."
Koyczan would make the Vancouver Poetry Slam team for the next six years, from 1999 to 2004. Rowan Lipkovits, a Van Slam habitué from that era, estimates that Koyczan won 80% of the slams he participated in, an unparalleled record.
Koyczan wasn't the only notably entrance that year. Fernando Raguero also discovered the slam scene in 1998. He, along with Jacobs, were to become two of its longest-running participants, second only in their longevity on the scene to The Svelte Ms. Spelt. All three of these accomplished poets, who started in 1997 and 1998, continue to compete at Van Slam on a regular basis.
∞
From 1996 to 1999, Van Slam audiences ebbed and flowed with great irregularity, but the scene had a primary venue in the Vancouver Press Club. (Slams were held at other locations as well, including The Talking Stick Café, The Marine Club, and The Web Café at the Vancouver Film School.) Building off the release of Slam Nation and the media attention garnered by King's fifth place finish at Indies Finals, Van Slam had a tremendous amount of momentum, which translated to standing room only shows.
The last documented slam at the Vancouver Press Club was January 4, 1999. Shortly afterward, The Vancouver Sun and Province moved their offices downtown, leaving the Vancouver Press Club without its main patrons and forcing the closure of its Granville Street location. This, in turn, left Van Slam without a stage to call its own.
For the next three years, the Vancouver Poetry Slam bounced from venue to venue, losing much of its regular audience and popular support. This period of exodus nearly ended its existence, and was survived only through the persistence of a core group of poets and organizers.
In a burst of exuberance, Van Slam moved downtown to The Purple Onion, a night club in Gastown. Other poetry reading series in Gastown had worked out well, especially the ones at the nearby Olde Times Café organized by McAuliffe. The slam had acquired a certain trendiness and a bigger crowd, and The Purple Onion had both an intimate small back room for small shows and a larger front room for bigger shows. It was hip, it was queer-friendly, it seemed like a good fit. As it turned out, nothing could be further from the case. Whether it was the incongruous glitz and glam of the setting or the incompatibility with a mainstream crowd, it didn't work. The shows fell flat, and audiences diminished. The slams had to be finished early so that the late night clubbing crowd could take over, which did nothing to dignify the proceedings. Still, two of the semi-finals to determine that year's team were held at The Purple Onion with Jacobs and Laurel Albina joining King and Koyczan on the team and Ms. Spelt becoming the alternate. When management changed, it became clear that the situation was not going to improve, and Van Slam was on the move again.
But first, it was off to NPS, held in Chicago that year, returning the tournament to the birthplace of slam on NPS' ten-year anniversary. The Van Slam team had high ambitions. Newcomer Laurel Albina brought a writerly, low-key approach that worked as a perfect contrast to the dramatic styles of Koyczan, Jacobs and King. "[Albina] was quiet," Jacobs recalls. "She would be almost whispering her poems. But the room would shut up and listen. She was an incredible writer and had a laser beam-like intensity on stage." As Olds points out, by 1999, the team had a range of material, and that helped in competition:
"If you have a repertoire of poems, and I really saw that in Chicago in 1999, the poets at that point had such a repertoire of poems they could take stuff that was very funny or something that was very serious in order to contrast to what just previously played, and they were able to use that aspect of strategy."
The team made semi-finals, and missed out on a chance to advance by only a few tenths of a point. It remains the closest Van Slam has ever been to Team Finals at NPS.
∞
"Calling all INK SLINGERS & LINGUAPHILES!" declared the header of a poster for Van Slam in its new venue at Café Deux Soleils. This poster announced a new phase of Van Slam's existence in two ways: first, it signalled Van Slam's move to the Commercial Drive neighbourhood, and second, it advertised two shows, on September 6 and 20, marking the beginning of biweekly slams. For the first three and a half years of its existence the series had been monthly event, with a scattering of special event slams when it was necessary to raise money for NPS travel expenses. In September 1999, Van Slam started staging shows on the first and third Monday of every month, a bold move, considering that the first half of 1999 at The Purple Onion had been a rough set of shows and Café Deux Soleils was a relatively untested venue.
In retrospect, what's surprising about Van Slam's journey is that it didn't come to Commercial Drive earlier. Bohemian life in Vancouver resides in East Van, specifically the twenty or so blocks of Commercial Drive from 12th Avenue to Venables Street. The Drive – as it is affectionately known – is practically a village of its own, nestled within the framework of larger city. It has a vibrant café life of artists and intellectuals. Italian, Portuguese, Ethiopian and Jamaican cultures mix with radical Marxists, anti-globalization activists and a vibrant queer community. Van Slam felt right at home in this milieu, and has been especially embraced by the lesbian and transgender communities. Although Van Slam would still move around after September 1999, it would never leave The Drive. As Ms. Spelt put its: "We'd found our neighbourhood."
The neighbourhood, in turn, influenced the show, and the kind of work that was supported. Perhaps it's the double-decker bicycles, or the touring hippie buses parked on the street, or the constant haze of marijuana smoke, but The Drive often feels like an ongoing performance installation, twenty blocks where anything can happen, and often does, an informal circus of bohemians and outsiders. Van Slam draws much of its audience directly from The Drive. With these alternative-minded folks holding the scorecards, it makes sense that poetry that pushes boundaries – both of sensibility and form – tends to be rewarded more than at other slams in North America. Social justice and identity politics – slam's most common subjects – still feature prominently; however, there's an intense interest in spoken word that confounds expectations and breaks free of poetic genre, a defining quality of Van Slam among poetry slams. Instead of asking "But is that poetry?", the audience at Van Slam is more likely to ask "What else can poetry be?"
At some point in 2000, Van Slam left Café Deux Soleils because of a misunderstanding with management, and held a series of slams at Zesty's Restaurant on the northern edge of The Drive. Just after September 11, 2001, a slam at Zesty's drew less than twelve people, even though slam star Buddy Wakefield was featuring. The slam crowd of youthful bohemians, poetry enthusiasts, and outsider artists wasn't drawn to the more conventional restaurant atmosphere of Zesty's the same way that it was attracted to the Vancouver Press Club or Café Deux Soleils. Both of these other venues had small tables that could be rearranged by guests and a prominent stage, which gave the room a loose, free-flowing, cabaret atmosphere, and emphasized that performance was primary, not something served on the side. In late 2001 or early 2002 (accounts vary), Van Slam came to understand it was welcome at Café Deux Soleils and eagerly moved back. Finally, the three-year period of exodus was over, and Van Slam once again had a home, one where it remains to this day.
∞
The Svelte Ms. Spelt came to Chicago as the alternate on the 1999 Van Slam team, but still made a huge impression on the poetry slam community that year. At every NPS, poets and organizers gather to discuss the rules and format of the tournament in what is known as a Slam Masters Meeting. A recurring issue had been one of sportsmanship. Everyone acknowledged that poets should not exploit grey areas in the rules to try to get an advantage in the competition, and most agreed that all participants needed to abide by a code of mutual respect and fair play in the widest, most spiritual sense. The problem was that although many poets referred to this code, it did not exist in any formal sense. Ms. Spelt had been mulling over this problem since his first visit to NPS the year before, and had suggested – before the team arrived at Chicago – that a code of honour needed to be written down and finalized.
When the issue resurfaced at the Slam Masters Meeting in 1999, King brought forward Ms. Spelt's idea for an honour code, and Marc Smith charged her with the task of writing it. Together King and Ms. Spelt created this crucial document, drawing heavily upon FIFA's Fair Play Code. Since its inception, a number of protests have been launched against poor displays of sportsmanship, but the guidelines within the NPS Honour Code have always proven sufficient to handle these disputes.
At that same NPS, the organizing committee agreed to, and then scuttled, a reading focused around the impact of AIDS that Ms. Spelt had proposed. Not one to go quietly, Ms. Spelt looked for another way to make it happen. He teamed up with slam legend Shappy Seasholtz, who at that time owned a comic book store in Chicago called Quimby's, and held the AIDS reading there as an unofficial side event. Poets packed the store, and funds were raised for a local AIDS charity by passing the hat.
Bill MacMillan was part of the organizing committee for next year's NPS in Providence, Rhode Island, and made sure that Ms. Spelt would host another AIDS reading, this time as an official part of the festival. Ms. Spelt organized and hosted the AIDS reading for the 2000 NPS and did it again in Seattle in 2001. His contributions to the slam community were recognized in 2002 when Ms. Spelt became the only Canadian to be awarded the Spirit of the Slam, which is given out to an individual or team for outstanding contributions to the slam community. That same year, Ms. Spelt realized that the AIDS reading needed to be expanded to include all personal losses to the community, and so he reorganized the event into the Grief and Memorial Reading, which continues on as an annual NPS tradition.
∞
The Van Slam team that traveled to Providence didn't advance to semi-finals, but Koyczan qualified for Indies Finals for the second consecutive year. He'd already finished sixth the year before in Chicago, and was determined to finish higher this time.
Although he had been involved in poetry slam for less than three years, Koyczan had logged a lot of stage time, competing in nearly every slam he could. He wrote and rehearsed his work with the intention of making it his living. One of his techniques was to stand in front of his cat, who was curled on the couch, and practice his poems. If the cat didn't pay any attention to him, Koyczan knew he needed to amp up his performance; if the cat got spooked and ran away, he knew he needed to dial it back.
Koyczan brought his trademark inspirational poetry to Indies Finals in 2000, but according to Jacobs, it was one of Koyczan's humourous poems that put him ahead of the competition. "[H]e did 'Love Like' and the place exploded," says Jacobs. "And I knew he'd won it." When Koyczan performed this piece, he ripped the microphone from the stand and tromped back and forth across the length of the stage, distinguishing himself from the rest of the poets who chose to simply stand behind the mic when delivering their poems. Koyczan now rarely uses such theatrics when performing. He has refined his gestures to the minimal necessary to illustrate a given line, and he speaks at a much slower tempo. Part of the beauty of watching Koyczan's early performances, including those that made him the 2000 Indies Champ, comes from knowing how much further his performance style and writing have progressed. Having said that, there's an intensity to these early performances that illustrates perfectly Alexandra Oliver's assertion that "[t]here's an urgency that informs good poetry. There has to be that inner fuckyeah." With Koyczan, there always was.
The following year, Cass King was back on the team, joining Jacobs, Koyczan and C.R. Avery, who had finally managed to reign in his time penalties enough to win a spot. King suggested that the team do something never before attempted at NPS: all team pieces. This would mean Koyczan would not have the chance to perform the individual poems necessary to qualify for Indies Finals. After taking some time to ponder King's audacious proposal, Koyczan agreed, sacrificing a chance at individual glory for the sake of the team. "He probably could have won again," says Jacobs of Koyczan's decision. "But he made the stronger artistic choice."
In the first round of their first bout at NPS 2001, Van Slam sent up a team piece, and the crowd murmured. Normally each team only had a few of these, which they reserve for later in the competition as team pieces can have the tendency to score higher. In the second round, Van Slam sent up another team piece, and a ripple went through the crowd. By the end of the bout, their secret was revealed, and Van Slam became the talk of the tournament.
Karen Finneyfrock, a poet from Seattle and longtime slam participant, remembers how it struck her:
"In the states, Vancouver is known for a few things. First of all, teamwork. I will never forget the team from Vancouver who came to the 2001 nationals in Seattle. C.R. Avery, Cass King, Shane Koyczan and R.C. Weslowski brought entirely group pieces to the event. Other teams wrote individual poet bios in the NPS program. Although Team Vancouver was filled with outstanding writers, they wrote: 'We are a team. Nous sommes une ensemble.'"
Van Slam stayed true to their bio, setting a new precedent at NPS for excellence in teamwork. Although the team did not get the scores they hoped for, they were invited to perform one of their collaborations at Team Finals in recognition of their achievement.
The 2001 team made a huge contribution to Van Slam's reputation of defying expectations, and creating cutting-edge, innovative spoken word. If a Van Slam team or poet is performing – within competition, or even years later outside of competition as one of its many alumni – there's a sense not only that something unexpected might happen, but that something unexpected should happen. King sums it up best:
"In burlesque and in poetry, Vancouver is known for bringing the crazy."
Amen to that.
∞
Hundreds of poets have performed for thousands of audience members at Van Slam over the past fifteen years. This article can only deal with a small segment of some of Van Slam's notable events and influential players, but the greater slam community has always been just as important. As Walt Whitman says, "To have great poets, you must have great audiences" and Van Slam could not have achieved any of its accomplishments without its strong and loyal following. I'd like to thank the more than thirty members of the community who contributed their thoughts to the research for this article by phone, by email, or in person, as well as the poets who let me sift through their personal poetry archives, especially S.R. Duncan, Justin McGrail, Rowan Lipkovits, R.C. Weslowski, and Cass King. Most of all though, I'd like to thank the Van Slam community, which supports each other with the same fierce passion that it supports poetry.