The Complete 2011 Fringe Canada Tour Journal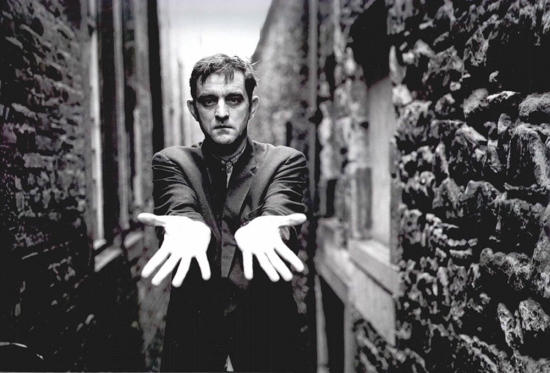 Jem Rolls is a performance poet who makes his living solely onstage – one intense show, one audience at a time. He has no product – no CDs, no books. If you want to experience the poetry of Jem Rolls, you have to see his show.

Rolls founded the Big Word poetry cabaret in Islington, UK in the 1990s, and later cut his Fringe teeth at the legendary Edinburgh Fringe Festival with the first successful run of a poetry cabaret in decades. In 2001 he first trod the Canadian Fringe boards in Toronto, and he began his highly successful career of touring the Fringe circuit here in 2003.
His 2011 show was Jem Rolls IS PISSED OFF. Rolls kindly agreed to document his experiences on the road this summer for the litlive.ca readers, as he toured across Canada.

This summer, Jem played Montreal, London, Ontario, Regina, Saskatchewan, Winnipeg, Saskatoon, Edmonton, Victoria and Vancouver ... this is the complete text of his tour journal.
Fringe Canada Tour Chapter 1: NEXT STOP THE NEXT STOP
The Canadian Fringe Tour is the most fun I've ever had. And it's the best way of performing as a poet I've ever come across.
I do fifty to sixty hour-long shows in eight or so cities across Canada each summer. For the past nine years I've started in June at the Montreal Fringe, where I am now, and rolled westward with two week stops in London [or Ottawa], Toronto [or Regina], Winnipeg, Saskatoon [or Calgary], Edmonton, Victoria, and finally Vancouver. Where I wash up each September, shattered, thinner, older and flusher.
The chief problem is, its unique. No other country has a way for you to do a bunch of shows in each of a bunch of cities over a few months. If any did, I'd do them too.
What's more, its enough work to make it worthwhile to put in the truly hard time writing and learning a whole new hour of material. For I spend each winter writing a show. And each spring hardwiring in the 8-10,000 words. The hard way. The old-fashioned way.
Pounding, again and again, the streets and ravines and woods and heaths and tidal beaches and back roads and airport corridors and parks and cemeteries of Edmonton, Bowen Island, Gabriola Island, Vancouver, Surrey [England], Berkshire, Edinburgh, London, and Montreal. Whilst learning and editing and relearning and rehearsing my words and lines and poems and moves and gestures and faces and blags and more.
And that's before I even get to an audience.
And its worth my while because I get to do so many shows, fifty or sixty, where the money adds up and I eventually make a decent fist of cash to keep me over the winter. Though I certainly don`t make money everywhere and, if I did it for the money, I wouldn`t do half of these festivals, and none out East.
As it is, I love it. I am purely a performer and don't bother at all with teaching or product. I just want to do shows. And this is lots of shows. Bundles of shows. More shows than I can wave a shitty stick at. Enough shows to truly get into a show and make it work in every way possible, to electrify it to the dynamic max.
******
And what's more, it has the gang to die for.
This is like an old fashioned circus wagon train which first assembles in a small way in Montreal and then gathers more and more wagons as it rolls towards, into and across the Prairies. Collecting more and more performers as it goes.
These are theatre festivals and this is a theatre tour. There is some dance, some music, a bit of stand-up … yet above all it is theatre, experimental theatre and classical theatre… Yet many of my fellow performers… and it is a gang, not a competition… not the Heath Robinson threshing machine of diverse vigorous backstabbery of so many milieus … are the artistic mavericks of the theatre world, driven from the mainstream. And they are all doers. Are proactive people. Else they would not be on this tour.
And it is a supportive gang.
Which is handy. Because you often need the support. For the tour is long and arduous. Is a rollercoaster of euphoric ups and crashing crushing downs. Of they love me, they hate me, they love me, they hate me, they love me, they hate me, day in, day out, week in, week out. Across the wide wide country.
*****
Just as good, I don't have to answer to anyone bar the audience and the press. I can and do whatever I want. Work on a variety of pieces over the winter and then see what feels best and what is going to make for the maximum variety.
So I don't have to impress anyone with any speculative ideas, don't have to write proposals for theatres or funding, don't have to bullshit or jump through hoops, don't have to self-describe in the correct modish phrasing, don't have to blag any numb-headed establishment tossers. I don't even need to know myself what I'm going to do until late spring, and I can still make a whole host of changes in May-June as I come to the crunch of the first performance and then get the chance to review it all in the light of audience response.
It's a very free set-up and me, I enjoy the liberties. I find performance poetry the freest of mediums and, personally, I go for as many of those freedoms as I can manage. There are clearly a whole host of things which have never been done on stage and each year I acquire more technique.
And what's more – this is a milieu where there are no rules. I can do whatever the hell I like as long as I make the audience want it. And, if you're prepared to go for poetry as a dynamic form of theatre, then you can make big ideas work.
I do sophisticated language-driven performance poetry shows with a huge amount of ideas and energies, with a theatricality of voice and gesture and movement constantly evolving and growing from Quebec to BC.
My show this year will include a Goya-esque piece on the savagery of love, a comedy on the mundanities of International Tourism, a riddle, a four word Western Movie style summation of US History [the bad guys won], a complex chain of one-liners and refrains on our shrivelling at the hands of technology, a first exercise in the iambic, a Mosaic Ten Demandments and some blunt-instrument introspection.
Which all sounds heavy in one paragraph, but over an hour is going to be a gleefully ridden switchback of dumb and smart, fast and slow, formulaic and free, hard and funny. Some played for comic effect, many done for wordplay. And all done to knock the audiences' heads off. To succeed.
For there's a lot of audience out there and there's no reason why a poetry show can't be doing as well as anyone else. And I intend to succeed. I've done it before, five star five star five star, sellout sellout sellout. And I intend to do it again.
Its hard work, and no success is guaranteed, but the chief thing is: ITS DOABLE.
And what constitutes success, after all this very hard work? Five star reviews and multiple sellouts. That what makes a successful tour a success.
Here we go. Its all to play for... A rocking show, as much fun as I've ever had, and great success. All doable, all out there in Canada.
And it will start with the line … "Stephen Harper Saves The World…"
Fringe Canada Tour Chapter 2: YOU'RE ONLY AS GOOD AS YOUR NEXT SHOW
If there's ten thousand words in a show, then that means there's at least a hundred thousand ways it can be better.
And that's a lot of room for improvement.
And that's a lot of work ...
For me, Performance Poetry is Text, Voice, Face, Body. All the techniques you can use to generate meaning for the audience. And the myriad possibilities of written language are just some of that arsenal.
It all begins with the words, of course. Yet as time and years and stagetime go on I have become increasingly fascinated with, and drawn into, the possibilities of the voice. Pitch, tone, timbre, inflection, accent, breath, timing, volume, speed, extreme speed, extreme volume. The mannered the clipped the arch the earnest the sarcastic the whimsical the blithe the angry the solemn the deadpan the laughed the cheeky the harsh the …
And as stagetime has gone on I have become increasingly fascinated with the possibilities of underscoring meaning with face and body, with lips and eyes and tongue and cheeks, with arm and arms and walking and running and …
Though I have no acting training, cannot act, and could never at any point in my life have been described as a groovy mover/ good dancer/ graceful/ nimble/ etc.
*****
There are some people who consider themselves spoken word artists, who simply read from their flat paper cuboid, who just do text and, maybe, something with the voice. Which still strikes me as preposterous. And feeble-spirited; to have gone with so few of the possibilities of this medium. When so much is there to be tried.
While me, I publish zero. Record zero. Teach nothing. Have only one revenue stream. Shows. Sell zero but tickets for shows. No CDs no books. No teaching no workshops. Nothing. So all I have is performance. So it had better be good.
Because, as a performance poet ever striving to be better, to knock more heads off, you're only as good as your next show.
So I am constantly striving for new techniques, to be original, to learn.
*****
I always say to new performers, write stuff you are not yet capable of performing. That demands new techniques. That demands you go where you have never been before.
*****
And I do not make it so easy on myself. Am constantly battling, from Montreal to London Ontario to here, in Regina and, next, to Winnipeg, with text voice body and face. Cutting and dicing and splicing lines, poems, words, ideas, gags … while, sat on a long train through the Ontario countryside, adding lines, words, angles, gags, ideas, one-liners … and, while strolling the Cimetiere Mont Royal, or the corridors of Toronto airport, juggling reworking reordering rephrasing words, puns, gags, ideas, phrases, lines, verses, refrains, poems…
Especially at this quarter stage of the tour, where I am still finding my way into the still new material. Am, from day to day, audience to audience, city to city, performance space to performance space, expanding from simply standing there speaking upstage-centre, expanding into whole realms of technique of voice body and face. Am still editing the words to get the most from the gags, the wordplays, the repeats. From the variety of the sung, the half-sung, the lyrical, the stentorian, the casual, the grave, the shouting, the whispered. Am still shifting the hypothetical punctuation to get the most from the lines.
Am strolling round the rehearsal-sized lake here in Regina, battling with the tongue and the mind to get ideas coming clear. To harness tongue and meaning, sound and meaning, like I first meant them. Or, now that the show is ten old and I can see clearer, like I now mean them.
Am battling to be more, for them, the glorious them. The audience. Who provide all the money I live on year round. Who I am constantly striving to make laugh more, to surprise more, to shock more. To entertain more.
*****
And the audience are a science in themselves. Because one day they love me, the next they just watch, coolly, respectfully, but nothing like yesterday, or possibly tomorrow, when they laughed at everything more than they ever have before. When they got every tiny first and last nuance of humour and meaning and wordplay I only ever faintly hoped they would get.
So I, and we the performers, are always asking: if they loved me yesterday and today they were kinda quiet does that mean I was better yesterday and worse today? Or was it them?
Was it me or was it them, performers keep asking. Was it me or was it them?
And, well, I wouldn't say its always the case but, you know what? It was them.
Was it me or was it them?
It was them.
*****
So I'm twelve shows into a sixty show run and all is OK. Not brilliant, but good. I haven't made any money yet, but I never expected to by this stage. And I have no great press from anywhere.
But I do have a rocking show on the ever up.
Like yesterday, to a very receptive Regina audience of 40 at 5.30 on a Friday, where the show took off like never before.
So I am continually nudging each word clearer, am rewriting the lines. It's like a mixing desk in a recording studio with thousands of knobs and I am steadily testing each one for any or many of its possibilities.
I spent months hardwiring in 9200 words the hard way. And, once I know them, and can do them, and can get pretty much the intended max and more out of every word and phrase and line and idea and poem and minute and hour … then and only then can I get truly free with the poems, can start to have the real fun.
Fred Astaire used to rehearse till it looked effortless. And then rehearse again. And me I spend hundreds of hours in bedrooms, living rooms, dressing rooms, café gardens and back alleys, on riversides, lakesides, hilltops, or even Trail 11 round Elk Island National Park, Ab., getting myself into a position where it looks easy and, even, is easy. To spiel out word after word, line after line, at impossible speed with nary a sign of flub or hesitation.
And some pieces are extra hard. A rhyming scheme makes thing easy. Metre makes thing easy. A story makes things easy. Yet pieces composed of chains of seemingly disconnected one-liners without rhyme or rhythm or any uniformity are tough. Very tough. There is nothing for your mind to hang onto. The lines are simply programmed into the head by constant rehearsal.
It's murder sheer rote.
And many of my favourite pieces are just that. Chains of impressionistic one-liners building up a sense of meaning through the piece, where each line is strong enough to hold the moment and keep the audience as the idea is expanded ...
And why do I put myself through all this? Because, when a show goes well and the audience are wholly with you the whole way through, it is the best thing that ever happens to me. More fun than I have ever had in my life. A culmination a climax a consummation a completed jigsaw a new equation deduced.
And only then, and only then, do the poems exist.
Fringe Canada Tour Chapter 3: KEEP THE FAITH AND ...
Absolute Bingo.
Meltdown.
Melt-Up.
Here I am at the Winnipeg Fringe.
My favourite festival of them all.
and it's ...
Hundred per cent culmination.
Consummation.
After all that work.
All that keeping the faith.
Those seven long weeks
To ...
Sell-out ...
Finally ...
130 beautiful punters. Crammed in the hot and sweaty.
And everything works.
Everything,
Every little nuance of half-gag and semi-demi-wordplay I half wondered ...
Would it?
Could it?
It did.
After all that work.
All that keeping the faith.
Those seven long tough weeks of battling for audience.
For applause.
For laughs.
For anything.
For words.
For clearer,
Funnier.
For integrity.
For functioning ideas.
Words.
Phrases.
Repeats.
Through-lines
After all that work.
All that honing and honing.
All that keeping the faith.
The long hours.
The long days.
The dry weeks.
The parched days.
The airless unbreathable weeks.
Suddenly ... double the audience of any other day.
And everything works.
Will work.
Has worked out.
The electric room.
The air ringing with laughter.
The perfect silence for the poetics and iambics.
The rapt and intent.
The shaking shoulders and the widening mouths.
...
And CBC are in so I get the Five Star.
And all is rolling from now on.
All is good.
All is going to work.
To pay off
To be colossal fun.
To not be futile.
O you beauty ...
*****
And the CBC review is
This was my first jem rolls experience, and yes, count me among the converted. The UK performance poet takes command of a room as much by sheer force of personality as he does by the magic and persuasiveness of his words.
Jem plumbs the depths of his Pissed-Off-edness to explore such eternal irritants as technology, small-mindedness, living with oneself, and the inescapable permanence of stupidity. It's a rousing, inspiring hour of soaring words and hypnotic cadences. And the everyman appeal of jem's work is a welcome reminder that words and their transformative power belong to all of us.
You'll leave wondering why you ever went out on a Friday night to see a movie, or a band, or a comedian, when you could have been seeing performance poetry.
Get that last line, performance poetry folks. Isn't that a wee bit crazy?
Just a tad.
Just a tad.
Fringe Canada Tour Chapter 4: EDMONTON
Staggering exhaustion.
Half way through.
Achieved simultaneous sellouts yesterday.
And will again tomorrow.
Which I have done, less by bifurcatingly splitting myself within the time-space continuum...
Than by, 18 months back in Hampi in Karnataka, writing a play for other people to act in.
And which play went from ignominious acrimonious carcrash to overnight sensation err, well, overnight.
One bold review from a journalist who finally got the smartness and silliness of the piece means we are... less quids in... than not quids out.
i.e. I won't lose money.
Not that we're going to make any money.
In fact I'm appalled by how little money my cast, Richard Lee and Caley Suliak, and my director, Jon Lachlan Stewart, are making from this.
Considering how very much hard work they have put into it.
Considering how very much and very far we all stuck our neck out.
And considering that it has paid off in almost every sense except the cash sense ...
So me, I had never written a play before.
And it would be so much easier to do it better again.
Its not been so bad.
Though it did shockingly lamely in Winnipeg.
While here it has taken off.
And it also means we got an audience.
Meaning the piece itself will take off.
The play. (The Same Joke Twice.)
Because it has many many bodies in the house.
To get it.
To become an audience.
To take off.
Which is something many shows never get the chance to get.
They never see a sizable house so they never get the chance to have that thing we all take for granted.
A mass of upforit audience.
Though many many of us, the traveling gang, are doing great.
The Edmonton Fringe is, after all, a huge and marvelous thing with zillions of upforit punters teeming about Old Strathcona with gleed up enthusiasm for cheap mass theatre.
A swarm, a once unlikely swarm seen so many times it now seems natural.
So its a battle, a tough battle but doable, as I say again and again and again, tough but doable
And me I'm doing it.
There's a few poets on the trail.
I was the first, back in '03
and now there's a few
and all damn good.
Rob Gee doing Smartarse
Steve Larkin doing N.O.N.C.E –
My favourite show i seen here –
And then there's R.C. Weslowski, doing The Wet Dream Catcher
A mighty fine show.
Randy has a background in clowning and its a nicely daft story with some brilliant wordplay
Great and goofy fun for everyone in the extended family you got in that mind of yours.
So now its the dayin dayout haul through the days
The sprawl of the soul and the energy through the hours
The hour the hour
Staring into the barrel of the audience
because I face them and I can see all of them... so if any of them are hating it... and yes, a few do... then I can see their discomfort, their fidget... so yes, its an intense experience behind my eyes as I work my eyes over and over the whole room.
So it's ...
First poem, can't go wrong, comedy piece beginning "Stephen Harper Saves The World"
A reverse take on the world giving the punters both bald comedy and a new angle on the world.
Second piece, proper poem, my first piece in iambic pentameter ... on those times freedom of the mind comes easy, because, hey, its not always hard work.
Third piece, short comic riff on introspection, a set up for the real introsp coming later.
Fourth piece, starkly political, The Ten Demandments.
Fifth, longest piece ever, twelve minute comedy monologue
Fast wordy and wild, where I finally tell the audience I love them but then soon betray them so, despite getting more laughs than I've ever got before, it ends in curious near-silence.
Fifth piece, very proper poem, tough piece about shite council estate in Islington, wrote it in '95 and forgot about it, and its the product of years of casual observation.
Sixth piece, chain of one liners on our slow replacement by technology
Wikiwikiyayagoogoomicromacromymyyouyou
Chain of ideas, of wordplay, of semi-gags, of refrains ... ideas boiled down and boiled and smoothed into rhyme and
And, seeing its a tough deep piece, working very well ... the kind of piece why you do an hour show, the reason you fill a show with dumb and smart gags, so the audience are willing to do on such a hardthinky ride for five very involved minutes.
Seventh piece, short comedy take on tourism
My favourite line
"Thank you, I am enjoying myself... for there is much in myself to enjoy."
Next piece, after some comic monologue, a pisstake of dark introspection with some very meant hard oneliners
You cannot entirely scrape out your bowel, for much of the shit has become you, and some of it is good shit
The piece done in near darkness with a very dim light as a shifting shadow lighting up part of the stage and, occasionally, me ... which in a teched-up venue like the Waterfront in Vancouver is going to work just brilliant.
Followed by a sweet poem on the need to never stop learning, very sonorous and fluidly poetic ... and must be performed in an eased and gentle breath.
Then a long piece on stupidity ... heavily featuring the repeat ... "I used to be so stupid I thought I was smart ..." a comic monologue occasionally breaking into poetry or prose ... which is interesting for me, as I've had plenty of poems which break out into and back from comedy monologuishness ... but this show is the first time I've taken it the other way ... from comedy into poetry
Then the show dissolves into the seriously pissed-off rantedness ... where I prime the audience to join in with "It Could Be Worse, I Could Be You..." so the show ends with the sold out house calling out at me, en masse, "It Could Be Worse, I Could Be You..."
Which is going to keep me smiling through the long cold Albertan winter.
Next stop, Victoria ...
Fringe Canada Tour Chapter 5: MY EXERCISE IN FUTILITY FAILED or FROM CONCRETE ATOLL TO CONCRETE ATOLL, ACROSS THE SEA OF GREEN
My chief life ambition was to never have a job
And I was good at it.
I was doing well. I kept myself occupied year in and year out.
I never wanted a job because, well, the world is run by bastards and I didn't want to be part of it, of that.
But in the end I got all antsy and active and I did something.
I mean, I forgot to do nothing.
I forgot my gameplan.
Whoops.
So I became a poet, a performance poet.
And I thought, well this is a safe way of never getting a job.
Very safe.
After all, poets do nothing and they get paid nothing.
Little did I know how wrong I was.
How much work it could be.
Because its been fifteen years of ever-increasing work.
Do you know how hard all this is?
Its bloody hard.
Super tough.
Impossibly diffic.
Bloody hell.
It turned into a job.
Who'd've thought it?
I just had to get active didn't I?
I forgot my bloody mantra.
Jeff Goldblum has one line in Annie Hall, I've forgotten my mantra
Well me, I forgot my mantra.
From concrete atoll to concrete atoll across the sea of green.
Where the ever tenuous link between one word and the next gets ever more tenuous.
Where I continually fall into the widening gap between one arbitrary blurred-edge word and the next.
One spuriously supported, ever more nebulous
Word and the next.
One collapsing, what precisely does it significate, word and the …
Leaping precariously from uneven mid-river rock to uneven mid-river rock across the cold brown waters in some witting metaphor for my summer.
Next.
The six-circled shadow of the waterboatmen on the still waters of the river gorge at Sooke Potholes.
There is a crack in the world.
It's how the light gets out.
Skimming stones across the flat brown water.
The dog days of un-ness in the beautiful city of Victoria.
The notverymuchness of the slow long hours between this and that.
Because my sweetheart is not here.
Strolling this beautiful city on the cusp from summer into autumn.
And it would be so much fun if she was here with for the strolling.
The harbourfront, the waterfront, the parks, the metal bridge, the leafy streets, the breakwater.
The chinatown, the salmon tacones from REDFISH BLUEFISH.
The Fanaan café, the sushi place Futaba, the mediterranean deli on Pandora, the ice cream shop
Muscles ache and twinge and stiffen for no apparent reason.
Throat made of iron.
The glacial melt of the river at Sooke, lying in a waterspout getting battered by the rushing waters.
Surviving … survived, almost …
And I am tired, well tired, and kind of disappointed because here I am in Victoria … and I came into this town, as with Saskatoon, wondering if they`d had enough of me.
And, like with Sask, I no longer think that because
I've had such a great time with the audience I get
And I've had such great press here.
And would have hoped to do great except …
Because one thing I haven't said.
Is how much luck there is in all this.
How very much.
Luck with reviews [they came to the good one, as with the Edmonton
Journal
,
The Times-Colonist
].
Luck with reviewers [the right or wrong one for your show].
Luck with venue.
Luck with timeslots.
Luck with who has shows at the same time as you.
And one gets very tired of making excuses for one's non-success or failure.
Very tired.
And in Sask I was in, easily, the best venue: The Broadway, giving me a distinct and wholly undeserved advantage over all others lesserly blessed.
Where here I am on Neptune …Venue Nine … Venue Ten is Uranus.
Some university Gymnasium/ Assembly Hall out on Kings … miles away and barely found by anyone … so I'm valiantly struggling but kinda stuffed.
And this is always the risk at any Fringe.
That one small venue-timeslot-whatever factor will stuff you …
Because there's two other shows in there with hit written all over them
And they are doing less well than me.
The burlesque show has a great performer, rocking. The other is a fine show by a local actor/ writer who has done well before. Yet ...
Venue 12 is Pluto, while Venue 8, Langham Court, is a very lovely theatre, and thus is Venus.
And so, like I say, my show is feeling great in this town … after all I've done it 45 times at least so it should be tight … yet its all a battle to get much over a disappointing 60 punters per show while, with the way it feels, I should be killing.
And I only have one shown on the final weekend … some shows have three but me I just have an unspecial 4pm on Saturday.
Which is not good luck.
So it's always good to do a run of Fringes because, at a Fringe, you can just get unlucky, get stuffed before you begin … so if you do more you have a chance of your luck evening out…
THE UNKNOWN FRINGE ARTIST
She's out there now.
He's out there now.
They're out there now.
On stage.
In the dressing room.
On the bus.
In the park.
Leaving the theatre.
Running lines, warming up their bodies, their voices, their improv, their minds, their dialogue.
For a show no-one will come to.
Only ten will show up for.
Twelve payers, three volunteers and their billet.
It was the same two days ago.
And it will be the same tomorrow.
Ten. Twenty. Thirty even.
No-one.
Not enough.
Failure again.
And yet they can only do it. Keep doing it.
Making it better. Smarter. Funnier. Goofier. Tighter.
And it's a great show.
They know it. Their mates know it. Lots of audience tell them it.
Yet no-one comes. Word hasn't spread. The idea hasn't taken off.
The reviewers hated it. Three-starred it. Avoided it.
And yet they do it. Again and again. In the last city, in the next province, in this town.
They're losing money. Losing their summer.
And yet they throw themselves into it body and soul. Time and time again.
They have faith in their show, in themselves, in the artform, in providence, in justice.
And they can only keep on. Sweating, working, thinking, rethinking, playing, outoftheboxing, rehearsing, selling, flyering, talking. Caring. About the work, the idea, the language. The comedy, the ideal, the audience.
Can only keep digging the energies the work the ideas out of themselves.
Can only keep on.
Even though its hopeless.
No-one will come.
Will notice
Will pay attention.
They're out there now.
About to go in stage.
Revving themselves up.
About to …
Cheers folks.
This is my penultimate blog for LitLive. The final one wiill be less bitty. More of a wrap up of the whole thing. With the near 20/20 vision of hindsight.
Fringe Canada Tour Chapter 6: OVER THE FINISHING LINE.
Edmonton.
Back home.
Done.
Cooked
Toasted Roasted Basted Wasted Scrambled Shambled Diced Spiced Grilled Spilled Boiled and Broiled.
Battered shattered splattered and tattered.
Now grinding to a halt.
After 57 hour-long poetry shows in 100 days.
Now shallowing the sunken eye-sockets.
After the long summer of thousands of intense stage moments of total mental commitment and sweaty physicality.
Now sleeping long and easy.
After all that elegant enunciation and cheap gags gone for and got.
Now lazing in armchairs.
After three and a half months on the road.
Now quiescently pondering.
After all those laughs and all that long hard gruel.
Now lingering on ideas.
After banking the cash.
Now thinking anew.
After restoring the passport to its draw.
Now idly researching the Battle of Pharsalus, the supposed Bronze Age Collapse of the 12th Century BC, the rise of Cabaret in 1880s Paris, the mysterious and unparalleled success of Warren Buffet.
After unpacking the bag.
Now strolling the ravine.
Now wondering about poems.
The throat recovering, the neck recovering.
Now wondering about putting new words next to each other, one after the other after the other, to make new lines, new ideas, new possibilities.
is that a heart?
or a question mark and
its own reflection?
I've got scruples growing on me qualms
For more elationship
To remember to
Rise above the banks
Of the river gorge
One's work at one's art is
Always deepening
"My academic colleagues had a habit of interpreting reality as though it's just a special case within theory."
Green orange
Vomited out with some disgust from the festered gloop of the English gene pool…
So this is my last of these blogs.
Thanks for reading and its been, again, one hell of a summer.
And Thanks to Vince Tinguely for editing
So it's the end of the cycle. The end of the tour. After 57 hours spent staring down the barrel of the audience.
This is my ninth summer jaunt across Canada so I had yet another emotional MidSept farewell to all the wonderful folks from the tour and everyone has scattered to the four winds. Gone to Toronto, Victoria, Seattle, San Fran, New York, Leicester, London Ont, Minneapolis, etc, etc. Gone back to their home, their family, their job, their wife, their husband, their art. Many to never be seen again.
For some had great tours, killer, some did ok, and some did poorly.
Jayson, touring on for a week. Rob, off to nose around employment possibilities in Victoria. Martin and Vanessa, off to NYC, probably to live together. Melanie, back to teach the rich kids in New York. Barry, back to Colorado. Brent, probably simply staying put, having used the tour to move here from Manitoba. Chris, back to the family in Toronto. Chris, back to Seattle. Cameryn, back touring south of the border and not home for months. Tara, home already, back to work. Amber, back to Korea.
And more. And more. Many, never to be seen again. In fact, some years i've forgotten people. Have never even remembered they existed till some chance remark four or so years later.
Because it's a brain-burner. A tape-cleaner. A memory wiper
And yes, me, back now here to Edmonton to my sweetheart.
Me.
I did somewhere between good and killer. I've had many many, dozens, of wonderful shows to wonderful audiences. And I've made enough money to live on for the winter.
Yes. A poet, making enough money to live on. Without selling any merchandise. Without teaching. Without cliquing or claquing and institutionalising. Simply by doing shows. Being a poet. Making it work. Battling the hard hard months. Spending months writing and devising and then spending the long months touring, ever ever improving, ever ever ever improving.
And then banking the cash and recovering.
And I had some killer fun.
Fort instance, I ran/ devised/directed a cabaret last Saturday [Sept. 17th] in the Performance Works on Granville Island.
Which was just plain killer. 200 sellout. With some brilliant performances from the likes of Birdmann, Martin and Vanessa, Peter N Chris, Barry Smith and Chris Gibbs, Melanie Gall and Jeff Culbert, Travis Bernhart, TJ Dawe, and many more
Yet more laughs and laughter, yet more fun and games, right up to the wire.
And my show. The 9000 words. The fifteen or so poems. The reason for it all.
Well, I fell progressively more in love with it as it got better across the country. But right towards the end a certain dissatisfaction crept in. A dissatisfaction I have yet to word.
It was a risky show in many ways. Yet it turned out to be, probably, my most audience friendly. With more easy laughs. And a long monologue, my longest piece ever, with little agenda but to create laughs.
With many many lines I am very pleased with. And a few cheap ideas I regret.
Otto Birnbaum, from the preface to Deutsche Chansons, 1900.
"Nowadays artists build chairs and their ambition is that the chairs not just be admired in musuems but that the you-know-what can actually establish contact with them without any loss of well-being. That is how we want to write poems, not just for them to be read in a quiet little study, but so that they can be sung before a fun—loving crowd. Applied lyrics – now there you have our slogan."
[Quoted from Turn-Of-The-Century Cabaret by Harold B Segel.]
And, if i didn't say, it has been humungous fun...
I had a number of spectacularly good days in the joyous jaunt of the long long haul from The Plateau to Wreck Beach...
The nights of the wildly diverse and sell-out-ly rocking cabarets i ran in each of Winnipeg [Doctor Caligari's Sideways Cabaret] and Vancouver [Mr Kinski's Cabaret of Bullshit …see above]. And the day after each, when so many audience, volunteers, performers, and organisers, were so effusively grateful and nice to me.
A number of exhilarated days in Regina,Winnipeg, Saskatoon, Edmonton, Victoria and Vancouver when the show went up, notched up, got whisked up, yet another level or two of tightness and/or comedy.
The day, just before it all, when my sweetheart came to Montreal for the first time and i got to show her round just some of its wonders.
The afternoon early in Winnipeg when Roberta Kennedy [also known as Kung Jaadaa] performed an Haida honour song especially for me.
The day of my second show in Winnipeg when, after months of hard work, the show finally, explosively took off. And two days later when my five star review of that show came out and some degree of success was pretty much assured… and failure definitively ruled out.
The day the NEWS OF THE WORLD was shut down. Absolutely unimaginable and completely marvellous. Fanfuckingtastic.
Laugh? I nearly shat me balls.
The night then day the Edmonton Journal review of my play THE SAME JOKE TWICE came out and took us, overnight, from ignominious failure to aesthetic and audience success. Relief, vindication, cackles, and relief again.
Laugh? I nearly shat me balls.
The first days in Victoria when, usually, summer has been over, yet this year it just went on and on for those long walks along the seafront and the harbourfront.
And the walks round the old cemetery in Montreal, to Notre Dame in Old [sic] Montreal; along the railroad tracks under the high hot sun in Kildonan Park in Winnipeg; down the Saskatchewan River to the weir and railway bridge in Saskatoon; down Mill Creek ravine here in Edmonton; up the rockily clambersome stream at Sooke Potholes; and the long walks round the cool air and soft ground and browned light of the rain forest at the end of 30th Ave out in West Vancouver.
Some great nights in the pub in every city, even London Ont.
And the last night in Edmonton, when the entire gang ended up in Steel Wheels, and it was hours of beery fun in chat after chinwag after convo after pisstake after roast after chat after chinwag...
And more.
And a few terrible days.
Most of the London Ontario experience, particularly the day my foot hurt like hell and i couldn't walk.
The day my play opened in Winnipeg. After which, even the reviews didn't hurt.
The unmentioned-unmentionable-untermensch day in Edmonton when some of my audience beat up some of my audience. Oh yes. [Same day as the night in Steel Wheels above.] And so, some of my audience were arrested. And I have no idea who the injured were, or how badly they were hurt.
The day in Vancouver when some allergic reaction swolled up my tongue to triple size and gave me big fat jagger lips.
Particularly horrible performances of mine, one in London Ontario and one in Vancouver. In London i was so depressed by the small size of the audience i, for the first time ever in 2500 shows, completely forgot my place and had to ask for a prompt.
Blhlrrgghghh.
And my favourite shows?
Bursting Into Flames by Martin Dockery. Just plain marvellous.
Peter'n'Chris In The Mystery Of The Hungry Heart Hotel.
Not to mention
Nonce by Steve Larkin, Big Shot by Jon Lachlan Stewart, Slipknot by TJ Dawe, and Scarlet Women by Candy Simmons & Brittany Parker.
And the show i saw most?
Giant Invisible Robot by Jayson MacDonald [four times].
And my favourite performance?
Bruce Horak in This Is Cancer.
And so, the next day, Sunday, all finished, and with only the farewells and final night party to come, before hopping back over the Rockies, I decide to walk to Wreck Beach.
It's a lovely day of high blue sky, and I'm billeted by the temperate rainforest, Pacific Spirit Regional Park, so its shouldn't be too far.
Except I get all meanderous in the gorgeous woodland and then stumble into the grey concrete of the University but find the main road, Marine Drive, and cross it and look for a way down to the water, which ain't so easy as I have hold onto roots and brambles to descend the high steep slope down to the waterline, the coastline, and it's a bit of a tussly struggle getting down and it's a bit of tussly struggle getting anywhere, because this isn't really a path is it?... its either a rabbit trail or a series of accidental spaces… so then I'm heading West looking for a path and struggling through the thick thicker and thickerer undergrowth and brambles and fallen logs and undergrowth and its way too hard, and how come there's no path?... so I move onto the reed bed, the rushes, which stretch fifty yards South to the sea stroke estuary and the ground is damp but firm as I head off dryland and have to walk on the reeds' bases, which crushes them in a most un-ecofriendly kind of way, and they're seven or so feet high so I can't really see anything and the ground gets soggier and if I stand still I start sinking and … suddenly, I find myself, ten yards off dry land, standing on a bog, slowly sinking, and I don't want to go back because its been so hard getting this far, yet its just more reed bed stretching for hundreds and hundreds of yards and what do I do? because I can't really see anything… and me, I'm always wording ideas, am always always conjuring metaphors yet, as a metaphorical situation, this doesn't perfectly fit a situation I can remember… and so, I have to start thinking, is this a metaphor for a crap situation, a ballsup, I haven't been in yet?… is this a metaphor for an as yet unknown disaster to come?… here I am on the far end of all these months of fun and struggle, yet is this a metaphor for a struggle I haven't had yet?
Which, already drenched through with sweat, makes me think.
And then, well, I can't stand still so I have to go somewhere, so I move on … though it might be that I'm getting myself deeper into some marshy trouble that it will be harder and harder to get out of, to reverse back out of… when I find a detrital log to stand on, and it runs parallel to the shore and I balance along it, stabilising myself by pulling on reeds, and then there's another, and its long, and hey, this is fun, is good, might work because there's another and another and another and another and they're slippy and I always might fall and some are thick some are narrow, most are slippy, some are old and rotting, most are newer and solid, yet its doable as I make real headway, but slip off for a moment, or have to walk on the boggy ground to get from one to the next, and I find log after log after log after log after log and hey, this is as much fun as I've had all year offstage…
And then I'm thinking, I wish my sweetheart was here. But then I'm thinking, if my sweetheart was here I wouldn't have got myself in this stupid situation, because she isn't this stupid…
And I find log after log after log after log and make serious headway westwards till I find solid ground, and a path, a good path, which is gorgeous for the easy strolling back to civilization and unstupidity…
More Live Performance Reports from Issue #3