Turning Vancouver on its Ear: Celebrating 15 Years of Van Slam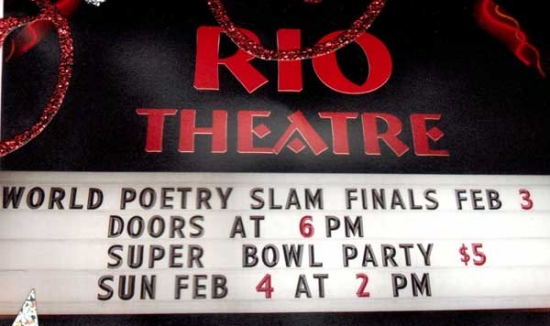 Part Two: 2002–2011
"Since Van Slam opened up a whole new world to me, if it had to be a drink, it'd probably be ice cold lemonade spiked with LSD. It's friendly and safe and it blows your fucking mind."
–Patrick Swan
2002 marked the first full year of Van Slam in its new home at Café Deux Soleils. Over the next ten years, Van Slam and 'Cafe Deux' would develop an intimacy rarely seen between venue and event. Poets spend their days hanging out at the café, writing, watching kids play in the area that transforms each Monday from public daycare to poet platform. The staff often know the poets' names and favorite drinks. Poetry slams flare into provocative politics and wild theatrics, the sort of high-tension drama that less open-minded businesses would stay away from. Café Deux Soleils, however, was already a bastion of progressive, community-minded ideas. It was a perfect fit for Van Slam and its unrelenting eccentricity.
2002 was also the first year in Van Slam's history that Cass King wasn't involved as a poet or organizer. R.C. Weslowski took on King's role of promoting the slam; however, the bigger question was who would fill Cass' (no doubt dazzling) shoes and keep the tradition of strong female voices alive?
The answer came sooner and more emphatically than anyone expected when Barbara Adler burst onto the scene at the age of 18. "I won my first slam," Adler recalls. "But RC threw it. He did a ten minute poem about being a horny werewolf in the second round." Adler would slam her way right onto the 2002 team, along with veterans Shane Koyczan, C.R. Avery, Al Mader, and Fernando Raguero.
After taking the Greyhound to Minneapolis to compete at the National Poetry Slam (NPS), Adler discovered that Van Slam had a reputation to uphold. As she puts it:
"That was part about being on a Van Slam team. You felt like you were part of something artistically legitimate, as opposed to the more competitive bombastic American tactics."
Adler and other Van Slam team members would forge close ties with the maverick American scenes, especially Normal, Illinois and Tourettes without Regrets from Oakland, California. Scott Woods, president of Poetry Slam Inc. (which runs NPS), a slammaster in Columbus, Ohio and innovative poet himself, describes Van Slam's approach this way:
"I've always been impressed by the open-mindedness of the work coming out of that scene. It is work that listens as much as it speaks. The sensibilities of a lot of their work took interesting turns while a lot of their competition was still moving in a straight line. Really original stuff."
Karen Finneyfrock, a slam legend from Seattle, recalls Van Slam in a similar way:
"Vancouver is known for huge performance and embracing the silly side of slam. I'll never forget Cass King spanking poets on stage for going overtime, or R.C. Weslowski's group piece in 2010 using entirely nonsense language. There is innovation and true talent in Vancouver. The US has been blessed to have these voices so present in our national scene."
Even among Canadian scenes, Van Slam sticks out, as Toronto's longtime slammaster, David Silverberg, points out:
"Poets in the Van Slam community seem to love challenging themselves and their audience. They are willing to take chances, whether it's diving into mime or costumes or beautiful silliness. I notice Vancouver poets aren't following many of the slam clichés that plague other communities; instead, they tend to be funny and satirical, while also saying something serious about the topics they cover."
Adler fit right in to this tradition of valuing individuality over slam clichés. As her longtime artistic cohort, Brendan McLeod, points out: "With Babs, her thing is being herself to the maximum." Adler was studying literature at SFU, and a big part of being herself at that time meant infusing slam with a new standard of literary content. She often balanced the intellectual complexity of her work with a manic, clown-like delivery that kept her audience guessing how much of what she said was earnest and how much of it was in jest, tactics that were right in line with Van Slam's long tradition of tricksterism (which may explain part of why she won a spot on the team four years in a row). Adler's album, Flusterblush (2006), captures the best of her spoken word from this period in all its linguistic trickery and literary flare.
Adler remembers, however, that the slam itself back in 2002 was still struggling to find its feet. The average crowd would fill half of Café Deux Soleils. It was a movement that was gaining momentum, but haltingly. It wasn't until 2004 or 2005, a full four years after having established itself in Café Deux Soleils, that Van Slam began to regularly sell out.
2002 also marked the entrance of another influential poet, Mike McGee from San José, California. McGee's high-octane, stand-up comedy style of poetry immediately connected with Van Slam audiences. "How the audience responded to my work was so different than in the States," says McGee. "They got the silly, but nothing went over their head. It felt like I'd come home." McGee continued to visit Van Slam, featuring once or twice every year for the past decade. He is considered Van Slam's adopted son, and at nearly every slam, someone asks "Hey, is Mike in town?"
Opening the Umbrella to Unify the Scene
With Van Slam established and growing – albeit in fits and starts – many members of the community started to wonder: what else could be done with spoken word in Vancouver? How could the poets and organizers work together in a way that helped the entire community, as opposed to just their specific projects?
In 2001-02, "the poetry scene was a bunch of silos," as Jim McKnight saw it. "It wasn't unified." McKnight, a financial planner, stumbled onto the slam around this time and saw that many of poets viewed the scene as a zero-sum game. If one poet gained, it came at the expense of another, or so it was perceived. McKnight began advocating for a formal organization to be started, an umbrella group that collected everyone's efforts together, encouraged collaboration, and provided financial credibility.
The first meetings were held in Bukowski's on Commercial Drive, and were open to all. Interest was high and the meetings had a wide variety of poets show up. "We decided very quickly that what we wanted to do was unite the community and make a big tent," McKnight recalls. The Van Slam collective had dwindled with fewer councils being held by a shrinking group of players. These exploratory meetings for a broader organization reinvigorated a sense of inclusion and empowerment in the community.
The other major driving force of these meetings sprang from developments in the national scene. Derek Dawda [aka Drek Daa] was planning to launch the Canadian Wordlympics in Ottawa in 2004, which was to be a touring national festival celebrating spoken word. Dawda, along with Oni the Haitian Sensation and Anthony Bansfield, had worked hard to gather an impressive amount of funding for the project. Weslowski agreed to host the second festival in 2005, but to apply for the same sort of funding that Dawda had received, Vancouver needed to have a registered non-profit society with charitable status. This deadline put pressure on the idea of formal organization to move ahead quickly.
The core group at these preliminary meetings included McKnight, Weslowski, Alder, Sue McIntyre, T. Paul Ste. Marie, and Graham Olds. These six would go on to become the founding board members of a new non-profit organization called Vancouver Poetry House (VPH). It would handle Van Slam's finances, raise funds for the next national festival, and promote poetry around Vancouver. Shortly after the paperwork had been completed in 2003, Chrystalene Buhler teamed up with Daniel Wood and Matthew Glick to pitch the idea of WordPlay, a poetry in schools program. In 2004, WordPlay ran a pilot project and became the third major program of VPH. These programs were conceived of as self-sustaining. They would be responsible for their own finances, collaborating when it made sense, and capitalizing upon the synergies that could naturally occur with so many creative people networked together.
Embracing the Big Definition of Spoken Word
The 2004 Wordlympics in Ottawa was a big success. The Van Slam team – composed of veterans Shane Koyczan, Barbara Adler, C.R. Avery and newcomers Brendan McLeod and Overload aka Wayne Mercier (as alternate) – won the team slam competition handily. The other slams around Canada were new, just finding their feet, while Van Slam had already been competing in tournaments for almost a decade. "Vancouver was the only team doing team pieces," McLeod recalls. "We were showing people how you could work together on stage."
The only major criticism leveled at the 2004 national festival was that it was too slam-centric and didn't represent the full range of expression possible within spoken word. There were also some concerns that the title of the festival, Wordlympics, would draw fire from the international Olympics juggernaut, which is notoriously touchy about anything resembling copyright infringement on its logo or name. So the festival's name was changed to the Canadian Festival of Spoken Word (CFSW) for 2005.
As for including wider range of poetic genres, that was priority number one for artistic director, R.C. Weslowski. "They wanted a spoken word festival," remembers Weslowski. "So I went out of my way to do that." Weslowski added a storytelling showcase featuring Ivan E. Coyote and Joe Keithley, a stand-up comedy showcase, a music cabaret with Ralph Alfonso and Alexis O'Hara, and a queer showcase featuring The Svelte Ms. Spelt, TL Cowan, and Lisa B. Weslowski even worked with the British Embassy to bring Rob Gee and Steve Larkin from England to add an international perspective. In all, Weslowski scheduled more than 50 poets who were not involved in the competition to be part of the festival – by far the most diverse line-up that CFSW has ever had. Slam formed only one part of a much larger equation that well-represented the myriad aspects of spoken word and lived up to the festival's slogan of "Turning Vancouver on its Ear".
The wide array of talent on display at CFSW 2005 is even more impressive considering the difficulties VPH had in securing funding for the festival. Apart from some contributions from the Canadian League of Poets for reading fees and some help from the British Embassy with their poets, CFSW had no other backing, as all its grant applications were denied. Weslowski admits that he may have been overambitious with his vision for the festival, booking so many artists and expensive venues such as The Cultch and Heritage Hall. To his credit, however, Weslowski took on the shortfall between revenues and expenses himself, funding a significant chunk of the festival out of his own pocket. The community rose to the challenge and Weslowski is the first to point out that the festival would not have happened without hundreds of volunteer hours that others contributed. First among these was Sue McIntyre, who held the official role of Volunteer Coordinator, but who ended up responsible for much more than that. "Without Sue, that festival would not have run," Weslowski says. "She was the backbone of it."
Slam was spreading back through Canada slowly (after its first short-lived appearance in the mid-1990s in places like Montreal and Victoria). There were only six teams competing at CFSW in 2005: Ottawa, Toronto, Victoria, Winnipeg, Vancouver 'A' and Vancouver 'B'. Vancouver 'B' nicknamed itself 'Van Deux', and was comprised of Magpie Ulysses (who had been team alternate for Vancouver A), Patrick Swan, T.L. Groves and K. Shaughnessy. While the Vancouver teams were still dominant, it was Van Deux that staged a major upset on finals night, beating the A-squad of Barbara Adler, Brendan McLeod, Zaccheus Jackson and Chrystalene Buhler to claim the championship that year.
Van Slam Tunes Up and Tours the World
CFSW 2005 featured two spoken word bands, composed of members of the 2004 Van Slam team, who would both become massively influential in the years to come: The Fugitives and T.O.F.U.
As an original member of both bands, C.R. Avery was the driving musical force shaping the sound and tempo of many of the songs, and giving the two bands, at times, a similar feel. Avery fused folk music and hip hop through his use of harmonica, piano and beat boxing. Avery was a master accompanist, knowing just how to soften the music to give the words their due and place the accents in the pauses or breaths of the performer. Avery's poetry was sometimes overlooked because of this background role, but as McLeod points out "C.R. is one of the best writers in the scene. People don't always notice because he's beat boxing." More proof of Avery's literary talent came in 2011 when he became the first Canadian author to have a book of poetry published by Write Bloody Press.
But Avery wasn't the only pianist singer-songwriter in The Fugitives original incarnation. As Adler recalls:
"The Fugitives' first hurrah was at the Four Nations Slam, representing Canada in the UK. But we were invited to do that based on team Vancouver at the first Spoken Wordlympics. We made up a band name ("Leftover Fugitives"), and booked a tour around that one show. Shane didn't want to do it with us, so C.R. suggested we get Mark Berube."
Berube was an accomplished musician himself with a soaring voice that sounds uncannily like Billy Joel. With Avery and Berube pounding the keys and crooning the choruses, Adler and McLeod carried the spoken word component with their stunning ability to speak in tandem as one voice at breakneck speeds.
A year earlier, Koyczan and McGee had joined forces as a duo cheekily named, Tons of Fun University, or T.O.F.U, adding Avery the following year. Weslowski booked them as the finale for CFSW's closing night – an appearance which was nearly canceled. McGee had been violently sick all week, but, as Weslowski remembers, McGee said "I'll do it for you, R.C," and then dragged himself onto the stage. He sat on a stool, propped himself up against the grand piano Avery was playing – and the band blew the roof off the place, wowing poets from across the country.
These two bands, composed of variations of 2004 Van Slam team (plus McGee and Berube), became folk festival sensations, lighting up stages around the world. Eventually T.O.F.U. outgrew itself, the three group members becoming so popular that they decided to pursue individual careers. Avery and McGee each perform somewhere around 100 shows a year in North America. Koyczan formed a new band to back him, Shane Koyczan and the Short Story Long. Between his band and solo performances, Koyczan does a similar number of shows with a heavier emphasis on international gigs. T.O.F.U. never officially broke up though, and performed a surprise set at the 15th annual Van Slam Finals Night in 2011. The Fugitives eventually parted ways with C.R. Avery and Mark Berube when they wanted to concentrate on solo pursuits, but Adler and McLeod added new musicians Adrian Glynn and Steve Charles. They continue to put out new albums and tour relentlessly. Adler even has a new side project, Fang, which is both more comedic and more rock 'n' roll than The Fugitives, a new brand of what she calls 'accordion shout rock'.
These two Van Slam offshoots, while the most high profile examples of Van Slam poets taking spoken word to music stages, are not the only ones. Al Mader and his washtub bass have been touring all over Canada and abroad as The Minimalist Jug Band for at least a couple decades. After her time in slam, Cass King formed The Wet Spots, a vaudevillian music duo that celebrated kinkiness through storytelling, comedy and song, and have also toured the world.
Poetry slam thrives as a populist art movement, but the populist appeal of music is far greater; so, for many spoken word artists, these musical projects are a logical extension of a desire to reach a broader audience and communicate with the everyman, which is much the same reason they were attracted to slam in the first place.
"I am Amnet, Eater of Souls"
This is an actual line from Nora Smithhisler's gay rights poem, "Eater of Souls", and she was not kidding. She delivered it without irony or distance. Instead, Smithhisler would turn her fierceness up to eleven and hurl lines like these at the audience. Nor was she alone in this approach. Starting around CFSW 2005, there emerged a new cadre of poets at Van Slam that attacked the mic with unrestrained intensity. The most influential of these were Smithhisler, Patrick Swan, Magpie Ulysses, Zaccheus Jackson, Kevan 'Scruffmouth' Cameron, and RadaR. They were to Van Slam what punk was to rock 'n' roll, a variation that took edgy, emotional rawness and righteous political advocacy to new extremes. Their poems often swerved into melodrama, yet were streaked with the humour and weirdness that has always defined Vancouver slammers. This new wave of poets dominated Van Slam team and individual competitions from 2006 to 2009.
It's difficult to say how or why this surge of superintensity began. The Svelte Ms. Spelt is not simply a poet with a punk attitude, he is an actual punk rocker from that movement's glory days of the late '70s and '80s. Ms. Spelt had been growling and howling his way through edgy material for nearly a decade by the time these voices emerged. "Spelt is one of the best writers of our generation," Smithhisler says. Others from this generation may have drawn inspiration from his approach as well. Like Ms. Spelt, these slammers were not averse to antagonizing the audience, challenging their sensibilities and, in short, going straight for the jugular. While the poetry of Avery, King, McLeod, Adler, Koyczan and many earlier Van Slammers had worked through persuasion, the poetry of this new generation attacked the audience with force, and throttling them into emotional and intellectual realizations.
Weslowski felt the shift as soon as Magpie Ulysses came on the scene. "Magpie was a really strong personality," he remembers. "Her 'fuck you' attitude was a challenge to everyone to up their game." Lisa Slater, another poet and slammaster around this time, is quick to point out Ulysses' impact: "Things I had only been able to quote statistics about, she made real, gritty and human. And she did it without elevating herself. Some poets make themselves the heroes of the story and Magpie didn't do that." Along the same lines, Sue McIntyre says: "Magpie opens up a world in her work that is intense, heart-breaking and dangerous." Ulysses went on to win the CFSW championship again in 2006 on a team that included Swan, Weslowski and Smithhisler, claiming Van Slam's third national title.
RadaR, who came over from the Victoria slam scene, operated with the same in your face attitude. As Slater recalls: "Just like Magpie and Nora, who were dominant at that time, RadaR had that raw and edgy intensity. Her imagery was strong and she addressed things in a way that was unpredictable." RadaR would go on to make the team in 2008, and became Van Slam's first rep at the brand new Women of the World Festival (WOWPS) the same year.
Poetry Slam Inc. (PSI), which puts on the National Poetry Slam, introduced a couple of new tournaments around this time. One of them was WOWPS, the other was the Individual World Poetry Slam (IWPS). After entering into the age of regular sell-outs, Van Slam had the financial capability to send poets to more tournaments, and in 2006, Patrick Swan won the playoff that sent him as Van Slam's first IWPS rep.
Magpie sums up Swan perfectly as "a cross between Bill Hicks and Dr. Seuss." She goes on to say "He doesn't make it easy on the audience, and he's a profound thinker about pop culture. He's able to layer so much in his poems... He's a Google app for rhyme schemes." McGee (who became the champ of IWPS 2006) remembers being impressed by Swan as well: "I thought he was on drugs, and then I sort of fell in love with him. I thought 'Oh, he's got demons, and we're all going to enjoy them!'" Swan won the individual playoffs the next year as well, sending him back to IWPS in 2007 when it was held on his home turf, in Vancouver.
Hospitality Means a Full House
Even before CFSW happened, the board of VPH was looking at taking on a bigger festival, the Individual World Poetry Slam. It would be a huge undertaking that involved bringing 60 or so of America's best poetry slammers to Canada and ensuring that they crossed the border, along with hundreds of fans for a weeklong tournament that would end with the crowning of the best slammer in North America. Doing IWPS would entail a massive financial risk for Van Slam and VPH, as obtaining government grants for a festival not focused on Canadian artists was extremely unlikely. It would involve making a successful bid to PSI at the next big slammasters meeting and convincing them to hold a mainly U.S event outside of American borders. And it would be on a scale larger than any other poetry event ever attempted in Vancouver.
Holding IWPS in Vancouver was the brainchild of The Svelte Ms. Spelt, and when he first pitched it to the VPH board, he received a lukewarm response. Considering all the daunting aspects of such a huge festival, and perhaps made more hesitant by the exhausting preparations for CFSW (which had yet to occur), the board put Ms. Spelt's proposal through a rigorous vetting process, requesting everything from projected ticket sales to audience demographic charts. Ms. Spelt wanted to make IWPS a community festival with all the venues centered around Commercial Drive. It was only after he produced stacks of paperwork proving his case that the board agreed to support the project. As soon as they did, Ms. Spelt brought his toughest critics onto his organizing team. He remembers turning to the board and saying: "Everyone who just asked the most intelligent questions, you're hired."
Jim McKnight made one qualification to the plan: he wanted it to sell out. Partly this was to ensure the financial sustainability of VPH as an organization, but it was also about paying respect to the visiting poets. As McKnight says: "It's about hospitality. The greatest respect you can give to a guest poet is a full house of knowledgeable ears." No IWPS had ever sold out before. It was not expected by PSI, nor by the American poets who were used to performing for half-full auditoriums and sparsely attended preliminary bouts. To sell out an entire IWPS was a radical concept, never before achieved.
Ms. Spelt made the pitch for IWPS 2007 at a slammasters meeting held as part of the 2005 NPS in Albuquerque. The American organizers were impressed by the level of detail in the proposal – no doubt a direct result of his grilling by the VPH board – and approved the bid. There was little celebration in Vancouver as CFSW was about to happen and everyone's time and energy was devoted to pulling it off on a shoestring budget. It wasn't until after Vancouver's first major slam festival that the community had a chance to consider what hosting IWPS meant, and the scale of the project they had committed to.
CFSW taught many valuable lessons. If VPH wanted to avoid another financial boondoggle, it needed to reel in festival expenses. The plan became to search out free venues for preliminary bouts and side events. Zesty's, La Rocca, and El Cocal, three restaurants on The Drive, were convinced to host events with the promise that their venues would be packed with people on weeknights. Café Deux Soleils continued to support Van Slam by hosting events as well. They'd make their money on bar and food sales, while the festival would take the cover fee. It was a sensible deal that kept financial risks low.
PSI sent Taylor Mali to make sure the venues chosen met the needs of the festival and were suitable for poetry slam events. Over years of slammaster debates, Mali had developed a reputation as combative and difficult-to-please. If the inspection went badly, PSI could pull the plug on the festival and move IWPS 2007 to another city. Sean McGarragle took up the task of escorting Mali on the site visits and making sure he received the right impression about the preparations being made. Mali's reported back to PSI positively, and everyone heaved a sigh of relief. It was one of many crucial moments where McGarragle's abilities as organizer and impresario helped move festival preparations forward. "Sean played a huge role in working alongside Angus, and making sure things got done," recalls McIntyre.
Normally t-shirts are created for poetry festivals such as IWPS, but to put a more Canadian spin on the event, the organizing committee agreed to create custom toques instead. One volunteer ran with the idea and even knitted miniature toques for the heads of the Oscar-like trophies to be given to the winning poets. In the same spirit, a Canadian flag was draped down over the apron of the finals stage, which Ms. Spelt slapped a kiss onto before addressing the sold out crowd at the Rio Theatre.
Actually, sold out is an understatement. The entire festival, including preliminary bouts, had been nothing but packed houses. Finals Night was far beyond sold out. Hundreds of people joined a 'Will Hope' line that stretched down the block from The Rio on the chance that more tickets might be made available. Poets and poetry fans crammed inside, far beyond The Rio's official capacity of 450. It's difficult to know exactly how many were let in. People were packed shoulder-to-shoulder along the aisles and back walls of both the main floor and the balcony. There may have been 600 people inside, or 800, or more. It's safe to say it was the most well-attended poetry event ever to have occurred in Vancouver, and very likely the biggest crowd in the history of IWPS.
The show itself touted some of the best talent in North America. A few moments stand out. Because The Rio was packed full, someone stood right on top of a cable running along the wall to the sound booth, causing the wireless mic to cut out momentarily on Buddy Wakefield, who drew the bullet, and was in the dreaded position of going first in the first round. Much to everyone's relief the problem was recognized and solved. From there on, the slam grew in suspense and audience response. "The ovation for Andrea Gibson was completely spontaneous," remembers Duncan Shields. "I'd never seen that before in Vancouver at an event." In the end, Gibson finished third, two-time NPS indies champ, Anis Mojgani was the runner up, and Ed Mabery became that year's IWPS champ.
Both the visiting poets and PSI were stunned that the Vancouver organizers delivered on their bold promise of a sold out festival. Steve Marsh asked McKnight if Vancouver would be interested in hosting NPS, an even larger slam tournament. The word was out: Van Slam knew how to host a great show and how to treat visiting poets to what they most deserve, a full house.
Cracking WISE
Part one of this history outlined the first five years of Van Slam, including the period when the slam left the Vancouver Press Club and bounced through several venues before establishing itself permanently at Café Deux Soleils in 2001. Each time the slam changed venues, it lost part of its audience and very often starting at a new venue meant starting from scratch. The Press Club saw plenty of sell outs, but Van Slam attracted meager crowds in its first years at Café Deux Soleils. It took the emergence of a series of poets with star power, combined with the perseverance of slammaster Graham Olds, and the supporting community to rebuild the audience base. The break out years were 2004 and 2005. Although there had been several sell outs in 2003, including the CBC Poetry Face-off, it wasn't until 2005 that sell outs became regular, something to be expected on the first and third Monday of every month.
Poets from the slam frequented other influential open mics during this period. Thundering Word Heard was hosted by T. Paul Ste. Marie on Sunday nights at the Montmartre Café and Tales of Ordinary Madness hosted (at different times) by Tanya Evanson, Andria Papineau, and The Svelte Ms. Spelt happened at Bukowski's on Tuesdays. Together with Van Slam, this created, as Ms. Spelt puts it, "a long weekend of poetry" about every other week.
A string of sell outs in 2004 prompted the slam to hold its last finals in the café that year. The police came to team semi-finals in April 2005, arriving in dramatic fashion with their sirens blaring, screeching to a halt on either side of the gathered crowd, and storming out of their cop cars – only to discover that the cause of the commotion was poetry.
After trying out the Heritage Hall on Main Street for team finals in 2005, Van Slam moved its biggest night of the year back to the Commercial Drive area. The WISE Hall could hold about 250 people, enough to accommodate the larger crowds that came to playoff events, and take the commotion indoors, away from concerned neighbours and overanxious cops.
Graham Olds officially retired at that Finals Night in 2006, going out in an orgy of gratitude after ten years of tireless volunteer work as slammaster. Weslowski had agreed to step into the role, but first, it was time to toast Graham, which was done through an array of thank you speeches, gifts, and cards. Kyle Mallinson accurately describes Olds' work as all-encompassing:
"Graham Olds was the spirit of the old slam: before there were volunteers for each job, he was our One Man Band. He came up to the stage with a clipboard, a pen and a stopwatch, playing all four roles, and calculated scores and penalties so fast he didn't pause between announcing the scores, the totals and new ranks, all with excited gusto. I never saw him perform: he did it for us."
Finals Night was held for three years at The WISE. The first team formed there included the new slammaster, Weslowski, as well as, Swan, Ulysses, Smithhisler and Raguero. Messing with expectations had always been the modus operandi at Van Slam, but the 2006 bunch were one of the most eccentric and daring of any team. At NPS, which was held in Austin that year, they took crazy to new levels. Ulysses went around telling poets that she was drinking from the creek by the hotel. Weslowski was discovered several times riding the elevator up and down by himself. Smithhisler... well, if you ever see her perform, ask her to tell you the story about hobo vomit. The tradition of tricksterism surfaced onstage as well, as Ulysses remembers:
"At NPS 2006, Patrick Swan almost got kicked out of the afternoon team piece showcase. While Nora and R.C. and I were performing a rousing doo-wop version of R.C's 'Eat My Face', we'd get Patrick to yell R.C's line from the audience back at him while pretending to be really drunk and falling all over the seats. The best part is, the person who was very close to kicking him out was Robbie Q. and the audience had open mouths and had no idea what we were doing, probably because it wasn't about AIDS, or learning from small children, or teaching, or George Bush (hot topics of the day and a good long couple decades in slam)."
The 2006 team also went on to claim Van Slam's third consecutive CFSW championship later that year, a record that has yet to be equaled.
At the second Finals Night at The WISE, Zaccheus Jackson drew the bullet, but still managed to get the highest score, defeating the all-too-common trend of score creep. The order of poets in the second round was determined by their score in the first, starting with the highest and going to the lowest. This meant Zaccheus had to perform first again, and yet again, he recorded the highest score of the round, becoming the 2007 Grand Slam champ. This feat is even more remarkable when you consider that both the poems Jackson brought to that Finals Night he had never performed before. Jackson presented stories, narrative poems. Some of these three-minute poems were over 1000 words long, which means he can deliver an average of five-and-a-half words per second, and more incredibly, he can enunciate them all. Jackson's speed was necessary to deliver stories filled with so much detail, word play, symbolic imagery and moral complexity. His biggest difficulty was that the comprehension speed of his audience sometimes could not keep up with him. Jackson "takes severely political issues, makes them personal, and makes people care", as Ulysses puts it. "With him, it's all about being human." Fernando Raguero, Nora Smithhisler, Kevan Cameron, and Sean McGarragle also earned spots on the 2007 team.
The third and last Finals Night at The WISE included the return of Al Mader. He did a show-stopping version of "Problems in the Box" that ended with him dragging the mic stand back and forth along the stage as he manically recited a series of pop lyrics that all referenced insanity in one way or another. It was the performance of the night, but because of a time penalty, he finished fifth. Scruffmouth claimed Grand Slam champ status with a pair of suave performances. I remember that while the rest of the competitors paced and fidgeted nervously in the green room before the show, Scruffmouth sat down and took a nap, a feat of relaxation that was so impressive it was more intimidating that any smack talk could have been. Onstage, he distinguished himself from the other poets through his poise. While the rest of us tried to harness our nerves and translate them into energy, Scruffmouth showed everyone just how comfortable he could be on the microphone, allowing his subtle wordplay to shine through and winning the judges. Scruffmouth and Mader were joined on that year's team by Jackson, RadaR, and myself.
These Finals Nights at The WISE, along with the success of IWPS, emboldened Van Slam to move its biggest night to an even larger venue, The Rio Theatre at Commercial Drive and Broadway Avenue. It had been a terrific success for IWPS finals, and after being discussed with the community through Van Slam family meetings, The Rio was booked for 2009 Finals Night, and with Shane Koyczan as the feature.
Any Given Monday
Graham Olds attended a few National Poetry Slams, but didn't consider making the trip integral to being slammaster and had other priorities in his life. To make sure that Van Slam had a voice at the annual Slam Family meeting held at NPS, The Svelte Ms. Spelt took on the role of proxy, spearheading many important initiatives, including the Code of Honour (as outlined in part one of this history) and the Vancouver bid for IWPS 2007. Whether or not Ms. Spelt made the team on a given year, he still traveled to NPS with the team to represent Van Slam in the broader North American community. As part of holding IWPS 2007, PSI required that the Artistic Director have a specific title with the slam, and thus, Ms. Spelt was officially made slammaster-of-record, a job he had already been performing for several years.
Van Slam always had an accompanying association, a collective of interested community volunteers who worked to guide the slam forward and support its success. Such an association was proposed in the very first meeting between McGrail, Olds, McAuliffe, and Snyder in 1996. Olds started up the Vancouver Slam Poetry Society, which was renamed the Vancouver Slam Poetry Association in 2000. The collective fluctuated in size with meetings decreasing in frequency from 2002 onward. Olds, King, Weslowski, DJ Dutch Boy, S.R. Duncan and Ms. Spelt dedicated countless volunteer hours to keep the slam alive and vital in the first years at Café Deux Soleils. Around 2003/04, much of the collective action and many of the same players moved into Vancouver Poetry House, which collaborated with Van Slam to create a legal framework around it. This allowed bigger and more elaborate projects. As Ms. Spelt notes: "Without VPH, I could not have done IWPS, and without Van Slam, VPH could not exist."
Around IWPS, Van Slam revived its own governing association and renamed it the Van Slam Family. It was modeled after the slam family meetings that occurred annually at NPS. Van Slam still existed as a program of VPH, but its slammasters were chosen by open elections at Van Slam Family meetings. Changes to the show's rules, format and venue were also discussed and voted upon. The Van Slam Family works as a form of grassroots democracy whereby the slam can stay true to the principles of a collective and foster a sense of empowerment to the community it serves. The board of VPH, for its part, has always respected the collective process, collaborating closely with the family to support Van Slam.
One of the first major Van Slam Family meetings took place in the fall of 2007 at the downtown offices where Weslowski worked. Two major votes were held that night. First, it was decided that the slammaster-of-record role would be formalized into the International Slammaster, who would take care of all business related to PSI, including trips to tournaments, online forum monitoring, and slammaster meetings. As part of this, the regular slammaster would become the National Slammaster, and be in charge of running the slam, booking features, and dealing with CFSW. The Svelte Ms. Spelt and Lisa Slater put themselves forth as candidates for the new position and Slater was elected as the first International Slammaster. The second major vote decided that Van Slam would make the jump from the first and third Monday of the month to becoming a weekly show. The change would take effect January 2008, and from that time on, if it was Monday night, you could count on a slam happening at Café Deux Soleils.
One of the major proponents of going weekly was Sean McGarragle who was elected by acclamation a few months later in early 2008 to take over the National Slammaster position from Weslowski. McGarragle would oversee the busiest period of Van Slam to date, including three Finals Nights at The Rio. He has used his extensive contacts around North America to book high-profile American feature poets on a regular basis. Fewer female poets tour the slam circuit and Van Slam itself at points has had, as McGarragle recall, "a dearth of female artists." So he made a concerted effort to increase the number of female voices featuring at the slam, at one point in early 2011 booking fifteen women in a row to feature. The goal, McGarragle points out, was "to encourage other women to tour and expose our poets to more of the female voices out there."
Part of going weekly involved the introduction of Alt Slams, held normally on the second Monday on every month. Alt Slams were designed to push poets out of the confines of the regular slam format, and also, as Lisa Slater points out: "There were lots of underrepresented groups at Van Slam and Alt Slams could address that." They didn't count toward qualifying for any of the major playoff events. They were meant to be fun, a change of pace, and have become some of the most highly anticipated shows of the year. They include the Queer Slam celebrating the LGTB community, the Erotica Slam, the Nerd Slam, the Haiku DeathMatch, the Instant Poetry Slam where poems must be composed that night, the Decathlon Slam where poets have to complete a number of goofy games, the Dead Poets Slam, the Solidarity Slam for poems celebrating work, the Women's Invitational Slam, the Cover Slam where you have to perform another poet's work, the Pan-African Slam, the Song Slam, the Prop Slam, and the Anarchy Slam where poets are required to break at least one of the normal slam rules.
Some of these Alt Slam ideas had been tested out before. In February 2004, a Black History Month Slam had been staged. It was at that show Kevan 'Scruffmouth' Cameron first performed as a spoken word artist. When the Alt Slam format was launched, each show was curated by a different poet and Scruffmouth chose to launch the Pan-African Slam. This slam was still tied to history, but in a broader way, as Scruffmouth explains:
"We're dealing with the oral tradition, which is a foundation of culture in Africa. People say we are all from Africa, I say we are all from Africans. So I see Pan-Africanism as a return to that foundation, and an opportunity also for people who identify as black or as of African descent to speak and share their words."
For the first two years of the Pan-African Slam, an accompanying forum allowed the community a chance to help define what Pan-Africanism meant to them. Scruffmouth has gone on to become one of the founders of the BLACK DOT Roots & Culture Collective. BLACK DOT runs several independent slams each year and in 2011 formed its own slam team, which will travel to CFSW. This will mark the first time another team, other than Van Slam, has traveled to represent Vancouver at a major festival.
LGBT poets and poetry fans have always been a welcomed and celebrated part of Van Slam. Commercial Drive holds a sizeable LGBT population and the Queer Slam is regularly one of the best attended Alt Slams of the year. Van Slam has also consistently reminded its audience that Café Deux Soleils is a trans-friendly venue and no one should feel uncomfortable in whichever bathroom they choose to use.
The fourth Monday of the month became, the Crackerjack Lipsmacker Youth Slam, as Weslowski dubbed it. The event was for poets between fourteen and twenty-two years old, but has been enjoyed by audiences of all ages. One of the biggest surprises of the Youth Slam was that the material being presented was every bit as explicit and political as what happened at an adult slam. Youth finally had the venue to speak openly and in an uncensored way about what mattered to them – and they took advantage of it. The Youth Slam struggled drawing audience and poet interest in its first year, but has grown to become one of the most consistently popular slam events. Many poets from the Youth Slam have gone on to make waves in the adult slam, including Olivia B, Francis Arevalo, and Sasha Langford.
Since going weekly, Van Slam has averaged over 60 shows and 6000 paid attendance annually. That's a conservative estimate which doesn't take into account any of the slams held outside of its regular events to promote spoken word around the city. Although it's difficult to make an accurate comparison, as other shows rarely track their attendance closely, it appears safe to say that – on a yearly basis – Van Slam is not only the best attended slam in Canada, it is the best attended poetry series. It exposes more Canadians to poetry year after year than any other show in the country.
The Vanguard & the Van Guard
Without the distilling qualities of time, it's difficult of to assess the significance of more recent poets. Notable voices include: Sasha Langford, Lucia Misch, Lisa Slater, Clint 'Father Goose' Wilson, Lisa B , Spillious, Duncan Shields, Julie Peters, Johnny MacRae, Francis Arevalo, and Olivia B. Many others deserve attention as well, and will surely receive it as their voices leave their mark in the years to come.
Three notable achievements from the past couple years stand out. First, at IWPS 2010, Sasha Langford – who is still in her early twenties – became the first Canadian since Koyczan in 2004 to reach a finals stage at a major American slam tournament. Langford plays with persona in her poems and mesmerizes the audience with subtle variations in her voice and face. Second, Olivia B won the 2011 Van Slam Finals Night, becoming the youngest-ever Grand Slam champ at the age of nineteen. Her poetry is filled with wild flights of imagination, which she embodies and performs with manic theatricality that shows off her training as an actor and tap dancer. Her flare for dramatic effect and comedy would make many other slam scenes take her poetry less seriously, but Van Slam rewarded her quirkiness, and recognized her originality. The final achievement that sticks out was a writerly one that took originality to new levels. In August 2009, Weslowski brought up a challenge made by Big Poppa E that poets perform 100 poems at their slam without repeating themselves, something that certain poets do at the slam all too often. A year-and-a-half later, Duncan Shields completed the feat. He also managed to rack up more points (by winning or placing high at slams) than any other poet in two summer seasons and finished second during the winter season in-between, bringing new poems and competing with them nearly every week. Shields' success set a new golden standard for the creation of new high quality work on a regular basis.
Shields has contributed on the organizational side of Van Slam as well. Slammasters have two year terms and when Lisa Slater stepped aside in August 2009, Shields won the election to become the next International Slammaster. He helped create a YouTube channel for Van Slam, and every week he records the show – only pausing to jump onstage himself – takes the footage home, edits it, and uploads performances to the web (at the discretion of the poets involved). Both Shields and McGarragle will be transitioning out of their roles as slammasters at next year's Finals Night, and, in the interim, they will be training their replacements who will be elected in November 2011.
McGarragle will continue as the coordinator of another VPH project that has grown from the success of Van Slam, the Vancouver International Poetry Festival (VIPF). At the 2004 Wordlympics in Ottawa, an individual playoff slam – separate from the team competition – ended with Brendan McLeod and Derek Dawda tied as the first-ever Canadian Indies champ. When Wordlympics became CFSW, the national community (in the form of Spoken Word Canada, aka SpoCan) decided to remove the indies competition and make it strictly a team event. After seeing the excitement of IWPS in 2007, Van Slammers knew how riveting an indies competition could be. McGarragle collaborated with SpoCan in November 2009 to revive the idea and add the Canadian Individual Poetry Slam (CIPS) as the backbone of a new festival permanently based in Vancouver. VIPF launched in April 2011 with Van Slam finals as the opening night of a weeklong spoken word extravaganza, ending with the Canadian Indies championship. Of the 32 poets who competed, Open Secret from Ottawa became the first winner of CIPS, and second-ever Canadian Indies champ, followed closely by Lucia Misch, Sasha Langford and Zaccheus Jackson who rounded out the top four.
Having put on three independent West Coast Poetry Festivals, McGarragle joined VPH to organize such a festival and the inaugural VIPF showcased his talents as impresario gathering slam, spoken word, and page poetry together. Spoken word legends bill bissett and Lillian Allen performed, as did Susan Musgrave. There were interdisciplinary showcases, including a screening of videopoems curated by Heather Haley, and Mashed Poetics where a classic rock album is performed by a cover band and each track accompanied by an original spoken word piece. Like any festival, especially in its first year, VIPF presented a huge array of challenges, but McGarragle was able to pull it off. As Shields points out of his fellow slammaster: "He's patient. There's a Zen iron will with him." Certainly, McGarragle's determination to mount big shows has been a major driving force behind Van Slam and its associated festivals in recent years.
McGarragle has been part of Van Slam for ten years, and he's not the only elder who has stayed close to the scene for that long. Weslowski, Raguero, Ms. Spelt, and Al Mader have been regularly competing at Van Slam for a decade or more, and many others, such as Adler, Avery, McLeod, and Koyczan no longer compete but attend often. This presence of elders provides a strong sense of tradition. Some poets come to the slam to challenge themselves and to learn a new approach to performance poetry. Once they've learned what they need to, they move on to other challenges. Slam can act as a great training ground and every poet interviewed for this article felt that participating in slam gave them crucial insights into the nature of spoken word and how to relate to a live audience. Many of these lessons can be learned through the format of slam itself; however, elders are able to pass along insights that contain esoteric knowledge obtained from having studied slam. They also embody the styles of certain earlier movements of performance poetry, approaches that shine a different perspective on what is possible. And, having seen so much, they're difficult to impress, which makes it more meaningful if you're able to do so. Ms. Spelt has initiated The Van Guard to acknowledge Van Slam alumni and those who have made significant contributions to the community throughout its history.
All the elders contribute to an ongoing sense of tradition and quality control, but no one does more to mentor upcoming poets than Weslowski. Besides running the youth slam, Weslowski works as a spoken word mentor through The Cultch's youth programs. He's always offering words of encouragement to young poets, while at the same time, presenting some of the most innovative work on stage year after year. The persistence of his generosity and experimentation with the art form has made him the most influential and respected figure at Van Slam. As Adler puts it: "It's amazing we have a scene that's at least partially built around our admiration for a man who will base a piece on performing oral sex on an ice cream cone. And everyone aspires to be him."
You Rat Bastard, You're Ruining It For Everyone – but it was Well Worth It!
Intelligent heckling has always been part of Van Slam. At times, the show can turn into a conversation between the audience and the host. It's always good-spirited, and the unwritten rule is that you only heckle the host or your friends. The better you know the person, the more you can unload on them when they get in front of the microphone, but strangers receive a free pass. First timers in the slam, or the preceding open mic, are even given a rousing plea of "Please come back!" from the audience, so long as the host remembers to ask if they just lost their slam virginity.
Jessica Mason-Paull's laugh has become as much a part of Van Slam in recent years as any poet's work. Weslowski is always quick with a pun, whether hosting or sitting in the audience. There's always a few hilarious heckles at any good slam. Some of these become popular, and turn into communal chants.
The most famous chant at Van Slam is directed at the timekeeper, aka the 'time creep', whenever he raises the stopwatch to signal that the poet has gone over time. Then, the entire audience spontaneously erupts into "You rat bastard, you're ruining it for everyone – but it was well worth it." This chant has its origins in a series of heckles that piled up over the years, one upon the other, to create the full phrase.
It began with Wayne Mercier, aka Overload, an especially vocal heckler who liked to tear a strip off the host whenever he could. One slam, many years ago, Overload yelled "You rat bastard!", probably at the host, after he announced that a poet went over time. Barbara Adler liked this and kept repeating it every time she could until it caught on. Some years later, probably around 2006, Adler was at a table with Magpie Ulysses and Amnesia Jane Smith and after the audience shouted "You rat bastard!" they added "You're ruining it for everyone!" to make the chant even more desultory and ironic. Ulysses pushed hard for the crowd to run with their addition, and it stuck. Some time after that, Adler, who regularly broke the time limit, tacked on "But it was well worth it!" drawing out the vowel in 'well' for emphasis.
The phrase – or at least the first two-thirds of it – has spread throughout North America. Many of the poets who attended IWPS 2007 thought it was hilarious and implemented the chant at their own slams. All over the continent from Toronto, Ontario to Boise, Idaho, slam audiences break out into "You rat bastard! you're ruining it for everyone!" something that started at Van Slam with a bunch of poets trying to outwit each other. McGarragle and Spillious often host at NPS events, spreading the chant whenever they do. Poetry slams can be filled with heavy emotional and political subject matter, Van Slam has always looked for ways to balance that with fun and wit. The "you rat bastard" chant gives the audience a way to blow off steam, to mock the constrictions of slam and those who would enforce them, and ­– through the hyperbolic nature of the phrase – to laugh at themselves and not take the competition too seriously. It's the show that matters after all, and the show is about poetry.
Acknowledgments
Hundreds of poets have performed for thousands of audience members at Van Slam over the past fifteen years. This article can only deal with a small segment of some of Van Slam's notable events and influential players, but the greater slam community has always been just as important. As Walt Whitman says, "To have great poets, you must have great audiences" and Van Slam could not have achieved any of its accomplishments without its strong and loyal following. I'd like to thank the more than fifty members of the community who contributed their thoughts to the research for these articles by phone, by email, or in person, as well as the poets who let me sift through their personal poetry archives, especially Kyle Mallinson, The Svelte Ms. Spelt, S.R. Duncan, Justin McGrail, Rowan Lipkovits, R.C. Weslowski, and Cass King. Most of all though, I'd like to thank the Van Slam community. Beyond being artistic training ground, Van Slam has also been a place where artists can find a sense of belonging. As Ms. Spelt says "We're more than just a show."
These articles on the history of Van Slam are only a general overview of the past fifteen years and several of the poets barely mentioned here deserve articles at least this long describing their journey and individual achievements. Much more could be said and much more will be said, especially when it comes time to write the history celebrating 25 years of Van Slam, and 50 years, and so on.
Spoken word continues to build momentum. You can see it nationally in the growth of CFSW as a festival with more teams participating each year and you can see it in Vancouver with the expansion of two new local festivals, Hullabaloo (The BC High School Slam Championship) and VIPF. The tipping point is nearing when spoken word evolves from being an underground art movement to an established tradition within the pantheon of Canadian poetry. And that too is something worth celebrating.
Editor's note: You can read part one of this scene history here.
Addendum
Glossary of terms:
CFSW – Canadian Festival of Spoken Word
CIPS – Canadian Individual Poetry Slam
Drawing the bullet – being randomly selected as the first poet to perform in the first round
IWPS – Individual World Poetry Slam
NPS – National Poetry Slam
PSI – Poetry Slam Inc.
Score creep – the tendency of scores to rise over the course of a slam
VPH – Vancouver Poetry House
WOWPS – Women of the World Poetry Festival
List of team and individual Van Slam poet representatives:
1996
Team: Alexandra Oliver, Cass King, Andrea Thompson, Justin McGrail, and S.R. Duncan (alternate)
1997
There is no team but Andrea Thompson travels to NPS to compete as an individual poet.
1998
Team: Cass King, Jen Griffin, Hugh McMillan, and The Svelte Ms. Spelt (no official alternate)
1999
Team: Cass King, Shane Koyczan, R.C. Weslowski, Laurel Albina, and The Svelte Ms. Spelt (alternate)
2000
Team: Shane Koyczan, The Svelte Ms. Spelt, Al Mader, R.C. Weslowski, and Cass King (alternate)
2001
Team: Cass King, Shane Koyczan, R.C. Weslowski, C.R. Avery, and Al Mader (alternate)
2002
Team: Shane Koyczan, C.R. Avery, Barbara Adler, Al Mader and Fernando Raguero (alternate)
2003
Team: Shane Koyczan, R.C. Weslowski, Barbara Adler, C.R. Avery, and Al Mader (alternate)
2004
Team: Barbara Adler, Brendan McLeod, C.R. Avery and Shane Koyczan and Overload aka Wayne Mercier (alternate)
2005
Team A: Brendan McLeod, Barbara Adler, Amnesia Jane Smith, Magpie Ulysses (alternate) and Zaccheus Jackson.
Van Deux: Magpie Ulysses, Patrick Swan, T.L. Groves and Kim Shaughnessy.
2006
Team: R.C. Weslowski, Magpie Ulysses, Patrick Swan, Nora Smithhisler and Fernando Raguero (alternate)
IWPS rep: Patrick Swan
2007
Team: Zaccheus Jackson (grand slam champ), Fernando Raguero, Scruffmouth, Nora Smithhisler, and Sean McGarragle (alternate)
IWPS rep: Patrick Swan
Youth Team (created through The Cultch's IGNITE! program): Sasha Langford, Ben Nixon, Andrew Pendragon George Puleston-Clarke, and Olivia Berger-Hawthorne
2008
Team: Scruffmouth (grand slam champ), Zaccheus Jackson, Chris Gilpin, RadaR, and Al Mader (alternate)
IWPS rep: Zaccheus Jackson
WOWPS rep: RadaR
2009
Team: R.C. Weslowski (grand slam champ), Nora Smithhisler, Chris Gilpin and Johnny MacRae – Steve Miller and Duncan Shields (tied as alternate)
IWPS rep: Zaccheus Jackson
WOWPS rep: Sasha Langford
Youth Team: Jasleen Powar, Francis Arevalo, Kelsey Savage, and Reiley Murray
2010
Team: R.C. Weslowski, Johnny MacRae (grand slam champ), Sasha Langford, Lucia Misch and Chris Masson (alternate)
WOWPS rep: Julie Peters
IWPS rep: Sasha Langford
Youth Team: Olivia Berger-Hawthorne, Marcela Huerta, Paul Fischer, Diana Itebu and Tessa Bourguignon
2011
Team: The Svelte Ms. Spelt, Olivia B (Grand Slam champ), Lisa Slater, Lisa B and Clint 'Father Goose' Wilson (alternate)
WOWPS rep: Julie Peters
IWPS rep: Chris Gilpin
Youth Team: Mo Lawrence, Shayna Virginillo, Erin Brooke-Kirsh, Francis Arevalo and Mike Johnston