Endre Farkas and Carolyn Marie Souaid – Blood is Blood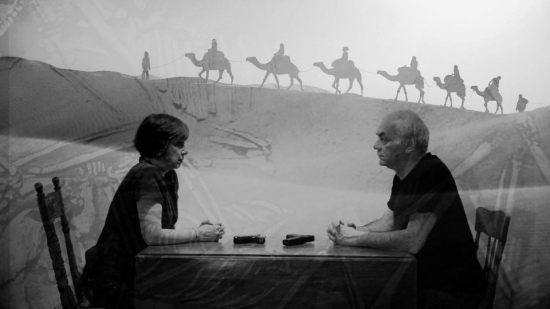 Endre Farkas and Carolyn Marie Souaid met each other in the context of the Quebec poetry community, and began a curatorial collaboration that included putting poems in Montreal city buses, and organizing the Circus of Words / Cirque des mots, an annual cabaret of performance poetry. Their poetic collaborations began in 2005 in Paris at the 4th Symposium Against Isolation and Torture, when (according to the introduction to Blood is Blood) they "created a two-voice text based on the words of prisoners of conscience whose diary entries had been smuggled out of Turkish jails."
It was in the summer of 2006 that the assault against Lebanon by Israel brought their ethnic backgrounds – Souaid is Christian Lebanese, Farkas is Hungarian Jewish, the child of Holocaust survivors – up from their normal place in Montreal's rich multicultural weave. "As the tension in the Middle East escalated, the deep-seated cultural baggage from our respective families began to resurface – mostly accusations about the 'other'." Luckily, the poets responded to this with poetry. "Across the chasm, we wrote about what was going on and how we really felt – sad, angry, bitter, loving, supportive, antagonistic, and more. Here, in the poems, we could reveal some of our dark prejudices and deal with them, rather than sweep them under the carpet."
This dramatization of the protagonists, through the lense of once-removed descendants living in the Canadian mosaic, can at times be frustrating or annoying, because the voices are often bloody-minded, ignorant and oblivious to the pain suffered by the other – just as the opponents in this seemingly interminable conflict often speak in reality. It's an interesting strategy. Rather than attempting to translate the agony through a cool, analytical distance (such as we Canadians can enjoy), the poets plunge the reader into the absurdity and the tragedy of two voices, so seemingly close, and yet so distant from each others' point-of-view.
The voices of the poets are cleanly separated across each page spread of the book, laid out for our examination like frogs splayed out for dissection. It is on the DVD, and principally on the audio track of the DVD, where the listener can hear the clashing-together of contradictory and infuriatingly similar lines, as well as occasional harmonies that break through like sunshine through dark storm clouds. The use of children's voices to animate the opening lines of the poem hammers home the point that the spiral of violence is endless, and infantile.
The DVD videopoem, a collaboration between the authors, videographer Martin Reisch and soundscape artist Mark D. Goldman, is a black-and-white montage of newreel footage, historic images and set pieces, intercut with static shots of the poets in various situations – facing each other across a negotiating table, wandering with umbrellas through a graveyard, standing in a playground. The musical accompaniment is always understated and sympathetic to the tone of the piece. The videopoem is a meditative exegesis on the cumulative heartbreak that is recent Middle Eastern history, and a cry for peace that condemns all who would use weapons and force to bend others to their will.
More Reviews from Issue #3