Cheryl L'Hirondelle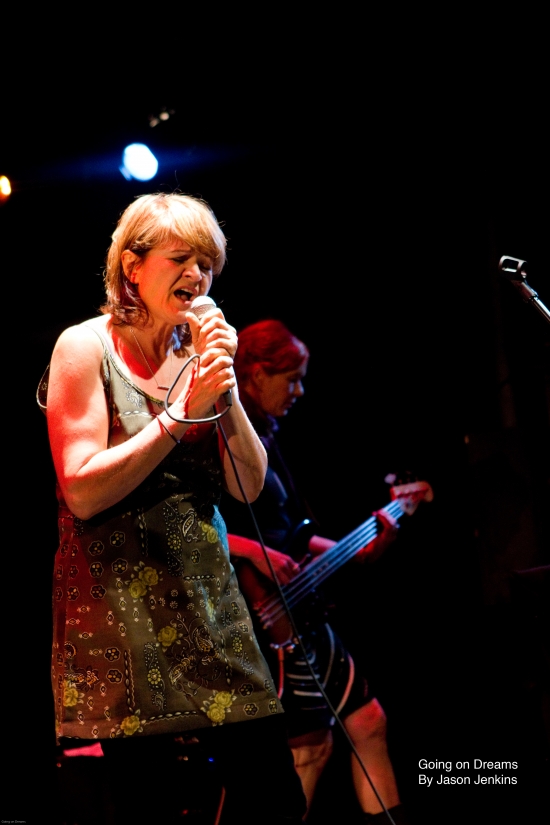 In a wide-open room, her voice is even more affecting—its murky edges and throaty contours reverberating against the walls and entering our bodies. Her head is thrown back and eyes closed. She paints us a landscape of guts and pain and hope. Of battles fought and, some, won.
As an artist, Cheryl L'Hirondelle knows that she is on this earth to use her voice as an instrument—creating environments and experiences that enliven the teachings of her mother's line, the Cree People. Appropriately enough, L'Hirondelle translates into the name of a songbird: the swallow.
"I was always a singer, but I realized that there was an imperative in what I had to say and why I was put here," says L'Hirondelle. "I felt it and sensed it really early, as a kid. I've had this analogy for a long time that I'm like a bird on a branch of a tree, and there's an imperative in my song. I will find whatever means possible to express that song."
Since starting her performance career as a singer in Calgary in the early 80s, L'Hirondelle has absorbed half a dozen other artistic genres into her performance practice—including storytelling, sound art, spoken word, new media, acting, installations and performance art.
Her singing and songwriting expanded into these other areas starting in the early '80s when she happened to meet a couple instructors from the Alberta College of Art (now ACAD University). They saw something in her and encouraged her to apply to be a student there, which she did. She attended the school from 1980-81.
"Really, what I was being given were tools. One thing about Native people is that we're really good at adapting and fashioning tools. Finding something and realizing, 'Oh, it can do this!' So that art college training became very important because I was still that bird singing that song, but I was using different tools."
Soon after she left the Alberta College of Art, she expanded her performance practices further still. She was invited to give a poetry reading in Calgary and, after her ten-minute set, a local poet and playwright named Nancy Cullen, who was also on the bill, gave her a role in her next production, right then and there—in a musical called The Waitresses.
"There is also music in theatre, so I felt like I was getting closer [to what I was looking for]," says L'Hirondelle. "That was a way to get me writing as opposed to using physical, tangible materials. When I moved to Saskatchewan in 1995, I had a similar experience with the strong literary community there, who adopted me."
From 1995 to 2000, she lived and worked as a co-storyteller for Meadow Lake Tribal Council (with Joseph Naytowhow) in northwestern Saskatchewan, which administers for nine Cree and Dene reserves in that region. In her five years there, she found that her work was beginning to transform. She stayed on in Saskatchewan for another four years after the job ended, creating and exploring overlaps between text and performance while simultaneously building her new media practice.
"I found that I was writing poetry, and I was starting to think about writing my performances as monologues. I like to say that I come from a family who knows how to make a short story really long, so I think that storytelling ability has always been there! But different ideas want to have different manifestations—how they're going to be articulated. Some things don't want to get sung, so stuff gets spoken."
It's a flexibility of genre that she navigates well, and proudly.
"We're always told that you have to pick one thing. There are so many negative [messages] out there about it. Like that latin saying, aliquis in omnibus, nullus in singulis: someone in general, no one in particular. That gets changed to 'jack of all trades but master of none.' As in, you can't do everything; you've got to be good at something. Focus in. I'm certainly not a master of all of them, but I'm figuring out ways to combine them; figuring out how to strengthen them."
L'Hirondelle's participation in the spoken word community solidified in the late 2000s through her involvement in the Spoken Word Arts Network and collaborative performances like Sarah Murphy's 70-minute poetic text, when bill danced the war, which is a fierce anti-war critique of colonization and the life story of Murphy's Choctaw father, who fought in several wars for the American army. It was created as a CD in the UK in 2007 and then performed in Ottawa as part of a 2009 event called First Women, First Voices, put on by Ladyfest Ottawa and curated by myself and Andy Thompson.
That night, L'Hirondelle was both a conduit and a container for the story that Murphy was pouring into the room. She created a sort of sound poetry that was both a text and a subtext for the piece. Accompanied by Ottawa DJ, Bear Witness, L'Hirondelle uttered tones and sounds and words whose meanings were palpable.
"We created the sounds and sonics of a language she never had the luxury of learning," she says. "That was an honour to do, to give her some shape."
No matter the genre, the through-line of L'Hirondelle's work is to pay homage to the teachings and experiences of Aboriginal people, and bear witness to our ongoing colonial legacies as a battle cry for the future—a future that she has set about co-creating with those who are willing to fight for a better and more sustainable way of living.
One way she is doing this is through her multi-year Songlines project, which includes song, text and media art—the first part of which came about after she was commissioned to create work for Grunt Gallery in Vancouver in 2008-2009. In this project, she walks the streets of a place and listens to the landscape. She sings and speaks what she feels from the place, essentially just seeing what comes out.
"Part of Cree culture is that we read things. We read landscapes; we read rooms of people. You learn to read things. It's a good way to engage."
What she reads, moment to moment, eventually forms itself into poems and songs and media art. In Vancouver, the resulting pieces were compiled into a 5-track EP called Giveaway (check out the title track here). L'Hirondelle has since created work about the land that is now known as Toronto, after walking old hunting and gathering trails, as well as ceremonial sites there. Her next stop will be Adelaide, in the state of South Australia, where she will be spending time with the Kaurna people and singing Adelaide's landscape.
L'Hirondelle will go through this process in a total of 15 locations around the world. That number isn't random. It's based on the 15-pole Cree teepee structure, in which each pole represents a moral value that holds up the lodge, and the community: obedience, respect, humility, happiness, love, faith, kinship, cleanliness, gratitude, compassion, strength, good child-rearing, hope, protection and freedom.
She feels that the world needs to hear about these values and other teachings in order to enter into a future with personal integrity and disrupt colonial narratives and influences.
"When you're passing through a black hole, anything that you do in the present is going to not only affect the future but also change the past. I've had enough experiences in my life where my ancestors have asked me to speak about them and not forget things. I'm listening to the past, and they are being acknowledged. In a way, I feel like they're being affected by what I'm doing. I feel like my work is a small piece of the puzzle that I offer to future generations…like a broken twig in a forest that will lead you to a trail."
More Profiles from Issue #3