Fabrice Koffy – poésic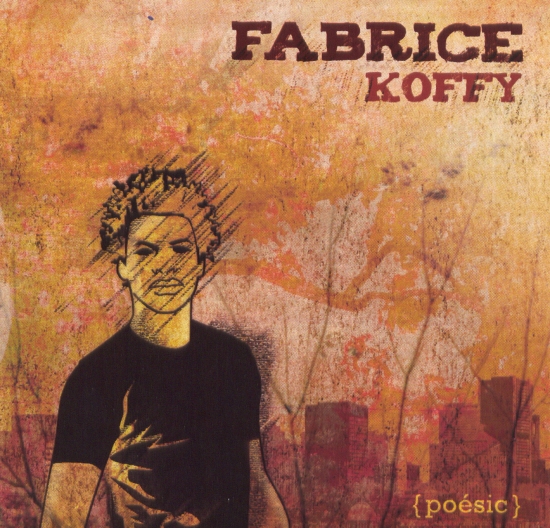 A few years from now, I can imagine Fabrice Koffy's disc poésic being played in numberless Starbuck's, where it will provide the subliminal soundtrack as we sip our mocha-chinos and check our G-mail accounts. Occasionally, when we re-surface and re-focus on the world about us, we will hear a word or a verse or two and we'll remember what a talent and sensibility produced this music and this poetry.
Like the great iconic French crooners, Ferland, Ferré and Brel, Koffy gives us a fair sample of poems about love and the charms of beautiful women. In his magical world, love is warm and intimate. When it smiles on you, the clouds part and existential angst fades. For us, God may be dead a hundred years, but for Koffy this higher power remains.
The music of Guillaume Soucy, which accompanies Koffy, is a smooth seamless stream of sedate African rhythms. Lush vocals accompany Koffy's own enchanting voice and his almost hypnotic delivery. It is the kind of music that ought to played to babies in-utero to lull them into the belief that the world they are about to enter is one which will welcome them with smiles and open arms, assuring these children-to-be someone will attend to their every need.
Even though Koffy presents love as a highly seductive voyage that rewards those willing to engage it, he also depicts it as a sword, which can be used to strike down the forces of evil.
Koffy has no delusions about the state of the world. He comes from Africa. Much of the disc is given over to describing the effect of European colonization on both on Koffy himself and the people of Africa. After four hundred years of European conquest and pillage, the history of slavery, the genocidal massacres and the plunder of kingdoms, Koffy asks how the West can demand that its loans be repaid before it offers a meagre aid to Africa's starving populations.
It is monstrous, yet Koffy tells it with a restraint and self–regard that keeps the tone of the disc always perfectly balanced. Though the music is smooth, the poems are a cry of alarm and an SOS. Koffy urgently seeks other ways of living, but he does so without stridency. His goal is to "faire de cet enfer la terre / Un paradis comme quand il nous l'a offert" (to make from this hell, the earth / a paradise like the one he once offered us". It is a tall order.
We are all in this together, but for most of us here in the West we have decided that a quiet life filled with desperate consumption is the way to get through our days. For Koffy, there is only one way out of the mess we have made ourselves and that is by a popular struggle guided by love. It is with fraternal love that Koffy sees salvation for the family of the world. Only with that love will it be finally possible to see each other as the brothers and sisters we surely are, only then can we at last help each other to rise and to stand together as one.
More Reviews from Issue #3