Blake Parker and Jude – The Terminal City Trilogy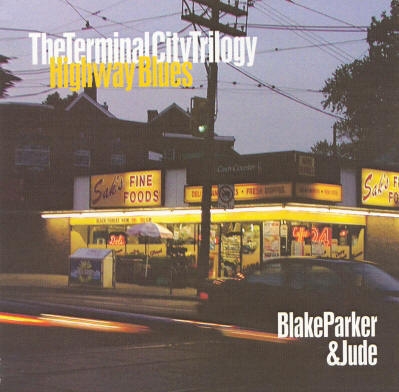 Last week, I went to the electronic well to look for a bit of biographical information about Blake Parker, a poet who produced a set of CDs entitled Terminal City Trilogy. Parker hailed from Nelson, British Columbia. A few years ago, he passed away ... a cancer got him, hence the title of his trilogy.
When diagnosed with his terminal case, he began work on a compilation of his life's work. Working with musician Jude Davison, he composed new work and re-recorded earlier performance pieces, filling three full-length CD with readings.
My problem last week was that my searches for Parker's web presence came up with almost zero, just a few hits all partial and tangential. There are a couple of You Tube videos and a blog that presents a collaboration with photographer Fred Rosenberg. There is a mention of the trilogy on Jude Davison's own site, and CDBaby announces that one can still purchase copies, but apart from these fragments there was little, no dedicated site, no comments, no reviews, no blogging.
There was a Richard Blake Parker who played for the Cubs in the '80s, but with Blake Parker's absence on the web it was as if the poet had ceased to be a second time. This is a sad testament to the value we as a people place on those voices that try to tell us how we might lead our lives, within a collectivity that seems focused on creating the conditions of its own apocalypse.
In his last works, Parker shakes our brittle bones and turns our wooly heads; he sticks a sharp tongue into our frontal lobes while he lubes our drooping booty. He dips far down into the sacred and pulls rabbits out of yesterday's dusty charkas. He delivers us heaven and hell in a small town diner where he calls down damnation and salvation. He tells us what to do, how to live and most importantly how to die.
This is strong bracing work to be taken in small doses and not for tender souls. Parker is at the top of his form in "Terminal City", each word of his rendition of these poems is expressed with an urgency that reminds us that his time counted. Each minute of remaining life must be used to the fullest, each breath must be used to imprint the entire depth of his emotion into his words.
Davison accompanies Parker's readings with instrumentation and with arrangements that accent and amplify the texts. His music deftly shifts the mood, keeping pace with Parker throughout the poems, some of which run over twenty minutes.
Parker has recorded one of the strongest expressions of the spoken word in Canada, in North America. His piece "The Shadow of the World" (3:41), a shorter poem found on the third disk, is a musing on his own coming death. Driving back from Vancouver to Nelson, Parker finds in the passing scenery a metaphor for the passage of life toward death. In the reading, his voice broken and fissured by the treatments and drugs, he finds words to exalt the passing beauty of the world and accept his inexorable approach toward the nothing.
This week Blake Parker's site has returned to the Internet, www.blakeparker.ca. The bio is years old and incomplete. It doesn't mention his death. Several links are broken, there is not much information of his projects, but the site is there. As it flits between the worlds, sometimes there sometimes not, I urge you to seek it out and listen to Parker's exemplary exposition of a life lived.
More Reviews from Issue #3