New Brunswick (& The Maritimes)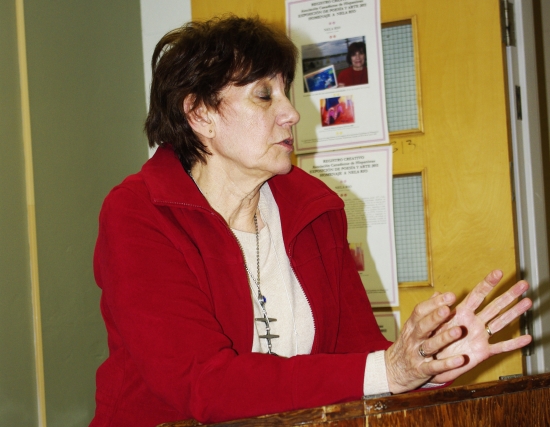 Since first being asked to write for Canadian Review of Literature in Performance I have wanted to interview someone with the Word Iz Bond Spoken Word Artists Collective in Halifax, Nova Scotia. I emailed them and carried my recorder with me whenever I go to Halifax, but haven't been able to make to an event of theirs at The Company House, 2202 Gottingen Street, and so far I haven't managed to interview anyone. What I have is their posters and event emails: Word Iz Bond celebrated their 10th anniversary this year. Their Speak! is a monthly spoken word series. Shows in the past year have included Joi N. Payne, poet and spoken word artist born and raised in Halifax, Nova Scotia and Leslie Carvery, dancer, in a collaboration; Lady Katalyst (Kalmunity Vibe Collective, Montreal); El Jones accompanied by audio and video tracks from Centreline Studio—The Lesson blends spoken word with the voices and perspectives of young girls as they express themselves through songs, poems and video; poetry and political rants from iZrEAL and his unapologetically Pro-Black, politically incorrect, alter ego Randel Gusto The Pr!ck; the 2011 Hali Slam Team (J-Phat, Laura Burke, Hermit of the Woods, St. Ephanie and Rhythm & Roots!); and, most recently, the band Two By Two in the house providing music for the open mic and feature poet Jen Kunlire from Calgary. The slam team will be competing in October at the Canadian Festival of Spoken Word in Toronto.
Also in Halifax … Tanya Davis is the new Halifax Regional Municipality Poet Laureate. There's an interview with her in the latest issue of Atlantic Books Today. Tanya is an award-winning spoken word poet, songwriter, singer and recording artist. Her first book of poems, At first, lonely, was recently released by Acorn Press in Charlottetown, PEI. Her records Clocks and Hearts Keep Going, Gorgeous Morning, and Make a List have earned her a dedicated following. Visit YouTube to see her video How To Be Alone.
Congress 2011 of the Humanities and Social Sciences arrived in Fredericton in late May with several Literary Salon evenings in Alumni Memorial Lounge. The evening I performed, Lorne Roberts of Montreal performed an excerpt from his contemporised translation of "Sir Gwain and the Green Knight" while other poets included Zhong Chen from Inner Mongolia, and Armenian–Canadian Arpine Konyalian Grenier. Congress also included several multilingual readings at Registro Creativo Asociación Canadiense de Hispanistas' book launch events and their Exposición de poesía y arte 2011, Homenaje a Nela Rio, in a too-small, very crowded and hot room in the bottom of Edmund Casey Hall, St Thomas University with Hugh Hazelton, M. Travis Lane, Jo-Anne Elder, Tamara Schurch and many other writers. Andrew Titus' Stand & Deliver performance workshop group were in-the-crowd poetry performers at the large East Coast-style "kitchen party" dinners for Congress delegates in the new Fredericton Convention Centre. Also active there, as a roaming performer, was Peter Pacey in the role of celebrated Fredericton poet Bliss Carman born 150 years ago. Literary Translators' Association of Canada / Association des traducteurs et traductrices littéraires du Canada members and friends read at Alden Nowlan House/Windsor Castle Bar with work in English, French, and Spanish performed by Betty Bednarski, Joe Blades, Jo-Anne Elder, Louis Jolicoeur, Biff Mitchell, and Madeline Stratford.
Actors performed as Michael Whelan, Poet of the Renous, and as other prominent/famous period writers at Kings Landing Historical Settlement, upriver from Fredericton, in Waxing Poetically, the "first 19th Century Literary Festival Weekend" in June.
I wasn't at Waxing Poetically because I was at the League of Canadian Poets Poetry Festival in Toronto before attending the opening days of Literaturwerkstatt's Poesiefestival Berlin 2011 (a long way from the Maritime Provinces scene). Another performance I missed, this time because of tropical storm rains, was a Poetry Free for All-y at Molly's Coffee House, Fredericton on Sunday, Aug 28th featuring Kathy Fisher from Edmonton, winner of various Spoken Word contests in Alberta and elsewhere, an UNB alumnus with roots in Fredericton. Also featured were Peter Pacey and Patrick O'Reilly.
Autumn equinox marked the return of Joe Blades, producer–host of the award-winning weekly Ashes, Paper & Beans: Fredericton's Writing & Art Show (started in 1995) broadcast 5–6 pm, Wednesdays, on CHSR 97.9 FM, Fredericton's campus–community radio station. The show features interviews, readings, lectures, reviews, and arts news. Send books and recordings of author readings / performances (MP3s and CDs preferred, including studio-produced recordings of poetry, spoken word, slam and dub poetry, drama, fiction and audio art) to APB, Box 596 Stn A, Fredericton NB E3B 5A6. If you are touring though Fredericton contact Joe for an interview (live on air or recorded elsewhere): joeblades@nb.aibn.com.
More Scene Reports from Issue #3