Sheri-D Wilson (editor) – The Spoken Word Work Book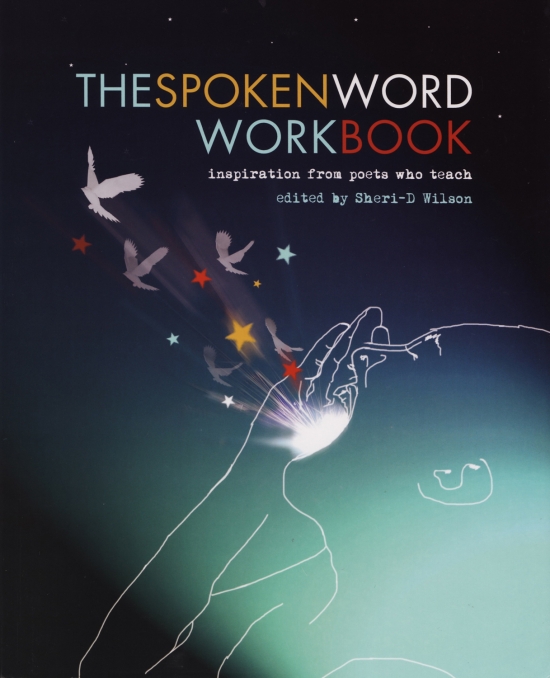 The brainchild of Calgary poetry activist Sheri-D Wilson, The Spoken Word Work Book is a comprehensive survey of insights, penned by a star-studded cast of North American "Poets, Griots and Bards," on the process and practice of creating Spoken Word poetry. The Work Book presents us with an alternative pedagogy, offering pages and pages of "outside the box" writing exercises and useful tools for bringing our words vocally and physically to life.
Nearly all the contributors consistently stress the democratic nature of "the spoken word" - which, for those of us in the know, isn't necessarily news. However, it seems important to be reminded of it all the same – particularly in this time of increasingly conservative attitudes – and it is especially indispensable for a potentially intimidated novice at the beginning of his or her career. As sound artist Paul Dutton accurately states: "Everybody, with few exceptions, comes readily equipped with everything required to create sound poetry: a body, a mouth, a voice." Everyone has the right to write and everyone has the ability to get up and voice his or her words (or sounds!).
And this book is not just for beginners – although a newbie to spoken word would have a cornucopia of information to start with. Aptly subtitled: "inspiration from poets who teach", the Work Book is teeming with the kind of encouragement that even – especially?! – the most seasoned writer/performer could always benefit from. Inspiration is essential at any and all stages of one's career; as performance poetry pioneer John Giorno points out: "We never stop learning how to perform."
Providing a large variety of breathing exercises, methods of creative visualization, and techniques for writing that serve to generate ideas while de-mental-blocking, contributors offer plenty of creative wisdom as well: multi-award-winning poet George Elliott Clarke reminds us that we each have our own distinct vocabulary to draw from – words that are "ours" and help define our unique "voice." And international dubpoet d'bi.young's methodology is particularly focused on the possibility (and desire) for personal empowerment – this being a key ingredient which comes through in the sessions she has derived with her exceptional "sorplusi method."
In perusing the Work Book, the reader may find herself wishing (as I did) that she could have all of these poets as her very own personal teachers! But failing that, the eclectic selection of styles and methodologies leaves the reader with an excellent set of stimulating activities – tools designed to get you immediately playing with words on paper and in space.
The book simultaneously provides a concise and highly personalized history (we could even say an oral history) of the "spoken word" form in all its multitudinous guises. Through reading the various contributors stories, we discover that the lineage of spoken word is as complexly diverse as the ensemble of its practitioners.
Sheri-D Wilson has succeeded in compiling a stimulating and wide-ranging compendium, and one that extends even beyond the pages of the book, with several references to further sources online.
A final and important Disclaimer: "Please DO try this at home!"
More Reviews from Issue #3