Luna Allison – Falling Open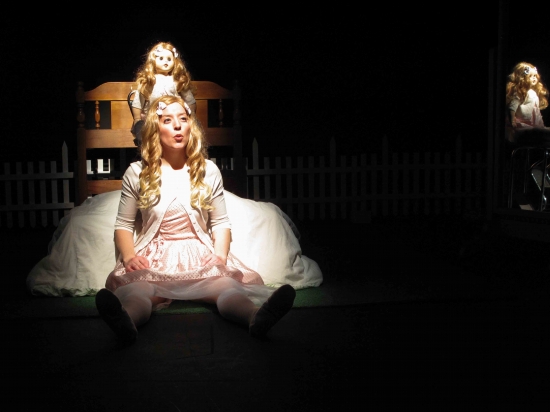 "Where memories believe themselves "
Luna Allison's Falling Open is exactly that, a series of startling openings that function as excavations of the psychic terrains of sexual abuse. Ms. Allison plays Doll, a living doll, that is both the "narrator and oracle" of the piece. Set against the backdrop of a "real home," in particular, a bedroom, Doll comes to perform both the roles of George, the abuser and Girl, the abused. Sparse but precise visual projections and sound bites, borne of suppressed, buried memory specific to the story, serve to strengthen this sense of domestic intimacy.
To great effect, Ms. Allison and director, Lib Spry, staged the debut of Falling Open, at the 2O11 Ottawa Fringe Festival, in Ms. Allison's own home in Old Ottawa East. Spry has suggested a nation-wide "bedroom" tour for Falling Open. The resonances here are obvious, for sexual abuse that occurs in the home explodes widely held notions of the home as places of safety and security for children.
However, as Doll takes us through these locales of trauma, from kitchen to bedroom, it becomes quite clear that this dramatization of sexual abuse has no interest in thematic cliches. Those convenient moral binaries popularized, for instance, by certain daytime TV talk shows, are nowhere to be found here. Doll's performance of both George and Girl, portraits of complex, embedded and intentionally problematic humanity, disrupt all categories of good and evil, victim and victimized.
What matters most here are depths of interiority, exteriorized through Spry's dramaturgical expertise, which make for exceptional theatre. In interview, Ms. Allison describes Doll's journey as one that springs from a sense of "dismembered memory." Indeed, Doll as Girl says, "I"m haunted by nothing in particular, but I'm haunted all the same," and, later, "a doubt seed was planted right next to the truth and their roots scrambled down together in a race to the sweet spot of the brain where memories believe themselves."
The ways in which society constructs feminine beauty as a "pleasing thing," which coalesce poignantly in the figure of Doll, herself, an object of femininity, is, of course, a central motif in Falling Open. But, in order for Doll to stage a re-embodiment of memory on her own terms, a striptease of the signs of the feminine must take place. Doll strips herself of imposed artifice as a final gesture, removing her barrettes, slippers, stockings, wig, cardigan and dress. However she reconstructs herself off-stage, as femme, butch or a hybrid of both, will be according to her own agency.
Even in its moments of levity, where Doll as Girl performs adolescent sexuality through impersonations of her mother in lingerie, or, where she searches for the ghost behind that haunted feeling in organized religion, Falling Open builds on its central psychic trajectories. Repressed trauma always leads to a corruption of becoming, sexual, emotional, spiritual and otherwise.
As a storyteller, Doll's account of Girl's journey of excavation raises many issues relating to themes of empowerment, confidence, identity, beauty and pleasure. As an oracle, she knows, of course, where it will all end. Whether Doll, herself, is a site for Girl's buried, suppressed memory or, the only place where Girl can imagine "an evolution outside of physical abuse," is up to the audience to decide.
What is clear, though, in the remarkable final lines of "Falling Open" is that the miracles of God and/or of science have no power in this process. With all the vestments of beauty lying at her feet, Doll says to the audience, "There is no glory here. Just living." Suddenly, we realize that we have been both mirror and witness in these redirections of the flow of the symbolical heart.
Created, Written & Performed by Luna Allison. Directed by Lib Spry. Video & Tech by Nathan Hoo. Music & Sound by Devin Johnstone. Doll & Costume by Erin Whitney.
More Live Performance Reports from Issue #3