Vancouver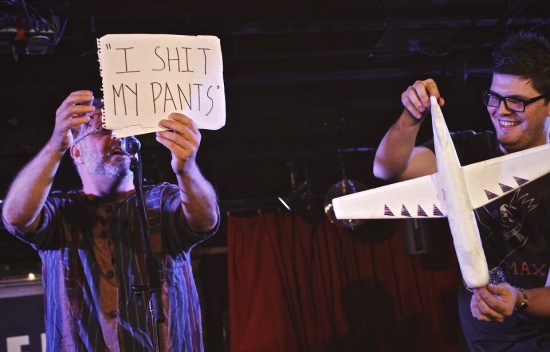 When last we left our intrepid hero, Vancouver Poetry Scene, it had just completed a full week of spoken word mayhem at the Vancouver International Poetry Festival. But April – our national poetry month – was not finished, and neither was our hero, launching straight into another poetry festival the very next week: Hullabaloo, the first-ever BC High School Slam Championship. This pilot project, run by Vancouver Poetry House in collaboration with the Vancouver Art Gallery, DOXA and The Cultch, mounted a series of poetry events for youth. When the smoke cleared, Reynolds Secondary from Victoria emerged as the 2011 Hullabaloo champion.
Lee Cannon-Brown from South Delta Secondary garnered the highest score on the finals stage of Hullabaloo for his piece "Home Alone", which imagines the back and forth of a facebook chat conversation between himself and Macaulay Culkin. Cannon-Brown's dead-pan delivery and long pauses created awkward tension that allowed the most seemingly banal lines to land big laughs. The comic misdirection worked to distract the audience from the underlying examination of isolation and loneliness that technology like facebook encourages. It's a remarkable piece, breaking away from many of the clichés of slam. Instead, what you have with "Home Alone" is a piece that is dramatic without theatrics and poetic without poetic devices. It's an example of spoken word that eschews the literary tradition, sidesteps the traps of slam, and lands in some very original territory.
In other slam news, Van Slam is no longer the only game in town. A number of new slams have started in the past three years; however, it's just in the last 6 months or so that these slams have really gained traction in the spoken word scene. Slam Central in New Westminster is organized by Candice James, Reese McBeth and Zaccheus Jackson, and well-supported by their city's cultural department. The BeDRoCC Slam, held at various venues around Vancouver, is organized by Kevan Cameron and for the first year, has gathered a team that will participate in the 2011 Canadian Festival of Spoken Word in Toronto this October. Also of note, Alberto Cristoffanini, Francis Arevalo and a few other young poets have taken the reins of Slam UBC and appear to have the community support to really push it forward and make it an exciting event on campus.
With the height of summer came the Summer Dreams Literary Festival in Stanley Park near the Lumberman's Arch. This was Summer Dreams' eighth year, and it keeps growing and evolving under the excellent organization of Pandora's Collective, especially the indefatigable Bonnie Nish.
The festival always includes panel discussions that examine trends in poetry today. This year I participated in "The Experimental, Traditional and Spoken Word: What is the Future of Poetics?" The other panelists were Christopher Levenson, co-founder of ARC, and Timothy Shay, a veteran organizer of poetry readings (including the new Hogan's Alley poetry series). I was there representing spoken word, and decided to focus on my comments on spoken word, rather than what future other poetic genres might (or might not) have in front of them. What surprised me was how much time the other panelists spent talking about spoken word and slam, rather than there own specialties. To be sure, Shay openly embraced the big definition of poetry, but Levenson and Cris Costa – the moderator of the panel – tried to paint slam and spoken word as unvaried and unoriginal, quite unsuccessfully.
What amazes me in these discussions is that these university-trained literary poets believe their opinions on spoken word will be taken seriously. They haven't been to more than a handful of spoken word events, and yet they are prepared to generalize about this branch of poetry in the archest possible terms. It's the equivalent of me declaring that the poetry of the Restoration is total bunk just because I didn't like Paradise Lost (apart from Satan's speeches, but who doesn't love those?). I haven't studied Restoration Literature, and I wouldn't expect my opinion of it to hold much weight. These Creative Writing department acolytes, who have never studied spoken word, expect their pronouncements upon the oral tradition will be respected, but they never are – not even by audiences that are predominantly made up of their colleagues. It's blatantly obvious to everyone that their flimsy attacks are based in jealousy, not reason. Each time I attend one of these panels I end up meeting more and more young poets who are eager to find out what spoken word truly is, as though it were a forbidden fruit, the taboo knowledge that their professors hid from them.
Earlier in the summer, on July 8th, Ian Ferrier came through town, and a Words & Music: Vancouver Edition was staged at the Little Mountain Gallery. Tanya Evanson and Al Mader opened for Ferrier.
Mader played his washtub bass and shimmied through several of his classic pieces. He always keeps the audience guessing. You never quite know whether Mader is being serious or not. In that sense, he is the master of the half-joke, a sort of double-edged jest that reflects the difficulty of finding certainty in anything.
Evanson sang, hummed and chanted, bringing her trademark joyousness to the stage. Evanson once told me: "You say the glass is half-empty, I say there is no glass. Haven't you seen The Matrix?" This sums up her philosophy well. Along these lines, her piece "Meconium" mixes sound poetry, a beat sensibility, and absurd subject matter to examine how the strangeness of our existence begins in its first moments.
Ferrier closed the evening with a haunting set of poems, accompanied by his minimalist guitar work. His piece "Blue Train" was my highlight of the night. It starts with a story of coming into contact with cyanobacteria, the oldest life form on earth, which causes an infestation of the blues, which in turn becomes a reflection on what 'having the blues' means at both a cellular and existential level. This piece was made all the more poignant by the square of blue light that framed Ferrier's head and shoulders as he performed.
Finally, bookending this summer was R.C. Weslowski's performances of his new Fringe show, The Wet Dream Catcher, which he debuted in May at the Eastside Yoga Studio and then returned with in September after touring across Canada on the Fringe festival circuit. Weslowski weaves a mythical quest narrative together with surrealist imagery and audience interaction to create a show with many mind-boggling moments. The version at the Vancouver Fringe differed significantly from its prototype at the Eastside Yoga Studio. The story had been streamlined to the basic touchstones of a hero quest, and several of Weslowski's poems had been inserted at key moments in the story. It fused a lot of disparate poetic and dramatic techniques into a single play, and was a truly Fringe experience, in the sense that it reached out past dramatic conventions to explore new performance possibilities.
More Scene Reports from Issue #3