D'bi Young – Dis is a Warning (featuring Moon)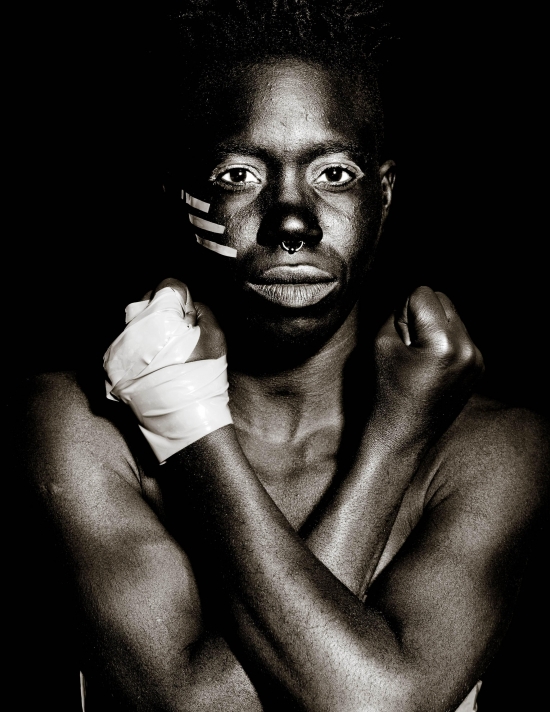 D'bi Young – Dis is a Warning (featuring Moon)
Having recently set up the Pan Afrikan Performing Arts Institute in South Africa, d'bi young's restless spirit has her on the move again. She's recently announced a world tour in support of her forthcoming album 333. As part of her promotional campaign, two new videos of songs from 333 have been posted simultaneously on the internet.
Produced by the
Cape Town Crew
, 'Dis is a Warning' and 'Gendah Bendah' are technically similar – shot from a single camera, in a single setting. The lighting, camera work and set designs are radically different – in 'Gendah Bendah' it's the light of day, the colours are bright and pastel, the shots are longer, while in 'Dis is a Warning' the camerawork is up close, the lighting is dark and shadowy, the set a stark, bare walled room lit by a single swaying naked light bulb.
'
Gendah Bendah
' is about the complex intersection of racial and sexual identity, a subject much on Young's mind. As she puts it in
a recent interview
, "
333
represents the three 'Q's ... all dancehall queens, queers and questioners of the status quo ... those three energies are in all of us. If we would allow ourselves to shine, we would find that the desire to question what we're told is truth comes naturally to us. Children do it all the time, until they're conditioned out of it." The video calls for the questioning of all stereotypical thinking, and can serve as a guide to seeing the reality of what is before our eyes.
While 'Gendah Bendah' reflects a humourous yet thoughtful tone, with visuals reminiscent of a Bollywood dance piece with a wide variety of supporting performers, 'Dis is a Warning' has a deeper and more intense impact. Here, Young is alone (except for the presence of her child / alter ego, Moon), clad in a track suit with her balled fists wrapped in gauze, like a boxer. The camera moves in tight as Young makes her rope-a-dope moves, her message carried on a restless electronic beat.
'Dis is a Warning' is an impassioned call to revolution, a piece of prophetic prescience in these days of the Arab Spring and Occupy Wall Street. The combination of the music and the visuals make the video presentation intense and compelling, and demand multiple viewings. The only complaint I have is about the audio mix, which – maybe it's just the limitations of YouTube – sounds murky, and leaves me wishing the vocals were a bit more prominent.
More Reviews from Issue #3