Ottawa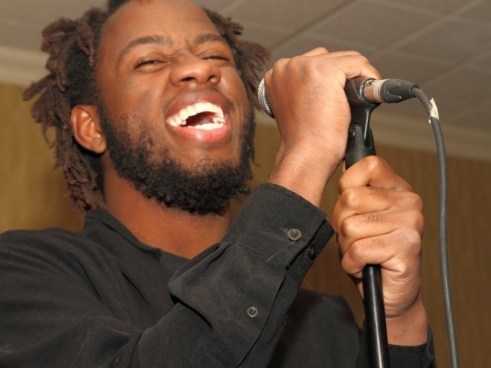 A slow summer it was not—at least for Ottawa spoken word. This past season saw the release of a gorgeous videopoem,
Poetry in Motion
. It features a piece by Brandon Wint, with musical accompaniment by Claude Munson and video work/concept by Craig Allen Conoley of Partus Films. You can read the
litlive.ca
review and see the video
here
. Since its release, it has been snatched up as an official selection of this year's
Ottawa International Film Festival
and Heather Haley's
Visible Verse 2011
in Vancouver. We also saw the birth of a collaborative hip hop project by Prufrock aka Shadowrunner and Hyfidelik. A flurry of pieces have been recorded and released over the past several months, with a track called 'Sabotage' available for free download
here
.
Spoken wordsters were also active in the Ottawa
Fringe Festival
this past June. Poet and playwright Nadine Thornhill launched a new play, her sophomore effort, called
Complex Numbers
—the story of a mathematician named Fiona who wants to open up her monogamous relationship with her husband. As is often the case with Thornhill's writing, hilarity ensued. I left the play tired from laughter! This year's Ottawa
Fringe
also saw the release of my helluvalongtimeinthemaking storytelling show,
Falling Open
. Can I get a hell yeah for the fact that it won this year's Outstanding Original Work award? To read the
litlive.ca
review, click
here
. Another fun spoken word addition to the
Fringe
was Prufrock playing a rockin' Othello in a Salamander Theatre production of Shakespeare's play at the Bronfman Amphitheatre. More cross-pollination of this kind, please!
Not to mention the first couple weeks of fall have been BUZZING. A million and one series are kicking off new seasons, like Capital Slam, Once Upon A Slam, Urban Legends and the always-lovely Voices of Venus – the latter of which runs all year round but gets a little sparse in the summer months and tends to have an audience rebirth right about now. (Hail the return of the student poetry-lovers!) One piece of news this fall is that Ottawa's all-genre poetry festival, VERSeFest, is creating an Ottawa Women's Slam Championship in the coming months, which will lead up to the second coming of the festival in late February. The goal is to create a higher profile for women in slam and spoken word around the city, further showcase the talent of female voices locally and encourage more women to come to the forefront of the scene. The slam will be held on Saturday, January 28th at Arts Court Theatre. Of the 12 competing poets, the top four will be given a feature set at VERSeFest. Organizers are already looking for poets to fill those slots, so get in touch with Rusty Priske of Capital Slam if you want in!
With the broad-strokes update aside, I want to tell you about a fabulous event that happened here in town in the middle of September, called
Harvest Moon: Poetry-A-Plenty
. It was a fundraising event for the League of Canadian Poets, and it's part of what seems to be a growing trend in Ottawa—hallelujah—the merging of poetic niches. Melikes. A representative of the League even made a direct appeal to the spoken word artists in the room about considering joining LCP. (Also awesome—is this part of a national campaign?) There were round-robin readings and performances by more than a dozen poets that night: Susan McMaster, Blaine Marchand, Sandra Ridley, Sergio (Hyfidelik) Gerra, rob mclennan, Ian Keteku, Brad Morden, Stephen Brockwell, Sarah Musa, Ronnie R. Brown, Shane Rhodes, Claudia C. Radmore, Rhonda Douglas, Colin Morton and Rona Shaffran. An inspiring mix of forms, approaches and voices—including a sample of Ian Keteku's yogatry, in which he enters a yoga pose and recites a minutes-long poem. He stood on his head for a good 3-4 minutes like it ain't no thing while Brad Morden accompanied him with infectiously light-hearted guitar. A couple of visiting spo wo artists from Montreal were on the bill, too, that night: Ian Ferrier and Catherine Kidd. Great to see networking between these two geographically close but relatively disconnected scenes, and to see some of Cat and Ian's recent work. Happily, we got a sneak peak at Catherine's upcoming solo show,
Hyena Subpoena
. The
Harvest Moon
event was hosted by Terry Ann Carter and Kevin Matthews and created by Rod Pederson, all of whom we thank for their commitment to borderless poetry community in Ottawa!
By way of a sign-off, I'm going to take a quick second to wish the
Urban Legends,
Youth Slam
and
Capital Slam
teams all the best as they head off to Toronto to compete in this year's
Canadian Festival of Spoken Word
. Good luck everyone!
More Scene Reports from Issue #3