Calgary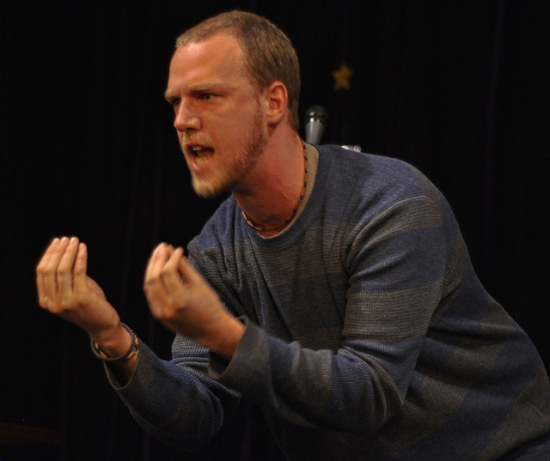 The word is spreading in Calgary! Great poetry events are cropping up all over making our city a year-round spoken word destination, even before the outstanding International Spoken Word Festival arrives in April.
The
Single Onion Spoken Word
series continues to offer outstanding literary features on the third Thursday of every month. This longstanding series offers a supportive open mic, feature readers and lecture series on all aspects of poetry. Part 1 of this year's lecture was held on January 19, and addressed 'Reckless Enchantment: The Art of Poetic Change'. The sexy cerebral lecture of Jeremy Dodds (the writer-in-residence at U of C) was punctuated by three stellar wordsmiths: Joshua Trotter, Brecken Hancock and Sandy Pool. The evening was a poetic interaction about pushing boundaries in writing, and how discomfort in an audience can be a tool for thought and for change.
And where better to see this thinking in action than in the SLAM scene!
This winter, Calgary`s poetry slam is going through an evolution. There are some new faces taking charge, after six years of flourishing under the solo care of Sheri-D Wilson, to make Calgary`s slam scene even bigger, louder and more exciting. This new
Ink Spot Collective
includes Sheri-D Wilson, Jen Kunlire, Tyler Perry, Erica Navickas and me (Erin Dingle), and hopes to bring poetry SLAM to an even wider audience here in Calgary. On the last Thursday of the month at 8 PM, the Auburn Saloon gets fired up to SLAM.
The first Ink Spot Slam was held at the end of November with a solid crowd and sweet three minute stories. The success of this inaugural event was followed up by another great Slam on January 26, 2012. A packed open mic featured a few poets bravely bringing their messages a cappella as microphone difficulties were resolved, and then continued with full volume and fervent messages about poetry's bedrocks: love, politics and self-definition. Then we settled in to the smooth style of Julian Smith and the liquid language of Sheri-D Wilson as our featured readers. Julian shared some old and some new work from the pages of his tattered notebook, and both options were a delight to the ears and the mind. Then, Sheri-D gifted the crowd with an amazing opus of self-expression and microcosmic explorations.
The SLAM featured smooth ruminations from Delcio and sly sarcasm from Archie that got the crowd laughing in Round 1. Dave Eso dropped a trio of outstanding pieces including an eye-opening intimate encounter with men's urinals, and came in a very close second. And I wandered in with a random assortment of whimsical wordings and somehow wandered back out with the win. Thank You, Kind Judges! What more could you ask for on a cold January night?
For something with a stylish, smart basement gallery vibe, True Lounge is held on the first Friday of the month at the Gerry Thomas Gallery. After taking a few months off at the start of the year, it is scheduled to return March 2 with another giant helping of sizzling spoken word and smooth jazz tunes. It's an outstanding open mic with beautiful energy that makes performance particularly vibrant. Genial, gorgeous host Julian Smith and his equally glorious wife Trini keep the language love flowing until closing time.
The second Thursday of each month offers
FlyWheel
, a reading series of Canadian poets run by
Filling Station Magazine
. It's held upstairs at Pages Bookstore in Kensington, and is also a top stop on a tour of Calgary's winter offerings.
On the night of February 18, a special poetry event went down at the Auburn Saloon. This was a combo birthday celebration for Aquarian artists Kirk Ramdath and Jen Kunlire, which ended up raising more than 500 dollars in donations for the YWCA. This soulful evening began with an open mic, followed by a musical set by lovely Laurie Fuhr. Kirk shared a tale of love and multiplication from his outstanding book, then opened the stage to 10 minute sets. I hopped on stage for a spell and dallied in dances, oceans and numbers. Richard Harrison reflected with skill on love, loss, death and, most importantly, the need for "More Sex! And more Nature!" Wayman Chan flowed through two intricate pieces of poetry with his characteristic shy grin. The divine Ms. Sheri-D Wilson shared works from her new book, Goddess Gone Fishing for a Map of the Universe, which was launching at the beginning of March. An ode to geekery and love had me pining for my own nerd programmer partner, I must admit. To wrap up the wordplay, Jen Kunlire folded speech and song into her vivid voice and gave us some jazz cool along with James Dangerous and the CIA. With DJ Sublight standing by to round out the occasion with bass delights, it was a birthday that any writer would envy.
Winter can certainly be freezing and forlorn here in Calgary, but thankfully we have had a wealth of fiery language and fine poets to see us through until Spring.
Be Well. Be Worded.
More Scene Reports from Issue #4