d'bi: 333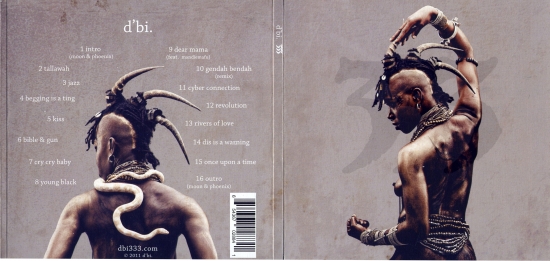 The latest CD by d'bi young,
333
represents a quantum leap forward in her career as a dub poet. She has raised the bar on her own personal best when it comes to lyricism, and she has mastered the innate ability to wed content to form, and make it seem effortless. She has also seized upon her persona as an artist, and with the help of several excellent photographers, she's created a series of striking images which were incorporated into the deluxe, double-gatefold album design by James Kachan.
Fans of d'bi's work will recognize a few pieces from previous CD releases – 'Revolution' is entirely re-recorded, while 'Gendah Bendah' gets an excellent remix. The album is packed with scorching new material, scintillatingly produced by Mandiemafu, Jakofire Pro, Baskie Njovu and d'bi. And when I say scorching, I mean revolutionary, as in, we need to have a revolution now. d'bi calls for revolution in the corrupt business-as-usual politics of Jamaica ('Tallawah'), she calls for revolution in the concept of Black beauty ('Jazz', 'Young Black'), she calls for revolution in the street ('Begging is a Ting', 'Cry Cry Baby'), she calls for a revolution in sexuality ('Kiss', 'Gendah Bendah', 'Cyber Connection'), she calls for spiritual revolution ('Bible & Gun', 'Rivers of Love', 'Once Upon a Time'), she calls for a revolutionary change of attitude towards persons with AIDS ('Dear Mama'), and she calls for revolution, full stop ('Revolution', 'Dis is a Warning').
Like the best poets, the ones we will remember, d'bi brings us words not to entertain us, or distract us, or amuse us (though they might do that for us too), but primarily to enlighten us. They are the words of a questing soul, one who has found the courage and compassion to delve deep, and bring back wisdom. In these dark times, they are words we need to hear.
where are our elders where are our children the
ones who walk with the old-time knowledge
of a healing love an unapologetic love an
uncompromising love an honest honest love
if you tell me who i will sit studently by
the rivers of their feet washing away all
the unknowings that i have come to know
relearning a language of integrity a language
of compassion a language of honesty because
these languages were carved on my heart's
tongue by the ancient ancient ancient ones who
somehow somehow sometime i have forgotten
More Reviews from Issue #4