Edmonton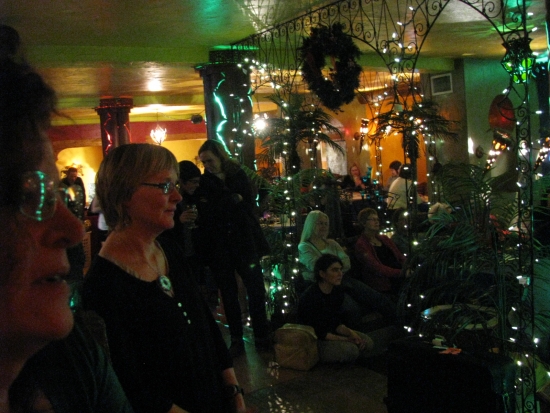 Since winning the National Slam Championship at the 2011
Canadian Festival of Spoken Word
, the spoken word / slam scene in Edmonton has been burgeoning. Now featuring a strong list of national features, the
Breath in Poetry Slam
and open mic is bringing in an increasingly diverse crowd of poets and audience members. This has bolstered the reputation and interest of spoken word in Edmonton and put us on the path to some new and interesting projects, including more work with Edmonton youth in various communities.
The surge of interest in spoken word has also strengthened and called attention to the existing work and efforts of poets and performance artists that have called Edmonton their home for many years. One particular example of this saw winter being ushered in by some of Edmonton's top poets and musicians in an event called A Winter's Garden: A Sensory Celebration of Words and Music on November 30, 2011.
A Winter's Garden featured the poetic and musical stylings of Nancy Mackenzie with musicians Donna Mae Mohrmann and Nigel Jackman, Ken Brown, myself, Kathy Fisher, Rebecca Schellenberg and out-of-town guest, Montreal's Moe Clark. Conceptualized around the William Blake quote, "In seed time learn, in harvest teach, in winter enjoy," the evening brought the audience to an unexpected realization of the lushness that a winter garden could contain through the weedy entanglement of words and music.
Nancy Mackenzie and her musical collaborators (Mae Mohrmann and Nigel Jackman) took us into the trees with her poems like 'Heart of an Oak' and her call to "falling notes and notes falling." Ken Brown, an Edmonton singer / songerwriter, picked up on Mackenzie's forest and sang a tale of Artemis and her bow, while Kathy Fisher drew us in like wild animals speaking of "found foxes without hooves." Rebecca Schellenberg, an accordion-wielding poet, brought some levity to the evening telling stories the dyslexics fun run with signs that read "dyslexics untie", "their eyes moving right to left."
The evening closed with a feature set from Montreal's Moe Clark. Clark, known for her unique work in combining poetry, song, instruments, and a looping pedal set the atmosphere swirling in the room. Her persona piece on Frida Kahlo cries out "may my exit be joyful", while a piece on the history of Native women rained down "butterfly ashes" and rooted itself in "drums held like trees."
Clark's kaleidoscope of words and sound usurped the winter garden and transformed it into a spectacle of desperation, desolation, beauty, and hope. She led the audience out into the last night in November with a sense of the awesome and striking power that happens when nature becomes a force in our beings.
The juxtaposition of including a diverse range of styles from page poetry with music, to spoken word, to singer/songwriter, to storyteller, to poet-instrumentalist certainly played to the dichotomies inherent in a winter garden. However, it also played to the possibilities of creativity when artists from a wide-range of backgrounds come together; the spontaneity of the night demonstrated the growth and the possible pushing of boundaries that is beginning to happen in the Edmonton poetry scene.
More Scene Reports from Issue #4