Catherine Kidd: Hyena Subpoena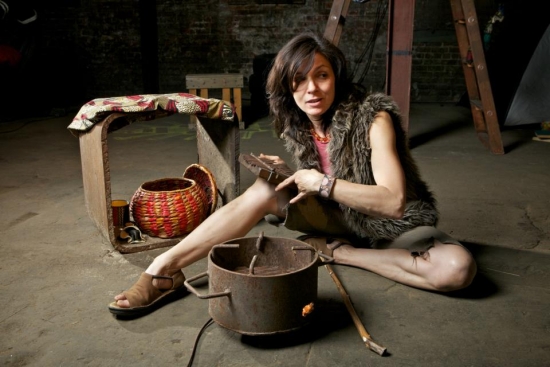 When Catherine Kidd set out to write a new solo show a few years back, she felt drawn to the theme of reputation – bad ones, specifically. Who gets a bad rep and why? The poor, the mentally ill, the sexually exuberant, the gender variant, survivors of violence, and the scavengers in a society of excess all get painted as bad examples. Dismissed as either rotten apples or damaged goods.
Enter the hyena as the ultimate symbol of scapegoating – an adaptable and resourceful creature of tremendously bad reputation who shares a number of traits with the undesirables of our human society. The hyena, as it turns out, was the perfect focal point for Kidd's new production, Hyena Subpoena:
If I could be a hybrid species, here's what I would be:
A creature who's one-half hyena, and one-half me
And should I be called to testify upon my own behalf,
I'll take the stand, and be sworn in, then laugh and laugh and laugh.
The show is a reinterpretation, a reimagining, of all things maligned. But rather than soap-boxing for any particular cause, these eight interlinked story-poems simply expose common assumptions about what it means to live an ideal human existence. Kidd expresses these notions – some of which are absolutely breath-taking – through relatable stories that are told from the point of view of various species: hyenas, antelopes, lions, humans. In this show, she does it with great finesse.
Hyena Subpoena marks Kidd's first delving into darker subject matter – including institutionalization, bullying and sexual violence – and the vulnerability of her performance this time around is striking. Kidd is as playful and engaging as ever, but there is a new ingredient in the mix. The level of risk, the edge in the work, brings a whole new dimension to her presence onstage.
In one particularly poignant scene, the main character, Ramona Morse, recounts being drugged and raped at the age of 12 by a group of older men who had lured her into their home with the promise of a beer and the claim that a few of her friends were already inside waiting for her.
Ramona's mom is by her side in the hospital afterward but refuses to talk to her or touch her – an oblique reference to the shuffling-off of survivors of violence onto society's "no" list. Once Ramona is released, she revisits the house where the attack took place – there is a magnetism to the place that she can't resist. When she finds that all of the guys have packed up and run off, as though someone was chasing them, she muses:
As though you were the predator
and they were the prey.
As a counterpoint to the above story, she launches into a powerful scene about witnessing the death of a lioness – one of the most feared and revered predators in the world.
The power of this show is in exposing the mechanisms behind the assignment of stigma, no matter what kind – race, gender, class, sexuality and any number of other markers of human experience. The text underlines the merits of collectivity over competition, collaboration over conquering and examines the nature of power through multi-faceted, nuanced stories about the relationships between predator and prey.
In this work, Kidd also exposes the categorizations that dictate our own system of social stratification, which create conflict and struggle in the human world. She explores the parallels through stories of violence, control and stigma.
Hyena Subpoena ran for three consecutive weekends in October 2011 at Les Ateliers Jean Brillant in Montreal's St-Henri neighbourhood. The space was central to the feeling of the show, with its grand, old wood doors and exposed beams and an art installation by Jean Brillant himself, which happened to be showing in the space at the time of Hyena Subpoena. It dovetailed particularly nicely with the show's themes of civility and wildness.
Kidd was directed in this show by Montreal's Alison Darcy. The two had admired each other's work for years, and a collaboration between them finally came together when Darcy was in South Africa last year and heard that Kidd would soon be arriving as part of a tour of Sea Peach, one of her earlier works. They met up in Cape Town and the wheels started turning. They kept in touch when they all returned home.
The collaboration yielded tremendous results. Highly recommended.
Hyena Subpoena (80 minutes)
Written and performed by Cat Kidd
Directed by Alison Darcy
Video Art by Geoff Agombar
Production Design by Jody Burkholder
Read the litlive.ca profile of Catherine Kidd here.
More Live Performance Reports from Issue #4