Ian Keteku: Lessons From Planet Earth (Re-Evolution)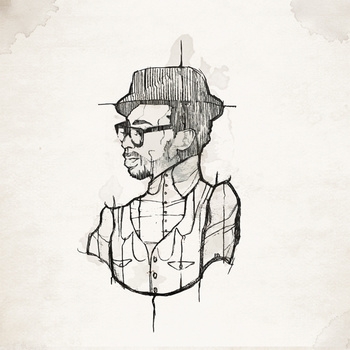 Lessons From Planet Earth (Re-Evolution)
challenges the canon of spoken word album: as story, as ritual, as prophecy or as news report.
Ian Keteku
's solo debut release manages to tackle all of the above, from a perspective that is uniquely his own: self-defiant, empathetic and bold. With a background in journalism, his approach is definitely telling of the time in which it was made. Sounding at first as a self-proclaimed testament to his role in this world, Ian as poet brings us in closer, beyond the media headlines, into the story as he sees it, writes it, breathes it and believes it. The truth behind his words is stated with clear intention and the musical accompaniment moves in time with his diction, offering a dynamic backbone. At moments you feel that you are actually witnessing something cinematic, captivated by the waves of drum rhythms, distant echoes of ancient voices and beautifully nurtured electro-acoustic effects, both on his voice and as background. It is an album to be shared and celebrated.
Lessons From Planet Earth (Re-Evolution) can be likened to the work of Sage Francis or the late Gil Scott-Heron. Keteku aligns his poetry to historical movements that oscillate back and forth in time, reaching back to the dark history of slave trade and forward to the neurotic contemporary dilemmas of being love slaves to our laptops. His work is like no ordinary walk in the park, you don't quite know what threatens from the dark spaces. Somehow Keteku finds an infinite number of ways to expose this darkness and illuminate conflict in the fourteen tracks on this album. With a well-articulated taste for satirical metaphors and deviant divinations, he is still able to appease audiences with some levity.
My favorite tracks are 'Temple' and 'Black Mermaid', the two threshold works that press against the bookends of this album. 'Temple' pulls you in like the deep, heavy ocean, rocking your body into a cathartic pulse of rhythm and keys. Ian's smooth discourse floats with ease and definition on top of this ocean. He decries his own disconnection to God, explaining the role of the temple lobe as our connection to The Sacred. In so doing he asks, of himself and his audience, for a spiritual awakening, and for support. He exclaims: "My temple is breaking. God in me is dying…" He then continues to connect spirit with science: "…the temple lobe is home to the primary auditory cortex, the place of hearing, comprehension, speaking and language. So when you read a spiritual text, it is the temple that gathers, analyzes, stores and makes sense of it. When you pray it is the temple that relays the information to God, and if the temple is where God works then the mind is where your temple is, and God works in your mind."
This type of reminder offers space for reflection for any experience of human struggle. Is it a call for forgiveness, of self, with God? I'll let you decide. In the sister tracks: 'Black Mermaid' Part 1 and Part 2, we are drawn into dark worlds of slavery and the continued struggle for redemption and reparations. Both tracks pair nicely one after the other, lending themselves to the Griot tradition of storytelling. Some may liken the sister tracks to your modern version of emancipation music, serving as poetic odes to the souls still suffering the consequences of slavery. In his continued demand for reparations and recognition of what has happened Keteku closes Black Mermaid' Part 2 with the lines "Crash, body after body after body, black domino effect. Crash, as they drown into the bottom of the silent sea oscillating … singing a song of warning, a thousand notes of foreshadow. Retelling a battle that will last thousands of years… Crash."
In collaboration with bandmates Brandon Wint and Usmane Ali (from "The Recipe"), Keteku invites other creative forces to add dimension to the album. Brandon Wint's poetic interludes offer the audience short prophetic precursors to tracks like 'Pick Me', where Wint exclaims:"Here, just as on earth, it would be the responsibility of the poets to carry forth the messages that stand as necessary reminders of beauty, humanity, peace, love, justice, strength, resistance, and struggle." Usmane Ali, who appears as keyboardist/bassist for the band, delivers his own words in 'Black Mermaid' Part 1 . Ali's slave trade narrative foreshadows Keteku's 'Black Mermaid' Part 2, a more symphonic piece, accompanied by local Ottawa musicians Musk Ox. Sultry female vocals by Chelsea Lyne-Heins appear in 'Pomegranates', adding a folky and feminine chorus to the satirical love poem Keteku delivers much like a shopping list. All in all, there is a well-considered repertoire of collaborators to match the wit and fearless approach Keteku takes with his work.
As a peer in the field of spoken word I commend Keteku for his consistently brave choices and virtuous explorations that make up Lessons From Planet Earth (Re-Evolution). This album is a true reflection of his confidence as poet, storyteller and human being. Pick it up! It's well worth the listen.
Listen to
Lessons From Planet Earth (Re-Evolution)
here
.
More Reviews from Issue #4