Ottawa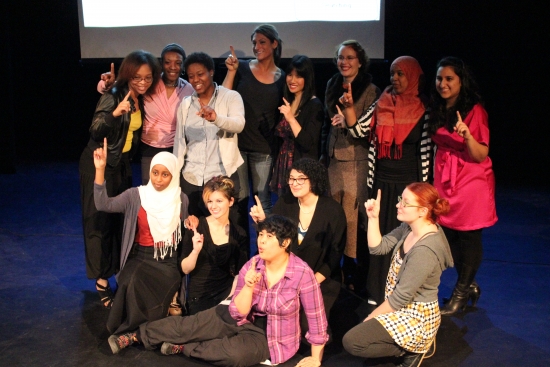 In late October, Ottawa welcomed back the three teams they sent off to Toronto for the 2011
Canadian Festival of Spoken Word
(CFSW), with accolades and feature sets. Though there was the disappointment that an Ottawa team didn't take home a third national championship (Capital Slam was eliminated in the semi-finals and Urban Legends came in third place at the finals), they both made history with
team pieces
that raised the bar on spoken word and performance poetry.
On top of that, the city's first Ottawa Youth Poetry Slam Team (ages ranging from 12 to 18) competed at the CFSW's
Youth Slam
against Toronto, Guelph, and a Wild Card team made of Ontario youth poets. Now called "Ottawa Fountain", the team finished first overall, blowing out each round with roof-raising
team pieces
on love, desire, suicide, and the state of their generation.
As the Ottawa slam poetry community collectively recovered from their festival hangovers and spoken word saturation, 2010 World Slam Champion Ian Keteku released the music video for the second single off his album, Lessons From Planet Earth (Re-Evolution), in time for Halloween. The video and poem, entitled
"Nightmares"
, is literally and figuratively a haunting sojourn into the transitions between reality and dream, led by an array of monstrous puppets.
2011 finished off with a stellar cast of features from each slam and spoken word series. Capital Slam highlighted Ottawa slam champions Ibn Najeeb and Brandon Wint (the latter also featured at the Ottawa Youth Poetry Slam), while also bringing Haligonian songstress and poet extraordinaire Tanya Davis to the stage. Urban Legends thrilled crowds with feature sets from landmark women in the Canadian spoken word scene: dub poet D'bi Young Anitafrika and current chair of Spoken Word Canada Alessandra Naccarato. Voices of Venus showcased writer and Xtra! West's 2008 Hero of the Year, Amber Dawn, as well as Ottawa's own bilingual storyteller and speculative fiction novelist, Marie Bilodeau.
There were also some notable one-off shows organized by campus groups. Carleton University is particularly on the pulse of slam poetry, since the school is where Urban Legends Slam calls home. Alpha Delta Xi, a fraternity on campus, organized a spoken word battle in honour of Langston Hughes, with 10 competitors and a hefty cash prize to the champion. The battle had poets facing off in pairs, with the organizers judging the crowd's response to each poem to determine which of the two poets would make it to the next round. Suhaib Ibn Najeeb emerged victorious, though it was a close call between himself and two-time National Slam Champion Open Secret. Another Carleton group, to raise money for a women's shelter, organized the Eliminate Violence Against Women Poetry Show. A powerful evening of spoken word was shared, with pieces both triggering and uplifting. Sean O'Gorman presented his poem about a concerned uncle giving fierce and heart-felt advice to his nieces, while Jenna Tenn-Yuk coaxed tears and laughter with her guitar-backed words on the consequences of violence, and the importance of self-love.
Before the holidays hit in full swing, Ian Keteku gifted Ottawa folks with another video,
'Right Side Up'
, an ukelele-filled animation on opposites.
The New Year birthed new traditions. University of Ottawa, perhaps in response to longtime rival Carleton University's involvement with performance poetry, is starting up a spoken word club called UOttawa Poetry Slam - Slam de poesie de l'U d'O. No shows have been advertised as of yet, but be prepared for some fresh, bilingual talent.
The other 2012 groundbreaking event was Ottawa's Women Slam Championship, the first of its kind, created by VERSeFest. This show immediately stood out from other events in its loving, community atmosphere so typical of the Ottawa scene. There had been an unfortunate miscommunication among the organizers and the venue's box office, where tickets were sold even though the theater had reached its maximum capacity. All twelve poets immediately and collectively stood up to give their seats to the overflow of audience members, contenting themselves with the backstage to listen to their fellow performers. In addition, the range of the performers showcased the Ottawa scene from its earnest 2004 beginnings to the 2011 youth team champions. Elissa Molino, co-founder of Capital Slam, graced us with her classic poems on first kisses and bad drug trips, while 13-year-old Scotch poured out a new feminist poem to astonished applause. Even the show's climactic conclusion was unusual in its execution yet exemplified the talent and spirit of Ottawa's women poets-- D-Lightfull and Sepideh were crowned Co-Champions, with the second highest scores also being a tie between soft-spoken, hip-hop queen Elle-P and Voices of Venus host Festrell.
Spoken word in the Nationa's Capital only continues to grow as 2012 unfolds, but to remind poets and scenesters everywhere about humility and hilarity, let's end with Partus Films' contribution to the memes inspired by "Sh*t Girls Say".
Find "Sh*t Canadian Poets Say", featuring Ottawa's Ian Keteku, Brandon Wint, Brad Morden, and CauseMo,
here
.
More Scene Reports from Issue #4